From the pages of
Pinedale Roundup
Volume 103, Number 19 - January 11, 2007
brought to you online by Pinedale Online
---
Obituaries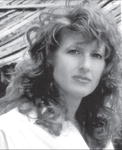 Naomi Pape
Naomi Pape
Naomi Pape passed away on Jan. 8, 2007 at her home at Pape Ranches in Daniel, Wyo., at age 41. Naomi was born on Sept. 30, 1965 in Vanderhoof, British Columbia, where her father worked as a mining geologist. She moved numerous times with her family around North America and, as a young girl, lived for many years in northeastern Wyoming in "bentonite country."
She always had a love for the Equality State. Naomi met her future husband, David, while they were both attending the University of Wyoming at Laramie. She graduated for UW, married David and became a prominent citizen of Sublette County. She served her community for many years as a member of the Sublette County Recreation Board; she was a longterm president of the Bronx Homemakers Club; she was active in the Daniel 4-H Club; she was a substitute teacher in the Pinedale School system; she worked at the Mental Health Clinic; she taught dance classes to pre-schoolers; she was active in the "Kickin' Cancer" group in Sublette County; and she was a member of PEO.
For more than 12 years Naomi fought a valiant battle with cancer. She is survived by her husband David and daughter Hadley; by her parents Lorraine and Sandy Wise of Pinedale; by her brother Jeffrey of Calgary, Alberta; by nine nieces and nephews; by uncles and aunts; and by her in-laws Norman and Barbara Pape, Jane Potempa and family, and Fred Pape and family.
Naomi was a shining light to all who knew her and will be deeply missed. In lieu of flowers, donations may be made to "Kickin' Cancer" in Sublette County, at P.O. Box 383, Daniel, Wyo. 83115.
A Celebration of Life Service will be held at the Pinedale School Auditorium on Saturday, Jan. 13 at 1:00 p.m., followed with a gathering of friends and family at Rendezvous Pointe.
See The Archives for past articles.
---
Copyright © 2007 Pinedale Roundup
All rights reserved. Reproduction by any means must have permission of the Publisher.
Pinedale Roundup, PO Box 100, Pinedale, WY 82941 Phone 307-367-2123
editor@pinedaleroundup.com