From the pages of
Pinedale Roundup
Volume 103, Number 16 - December 21, 2006
brought to you online by Pinedale Online
---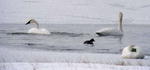 There were twenty Trumpeter Swans on a pond off Pape Road.

Seven Swans a Swimming
(or was that eight)
by Nikki Mann

The second annual Pinedale Christmas Bird Count

At 7:30 on a chilly Sunday morning, a group of 14 dedicated volunteers gathered in the Pinedale Library's entrance to receive their assignments. There was a school bus driver, many mothers, someone who is soon to start work at Proactive, a carpenter, a horseshoer, a mayor, someone from the outdoor shop, a few retirees, and a few "do a bit of everything" As a group, all the people that gathered were quite diverse, but they had one thing in common; they love birds.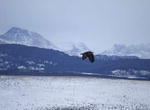 This Golden eagle was not on our route, but was still stunning.

These locals had given up their Sunday morning to participate in Pinedale's second annual Christmas Bird Count (CBC). Nationally, this is the 107th annual CBC, which is hosted by the Audubon Society. Locally the CBC is much newer, but still very important. The Audubon Society uses the information gathered by the volunteers to look for the answers to questions like these from their website, "Where will the winter raptors or finches be found? What late-lingering migrants will remain to the north?" The information gathered by only fourteen volunteers on one day doesn't mean a whole lot by itself, but when that information is combined with data collected by groups all over the nation, it can tell the Audubon Society and other interested groups a lot.

The group broke up in order to cover eight routes all of which were within a 15-mile radius of Pinedale. Mayor Steve Smith took the route through the Mesa looking for winter raptors (hawks, owls, and eagles). His two most interesting birds were a kingfisher and an American Dipper. "It's a great community event," Mayor Smith said.

Fred Pflughoft and his family took the route covering the city parks, as well as another route to Soda Lake. Jeff and I happily took a route that was new to us. 40 Rod Road to part of the Pape Road and then 191 back to the Cora turnoff. Jeff drove and I scanned the sky. Traffic was light, thankfully. Every so often one of us would say "Corvid on the left" or "is that a Buteo," and we would stop to check the bird out with the binoculars or the spotting scopes.

We saw the common birds, raven, magpies, and mallard ducks, and dutifully recorded the number of birds we spotted. But we also saw twenty Trumpeter Swans, mostly sleeping but occasionally bathing, one dark morph Rough Leg Hawk (a color I had never seen before), a flock of about 50 Rosy finches (being eagerly stalked by the cats), six Bald eagles, a kingfisher, a flicker, and a Northern Shrike.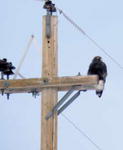 Dark morph Roughleg hawks are relatively rare in this area.

Although Jeff and I saw quite a few neat and uncommon birds, we were disappointed not to see an Evening Grosbeak. Those birds have beautiful black, yellow and white feathers with a large, thick bill. Evening Grosbeaks winter in this area and can be an amazing bird to see, but recording the number and location of Evening Grosbeaks during the CBC can be even more important.

The Audubon Society has used the CBC to track population trends in the Evening Grosbeak. Volunteers from around the U.S. provided valuable data on Evening Grosbeak numbers during the annual bird count, and Audubon used those numbers to show some interesting population patterns.

Audubon has to be somewhat selective and try to compensate for biases from their eager volunteers, who may or may not be the best birders, or record things very accurately. Once Audubon had removed or compensated for uncertain factors in historical CBC data, they noticed that the Evening Grosbeak "exhibits a biennial pattern" across much of North America. Years where the Grosbeaks were plentiful were followed by years of low numbers. If an individual or organization was studying Evening Grosbeaks during a year of a low population, this information about biennial patterns could prevent someone from taking action or making incorrect statements about plummeting Evening Grosbeak populations.

The information on Evening Grosbeaks also showed that their overall population number (taking into account biennial patterns) has been declining since the 1980s. However, locally in the Rock Mountain region, Evening Grosbeak numbers appear to be stable. It's amazing what the information from groups of volunteers around the county can do when the CBC results are analyzed by experts.

Photo credits: Nikki Mann, Nikki Mann, Nikki Mann, Nikki Mann

See The Archives for past articles.
---
Copyright © 2006 Pinedale Roundup
All rights reserved. Reproduction by any means must have permission of the Publisher.
Pinedale Roundup, PO Box 100, Pinedale, WY 82941 Phone 307-367-2123
editor@pinedaleroundup.com