From the pages of
Pinedale Roundup
Volume 103, Number 16 - December 21, 2006
brought to you online by Pinedale Online
---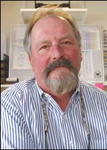 Paul Jensen

From the Beltway to the Basin

by Annie O'Brien

Paul Jensen was born in Denver, Colorado in1946 before the development of the polio vaccine. Jensen was supposed to be born in a Denver hospital, but, when an outbreak of the disease hit the hospital, his mother was moved to an Air Force base.

Jensen's father was a college professor, and the family moved from Iowa, Kentucky, Indiana and finally to Minnesota. Paul attended Macalester College in Minnesota, where he studied political science. After college, he earned his masters degree Johns Hopkins at the School of Advanced International Studies.

Jensen returned to Minnesota to work for Governor Wendy Anderson. That job marked the beginning of a high-powered career in national politics. In 1974, in the midst of the Watergate investigation, Jensen moved to Washington D.C. to work for the Democratic National Committee. Within a year, he became the Deputy Director of the National Democratic Platform Committee, and wrote the party's platform in 1976.

He joined the Carter campaign, helping that president achieve his narrow victory. Jensen worked for the U.S. Department of Labor until he was "unceremoniously destroyed" by the Regan Administration. Jensen's career in Democratic politics resumed when Walter Mondale, the 1984 Democratic presidential candidate asked him to work as the campaign's national political director. Mondale won only his home state of Minnesota. Jensen joined a consulting firm called Public Strategies until 1988 Presidential candidate Michael Dukakis asked him to work as the campaign's national political director. Dukakis also suffered a decisive defeat from George H.W. Bush.

Jensen then entered the corporate world,working for two years at a law firm where he helped create corporate strategies. Then with Jody Powell, Carter's former press secretary, and several other partners, Jensen founded a public relations company. "We ended up being fabulously successful," Jensen said. Within five years the start-up company was valued at $15 million and employed over 100 people. After about ten years, the company was purchased by the advertising conglomerate Shandwick P.L.C.

Jensen had been coming to Wyoming for 20 years every summer and fall. Four years ago, he moved here with his wife, Sherrill, and his daughter, Lily. He works as the Director of Rendezvous Pointe, and cowboys in the summer and fall. He just completed Hard and Noble Lives: A Living Tradition of Cowboys and Ranchers in Wyoming's Hoback Basin.

You moved to Wyoming after a long, successful career in Washington D.C. Why?

I had a very good run for over 30 years and had been very successful but Washington, but it quit being fun. When I started there people didn't take themselves seriously, but cared about the country. There wasn't the sharp, bitter partisanship there is now. They cared about legislating. They also had a sense of humor Progressively Washington has become more and more partisan. There were more and more small-minded people. And I had been there long enough, maybe too long.

Also, the currency [in Washington] became lobbyists and P.R. consultants. People were more amenable to influence from lobbying and public relations consultants. That's not the way we should conduct our national business. I was at the point where I wanted to reinvent myself. I had spent enough time here to know this was the place I wanted to move.

What's so appealing about being acowboy?

In the forward of my book there's a quote by Wallace Stegner that explains my fascination with the West better than every thing else. It's not just me and my generation. The myth of the cowboy permeates the psychology of Americans generally. And it's not just the myth, but I had ridden enough with cowboys to know I loved the freedom and the life. I have not met one rancher or cowboy who did not thoroughly enjoy what they were doing.

Do you ever miss the city?

No. I miss some of my friends, but I haven't been back since I moved here.

What do you like best about your job at Rendezvous Pointe?

I like three things. One, I like the seniors. I like the clients, in part because they have a lot of interesting history to share and they're just interesting characters. Two, we provide needed services to people. We have to survey the seniors periodically, and one thing that just jumps out at you is the friendship here. They have wonderful friendships in a wonderful environment.

It's not the food, although the food is very good. The seniors just enjoy each other. One goal for me was achieving the financial growth and stability. We created a wellness program called Walking to Hawaii, in which the participants collectively had to earn enough mileage to get to Hawaii. Forty people participated. No one expected we would get that kind of turnout, but we made it fun. The seniors were divided into different age groups and everyone got baseball hats and speedometers. At the end we had a luau in October. I didn't think we'd finish so soon. We reached the mileage near the end of September I didn't think we'd finish. We hit mileage near the end of September. I thought we'd be lucky to get there by end of October or the beginning of November.

What is the most difficult part of your job?

A challenge is ensuring that there is not just financial stability from year to year, but that there is a long-term plan to make sure we retain the financial strength of Rendezvous Pointe.

We also have to be able to customize hat we do and the services we offer to the particular population of seniors. Before I got here, there were a number of women and a few men who were very active volunteers. Now those people are in their 90s and we have a younger group of seniors that is quite independent.

The other challenge, which is more aggravating than anything else, is the number of government quarterly reports we have to file.

Who is in your family?

I was married before when I was in Washington and I have two children from that marriage. I have a 30-year old son, Luke, who works as a geologist for Shell Oil in Houston. He's a very good rider. I also have a daughter, who is 22. She will graduate from Colorado College this year. My current wife, Sherrill, and I have been married for ten years. Sherrill is a middle school teacher. Our daughter Lily is in third grade. She's a really good skier, aside from being a really good kid. Her brother and her sister grew up in Washington so she's the only one who will have the benefit of growing up in Wyoming.

What are the benefits to growingup here?

There are some downsides, but the benefits are being able to be outside. To live here and thrive you have to take advantage of the outdoors. Lily has an appreciation for wildlife that her brother and sister could never have. You can't get it if you just visit.

Two, there's a small town atmosphere that lets you really get to know quite a few people, not just the people in your class or grade.

The downside is that we live in a small town. There are plays or movies we just don't get to see. And you don't get diversity. It's all white with very few exceptions.

What do you do in your leisure time?

I spent my free time between riding and writing my book. I do enjoy watching football, college and pro. The NCAA basketball tournament is the best tournament of the year. I try to work out regularly I used to do quite a bit of drawing. I started in watercolor, but I haven't had the time but I'd like to start that again. Drawing is one of those things you have to stick with. It's like playing the piano. If you quit for a few years, it's like you have to start all over again.

What do you hope for?

I want to resurrect my drawing skills. I'd also like to learn to sculpt. I hope that I keep my health, and that I continue to enjoy my life with my family and my friends. And most importantly, I hope I can continue to ride and cowboy for another two decades at least.

What advice would you like to impart?

Two things. One of which would be, do what you want to do. Don't defer your dreams because, if you do, you may never reach them. Be willing to take risks. The other thing I'd tell people is to keep your sense of humor.

There were so many people I knew in Washington who said they wanted to sail around the world or be a mountain guide. There were some people who, no matter what they aspired to, could never dig out of the rut. Only one of the people I knew there did what he wanted, aside from me.

What is your favorite spot in Sublette County?

The Hoback Basin.

Photo credits: Annie O'Brien

See The Archives for past articles.
---
Copyright © 2006 Pinedale Roundup
All rights reserved. Reproduction by any means must have permission of the Publisher.
Pinedale Roundup, PO Box 100, Pinedale, WY 82941 Phone 307-367-2123
editor@pinedaleroundup.com