From the pages of
Pinedale Roundup
Volume 103, Number 15 - December 14, 2006
brought to you online by Pinedale Online
---
Obituaries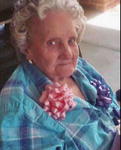 Janet Stoddard Heikes
Janet Stoddard Heikes
Janet Viola Stoddard Heikes, 90, of 318 D Street, Rock Springs, Wyoming passed away on Sunday, December 10, 2006 at the Sublette Center in Pinedale, Wyoming. She had been a resident of Pinedale for the past six years and former long time resident of Rock Springs, Wyoming.
She was born on July 30, 1916 in Rock Springs, Wyoming, the daughter of the late John and Hattie Stoddard. Mrs. Heikes attended schools in Rock Springs, Wyoming and was a graduate of the Rock Springs High School with the Class of 1933.
She married Willis Dutch Heikes in Rock Springs, Wyoming on April 17, 1937 and he preceded her in death on January 9, 1974.
Her interests included spending time with her family and grandchildren. She was a member of the Congregational Church.
Survivors include two sons Neil Heikes and his companion Johanne of Cora, Wyoming and Barry Heikes and companion Judy of Rock Springs, Wyoming; two daughters Karlene Bozner of Rock Springs, Wyoming and Gail Miskulin and husband Ted of Rock Springs, Wyoming; nine grandchildren, Shane Heikes, Troy Heikes, Roxanne Heikes, Keith Heikes, Korey Heikes, Kris Valdez, Natalie Valdez, Mike Bozner and Melanie Bozner; 13 great-grandchlldren and two great-great-Grandchildren.
She was preceded in death by her husband, parents, one brother, one grandson, one sister, one brother-in-law and good family friend Tom Barker.
Funeral Services will be conducted at 10:00 A.M. Friday, December 15, 2006, at the First Congregational Church 1275 Adams Avenue, Rock Springs, Wyoming. Interment will be in the Rest Haven Memorial Gardens. Friends may call at the Vase Funeral Chapel Thursday from 4:00 P.M. until 6:00 P.M. and again Friday at the church one hour prior to services.
The family of Janet Viola Stoddard Heikes respectfully suggests that donations in her memory be made to Sublette Center, P.O. Box 788, Pinedale, Wyoming 82941.
---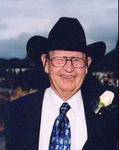 Albert Conrad
Albert Conrad
Albert M. Conrad, 88, of Riverton, WY died Monday, December 4, 2006 at Westview Health Care Center in Sheridan, WY where he had resided since November 15th. Mr. Conrad was born August 5, 1918 in Montrose, Missouri to Albert and Sallie (Lawson) Conrad. He graduated from Montrose High School in 1936. February 1937, he enrolled in the Missouri National Guard. While stationed there he achieved the rank of Golden Glove Boxer.
The following summer he moved to Worland, Wyoming, to work on the Holland Ranch in Washakie County. Later that year, he was hired at the Ken Noble Ranch in Jackson Hole. His next venture took him to Big Piney to work on the Link Shidler Ranch where he began his fascination with heavy machinery. From 1938-1945 he was employed for the Grazing Service (District #5) around the Big Piney area as regional foreman. In 1945, he formed Conrad Construction in Marbleton, WY.
On March 1, 1946, he married Mary Elizabeth (Bette) Cooper of Pinedale, WY in the state of Washington. In 1954, they moved to Riverton to begin clearing cottonwoods for the Boysen Dam Reservoir. He also worked for a short time for Federal American Partners in the Gas Hills Uranium mine and Midvale Irrigation. In 1960, he moved out of Riverton into Paradise Valley and later reopened Conrad Construction until 1992.
He was one of the charter members of the Riverton Wildlife Association in addition to longtime member of the Black Horse Troop, Wyoming Wildlife Association and Outspoken Democrats, Shrine, Knights Templar and a 50 yr. member of Pinedale Masonic Lodge #31.
One of the many highlights of his life, included a safari to Zambia with his son-in-law Joe Dennis where he bagged an African wart hog, Kudo, and Puku. He made the dream hunt by traveling on the now retired Concord aircraft.
Survivors include four daughters: Barbara Osborne of Sheridan, Sally Conrad of Cottonwood, AZ, Connie Dennis of Visalia, CA, and Gwen Schwab of Pinedale; nine grandchildren and five great grandchildren. His wife Bette preceded him in death in 1990.
In lieu of flowers, memorials in his name may be made to the Wyoming Wildlife Association, 500 E. Fremont, Riverton, WY 82501, attention Bob Budd. A Celebration of Life will be held at a later date with scattering of his remains at his favorite hunting ground by Pilgrim Mountain. His love of life and fun will be missed along with the famous water fights. Arrangements are with Champion Ferries Funeral Home, Sheridan.
See The Archives for past articles.
---
Copyright © 2006 Pinedale Roundup
All rights reserved. Reproduction by any means must have permission of the Publisher.
Pinedale Roundup, PO Box 100, Pinedale, WY 82941 Phone 307-367-2123
editor@pinedaleroundup.com