From the pages of
Pinedale Roundup
Volume 103, Number 15 - December 14, 2006
brought to you online by Pinedale Online
---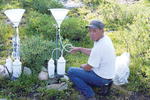 Getting to play, and work, on the water

Ted Porwoll gets lots of quality time on Sublette Lakes

by Julia Stuble

Raised around the lakes of Minnesota, Ted Porwoll canít miss them too much, taking into account all the time he gets to spend on lakes here in Sublette County.

Porwoll, who has worked for the U.S. Forest Service for 23 years, studies air quality by its impact on surface waters in the Bridger-Teton. Since 1996, heís worked at the Pinedale Ranger District Office on air quality issues. During the summer, he is often in the field, so in the winter Porwoll has more time in the office and spent a few minutes speaking with the Pinedale Roundup about Sublette Countyís air, mountains and change.

What is your position with the Forest Service?

Iím a ďhydrologic technicianĒ Ė basically, an air quality technician. The title isnít really all that accurate Ė it deals with surface and groundwater and we do that in relation to air quality. What goes up, must come down. The Forest Service mandate is to protect the Bridger Wilderness and its Class I airshed.

So, you do a lot of field work?

Yes, in the winter we take one trip a month to Black Joe Lake, in the Big Sandy drainage, and to Hobbs Lake, above Elkhart, for snow samples. In the summer, itís every other week for a rain sample. We take three trips a year for lake sampling at our five long-term lakes: Black Joe, Hobbs, Deep, Lower Saddle Bag and Ross Lakes. We run chemistry testing on the rain and snow samples, and collate that with the long-term monitoring on the lakes. Weíve been testing our longterm lakes and deposition since about 1984. The testing is a cause and effect thing, seeing whatís being deposited and what the effects are on the lakes and the creatures that live in them.

What are you testing the water for?

Weíre looking at the amount of deposition from the atmosphere and the change in surface water chemistry over time. The program was originally put together to monitor potential acidification of lakes from acid rain. Turns out, what weíre finding is that we are more concerned about nitrification. By adding nitrogen to lakes youíre basically fertilizing these really sterile, high lakes, so their function changes. Theyíre receiving more nitrogen than they are able to use up.

Is it difficult to pinpoint the causes of the nitrification?

Well, to start, the Winds are a great place to monitor this sort of thing. Historically, itís got a very clean background. If you take a drop of coffee and put it in a cup of coffee and compare that to a drop of coffee put in a cup of water, thatís the Winds. When you start with that clean background itís easier to monitor cause and effect.

Nitrification is a regional and even global thing. Since the passage of the Clean Air Act, the amount of sulfur dioxide has gone down nationally and the amount of nitrates has gone up. Itís regional but it also can be very local. Most sulfur dioxide comes from coal-fired power plants and smelters. Those are large point sources that are easier to clean up. NOx emissions are produced mostly by traffic, by gas and diesel engines, so thatís connected to all the urban growth in the West. The increase in NOx comes from the increased amount of traffic. Theyíre all mobile sources, so while theyíve cleaned up vehicles in general, there are more vehicles on the road and more miles traveled.

Within that, we try to isolate the more local effects, one of which is energy development. Because of its proximity to the mountain range, the effects from local energy development will have a tight signature, which should be easy to see if we look at it on a larger scale. Itís a global problem but thereís no doubt that the amount of NOx, especially in the West, is increasing.

How long have you been doing this?

Iíve been here since 1996. I started with the Forest Service in 1983, on the Shoshone Forest. Iíve worked on different ranger districts as trail crew and as a wilderness ranger.

This job is really nice, after dealing with people for 14 seasons, I wanted a job where I could go out and do sampling and monitoring, instead of looking for trouble all the time. I took this job because itís a field-going job. For the most part, itís one of the reasons Iím still here.

What made you come to Sublette County?

I came in 1996 because of the job. But when I moved out of Wyoming for the first time, I always knew I would be back.

Whatís your ideal day here?

Oh man, probably get up, and take my wife and son out fishing at the lake for the day. One of the big appeals of moving here was the big, clean natural lakes, you donít find that very many places in the West. Pinedaleís got pretty much everything you could want from a town. Itís all the civilization you need, and then thereís the wilderness and wildlife and mountains.

What is the most interesting part of your job?

I think the most interesting part is just getting to play in the water, the lakesí monitoring. We do a lot of synoptic monitoring, which is just a quick, grab sample to give us a snapshot of water chemistry.

In the Winds, that takes me to the lakes at the heads of minor watersheds. The best part of my job is that 90 percent of it is getting into the mountains and getting back out. About one to five percent is the actual sampling. When I first started the job, I thought it might get kind of old, going to the same places over and over again, but the reality is that those places change over time. It is neat to go back and see how things change year to year or over the seasons and see the differences, the characters a place takes on. Itís all about the traveling and the mountains.

What is your favorite spot in the Winds?

Oh, there are so many places in the WindsÖ The places I have to go on a regular basis are the Big Sandy Trail and Elkhart Park and those are busy chunks of trail, so any time I can get off the trail itís nice. I like the northern end because itís so gnarly. Even with all the people, I still love Big Sandy, because for eight months of the year, thereís nobody on it.

So youíre paid to hike in the summer and ski in the winter?

Yep, I hike in summertime; we use goats and llamas a lot to haul gear. Theyíre more suited to traveling above timberline and on the slick rock than horses. In the winter, we snowmachine to the Wilderness Boundary then ski in. I exclusively do tele-turns, I donít have any alpine gear.

Iím imagining ďSkyís WitnessĒ by Chip Rawlins.

Yep, itís pretty much the same job. In fact this is the same program. There are a lot of great people who have contributed to it over the years.

What changes have you seen in Sublette County?

I havenít been here that long, ten years. I remember the first time I drove through Sublette was in the mid-80ís at the tail end of the last boom. It always stuck out for me that you could drive from Farson to Boulder and not see a light bulb. That has changed now, incredibly. When I came out of the mountains after dark, all I could see was Big Piney on the other side of the valley, and now that whole middle country is lit up at night. It still takes me by surprise, even though it has been a few years.

What would you like to see change?

I lived in Steamboat Springs, CO for a while; it was a lot of fun but expensive. When I came here, I thought it would be a great, cheap place to buy a house and settle down. Things have changed a lot, in that regard, since I moved here. I would like to see it become easier for folks to live here and know that their jobs will be here for the long term.

Photo credits: Courtesy Ted Porwoll

See The Archives for past articles.
---
Copyright © 2006 Pinedale Roundup
All rights reserved. Reproduction by any means must have permission of the Publisher.
Pinedale Roundup, PO Box 100, Pinedale, WY 82941 Phone 307-367-2123
editor@pinedaleroundup.com