From the pages of
Pinedale Roundup
Volume 103, Number 15 - December 14, 2006
brought to you online by Pinedale Online
---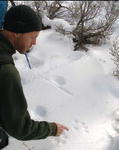 EWR cofounder Nat Berg demonstrates the difference between Lynx and cougar tracks.

Finding links to the elusive Lynx
Endeavor Wildlife Research using tracks to gather information on Canada Lynx
by Nikki Mann

Nate Berg is done with one of his favorite types of hunting; he already has this year's elk in the freezer. Today he is up in the Wind River Range on another type of hunt, and this one is for something a bit more unusual –tracks of the Canada Lynx.

Berg is one of the co-founders of Endeavor Wildlife Research (EWR), a nonprofit organization created to study the Canada Lynx. Berg is not padding softly through the forest stalking elk. Today he zips up the mountain on his sled, heading the four-sled team composed of two other EWR employees, a Game and Fish employee, one representative from Western Watersheds, and two tag-a-longs. Berg is looking for huge but shallow cat tracks at nearly seven miles an hour. The speed makes everything seem blurry to the unpracticed eye, but Berg has had a lot of practice.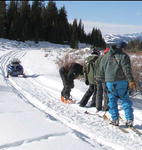 EWR researchers and onlookers pause while snow-machining to examine tracks in the snow. Unfortunately, none of them were the huge cat paws of the Lynx.

EWR is using a three-pronged approach to studying the Lynx populations from Togwotee Pass south through the Wind River Range and west to the Wyoming Range. One part of the study is looking at the Canada Lynx, the other part is looking at the Lynx's primary food source snowshoe hares, and the last part is looking at coyotes, which can compete with Lynx. The Canada Lynx is a hard cat to find.

Like most wild cats, Lynx are quiet, athletic, and secretive. There are not very many Lynx in the Bridger Teton National Forest, and because they are small-bodied cats with huge paws, their faint tracks can be hard to find.

Despite the tracking difficulties, EWR has used DNA analysis to confirm four separate Canada Lynx individuals. EWR collected DNA samples by following Lynx tracks and looking for hairs stuck in brush, daybeds or scat piles. EWR also identified different individual cats based on their unique tracks, but didn't find any hair or scat for DNA analysis. DNA is often hard to come by and EWR has likely located more than four individuals on Bridger Teton National Forest.

The Canada Lynx is a medium-sized cat (11 to 40 pounds) and is a silver-gray to grayish-brown with a white belly and throat and distinctive long black ear tufts. The Lynx tracks are 4-5 inches wide and 3-5 inches long. Their stride is an average of 32 inches long –shorter than a cougar but longer than a bobcat. The real distinction between Lynx tracks and the only other cat track of similar size, the cougar, is how little the Lynx will sink into the snow compared to the much heavier cougar.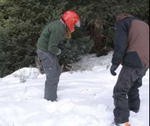 This outing was used primarily to train new employees.

Lynx have a huge home range. Female Lynx are thought to have an approximate range of 100 square kilometers, or about 38 square miles. Males are around 150, or 58 square miles. This adds to the difficulties for researchers tracking Lynx because the cats may be in an area one week, but gone the next. During the winter the Lynx tend to roam less, which is one of the reasons EWR focuses their tracking efforts during this season.

Historically, Lynx were much more common in this area One local resident trapped 17 Lynx in one drainage in the Wyoming Range during the 1970's. In addition to pressures from trapping, one of the theories behind the shrunken Canada Lynx population is a lack of their primary food source, the snowshoe hare.

Berg has been focusing his graduate degree on the snowshoe hare population, and although the study isn't complete yet, Berg's initial feeling is that snowshoe hare populations are doing fine. Some of the factors that will contribute to a healthy snowshoe hare population are dense forest, and enough young trees with low branches that touch the snow. During the winter, snowshoe hares survive by eating the low evergreen needles.

One of the other possible factors affecting populations might be interspecies competition between coyotes and the Canada Lynx. The small body cats have adapted huge paws that act like snowshoes to disperse their weight and make them "float" on the snow. This has allowed them to pursue their prey, the snowshoe hare, which has also adapted huge back feet for easy movement on snow.

The advance of snowmachines and backcountry skiing has "compacted" roads into areas that would have historically been inaccessible during the winter to other predators and may possibly be contributing to coyotes moving into new areas. What EWR biologists and employees are hoping to find out is if these compacted roads are having any affect on coyotes, which are in turn affecting the Lynx.

On this outing, the two Lynx that had visited the area several weeks ago did not leave any tracks in the areas that EWR and Game and Fish snowmachined. The coyote tracking crew was just gearing up for the winter season by some more mundane practice finding a staged "lost" radio collar. However, the new EWR employee from Arizona came back grinning after he started to get the hang of driving the sled, "This is a blast!"

If you spot a Canada Lynx or what you believe are Lynx tracks please contact Endeavor Wildlife Research at 307-733-2333 or 307-413-3273 or contact the non-game biologist at Game and Fish at 307-733-2321.

Photo credits: Nikki Mann, Nikki Mann, Nikki Mann

See The Archives for past articles.
---
Copyright © 2006 Pinedale Roundup
All rights reserved. Reproduction by any means must have permission of the Publisher.
Pinedale Roundup, PO Box 100, Pinedale, WY 82941 Phone 307-367-2123
editor@pinedaleroundup.com