From the pages of
Pinedale Roundup
Volume 103, Number 15 - December 14, 2006
brought to you online by Pinedale Online
---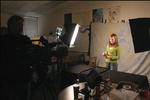 Amy David in front of the camera.

Discovery Channel comes to Pinedale
Production team films science fair winners for T.V. special
by Ben Cannon

Amy David and Jayne Thompson are no strangers to receiving a bit of attention in Sublette County and Wyoming. The pair of freshmen at Pinedale High got plenty of praise when they took top prize at the Wyoming State Science Fair last March. Now, it seems, the 15-year olds from a small community will be reaching a much larger audience.

Their project, "When the Dust Settles, Year 2: A Multivariate Study of the Patterns of Near and Far Dispersal of Windblown Particulate Matter," is more than a mouthful to say, but judges at national competition in Washington, D.C. understood very well what the girls had accomplished.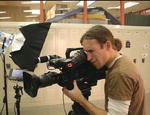 A member of the film crew at work.

It was not just the scope of their work that top judges were looking for, but also the girls' ability to explain it to others. "What we're looking for is a science communicator," said Steve "Jake" Jacobs, Head Scientist for the Discovery Channel.

Jacobs explained that the Discovery Channel's Young Scientist Challenge (DCYSC) aims to encourage student scientists with an ability to communicate clearly to others. He cited the likes of British scientist Carl Sagan, and Jacob's personal "favorite" and inspiration, Mr. Wizard.

These are people of science who figure less in the world of research –an obscure one to most– and more in the public realm delivering science to the masses.

On Tuesday and Wednesday, Jacobs, along with a small Discovery Channel production team from Washington, came to Pinedale to film David and Thompson. They are working on a special that will air in late February on the Discovery Channel.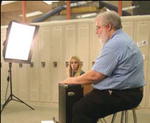 "Jake" Jacobs fixates on a easy-to-make pulse indicator.

"This year we thought it would be fun to go to the towns and the schools" of the top science fair winners, Jacobs said.

This is not the first time that Jacobs, who travels around the country for his work, has heard of Pinedale. A few years ago, Amy David's older sister Erica, now 17, also received recognition in the DCYSC.

Jacobs thinks it is no mere coincidence that a town as small as Pinedale –far removed from the science fair hubs of New York and Florida, which emphasize science projects in their curriculums– seems to have a trend of producing national contenders.

"Every once in a while you find an exceptional school," he said of both Pinedale High and Pinedale Middle School. Elaine Crumpley at the middle school, Jacobs said, has helped to build an "incredible" science program.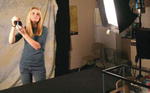 Jayne Thompson poses with a beaker full of blue water.

At national competition, students must compete on an individual level. David and Thompson, who are both very well spoken ninth graders, had to split up and separately present their joint work. David took third place overall and won a scholarship of $5,000.

The Discovery Channel crew spent two days filming the girls in various backdrops presenting examples of science that can be found in everyday environments.

In the Pinedale Middle School teacher's lounge on Tuesday, Thompson and David took equal turns in front of the camera, displaying beakers holding colored water. "I'll (choose) blue because it matches my shirt," Thompson joked.

According to Jacobs, over two million students enter local science fairs every year. From there, 60,000 make it to regional/state competition. The top ten percent of those then submit essays from which 400 become semi-finalists. The top forty go to nationals held in October.

For more information on the Discovery Channel's Young Scientist Challenge or to learn more about February debut of the show that will feature David and Thompson, go to: www.dcysc.com.

Photo credits: Ben Cannon, Ben Cannon, Ben Cannon, Ben Cannon

See The Archives for past articles.
---
Copyright © 2006 Pinedale Roundup
All rights reserved. Reproduction by any means must have permission of the Publisher.
Pinedale Roundup, PO Box 100, Pinedale, WY 82941 Phone 307-367-2123
editor@pinedaleroundup.com