From the pages of
Pinedale Roundup
Volume 103, Number 14 - December 7, 2006
brought to you online by Pinedale Online
---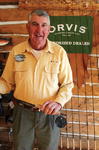 "Sometimes I say we're doing too good. That's a sign of the times. We would've been discovered one way or another. People are going to find little nuggets like Sublette County," said Mike Kaul.

The fishing trip of a lifetime

by Ben Cannon

Mike Kaul grew up in Sublette County. His grandfather, Floyd Kaul, came here in the early twentieth century and staked out a life. It was from an early age that Mike knew exactly what he wanted to do with his life: pursue moments like the ones he shared with his granddad years ago on the banks of water. Now 64, Mike Kaul sat down with the Pinedale Roundup to discuss a life spent realizing a dream.

Tell me about your upbringing.

My grandfather, Floyd Kaul, came out to this country from Kansas in 1908. Things didn't pan out for him in Colorado so he came up here and worked as a teamster moving freight and mail from Lander to Pinedale through South Pass. He later worked as a government trapper and went all along the old ranches of the East Fork and New Fork rivers.

When I was eight years old, he started me fly fishing in the local waters. The Upper Green and Gros Ventres River Valleys became my flyfishing training grounds. I spent every hour I could as a youngster traversing those venues with my granddad, learning the streams and the sport of flyfishing. He tainted me so bad as a kid, I knew I had to come back here (laughs)!

So you've had basically a near lifelong affair with fishing?

Oh yeah, but even then, at twelve years old, I knew you couldn't make a living as a fly-fishing guide. I started to look at the military as a pretty good option. And the vehicle that, in a way, allowed me to do this was basketball. I was the second tallest kid in the state. The tallest kid signed with (the University of) Utah to play ball there. The professor of military science (at U.W.) was a former basketball player. It was kind of a blackmail thing that they did to get me to play basketball.

So that was how you got into the army?

Yeah, I went through college and ROTC (Reserve Officer Training Corps) and that allowed me to get a commission in the Army. I went on active duty about 1965.

Part of my goal was to get a military retirement. I spent twenty years in the service –did a tour in Vietnam in '67 and then went to Korea twice– and at the end of that I said 'ok it's time.' My last duty was at San Diego State University. I started up the ROTC program there.

How did you get back to Pinedale?

Well, first we had two boys to put through college. My wife, Jamie, and I had small business in Carlsbad, CA. You know Mail Boxes, Etc.? We had franchise number one.

Then we bought a floral shop. That worked well for us because we could leave it in the summer, which was good because we could come up here. I knew organization and management from the military, so I had an idea of how to approach retail.

We were able to begin a transition back to Pinedale around 1990. We started JMK (Jamie, Mike Kaul) Enterprises here in Pinedale. The design of that company was to spread the word of the recreation opportunities, especially the flyfishing opportunities here.

John Ross had, at that time, just started Two Rivers Emporium and I was looking for a local outfitter to accommodate the folks we brought in, so it was a good fit for both parties. We put people up at the Chambers House B&B, and at Lakeside Lodge, and Half Moon Resort.

Our company, in many ways, works on behalf of the chamber of commerce. We get people to come here for the fishing, but the whole town benefits from their money; they also shop here and eat at the local restaurants. fishing shows and demos and talk about the virtues of Pinedale. I've been doing this for eight or nine years now and I've built up a really good client base. Since that time of coming back here, I became a certified flyfishing instructor. I guide and also give casting lessons.

And now you have yet another job?

I recently took over management of Two Rivers Emporium. John and I had a very close working relationship. And so when he decided to move on, I decided to take destiny into my own hands. It will just make it easier for me to manage this place. Vic McMurray (owner of Two Rivers Emporium) was agreeable to it. Part of that agreement was that when the season comes back around, I get some help in here so I can still go out and work my 'other office.'

One of my key lines when I'm out guiding is when we're out on one of our private leases, on a beautiful day and I wait for the right moment to say: 'what do you think of my office?' And that was always my goal.

You and your wife are soon leaving for a few months, correct?

We are about to hit the road, and I'll be doing shows. We keep a condo in Carlsbad (close to San Diego), which we use as our headquarters. My wife Jamie said she would move back here to Pinedale with me but we have to keep a southern anchor. I told her even before we were married that I would come back to Pinedale. She thought I would outgrow it (laughs).

What is your perfect day in Sublette County?

A bright sunrise morning at the longest stream. The remainder of the day would follow with the ever-changing clouds and sun and fishing conditions. End at sundown with a magnificent hatch of caddis and trout hungrily feeding on all of it. And maybe even a little afternoon thundershower. Then it clears off, and you have the hatch. At midday, on my favorite Sublette County day, watching a cutthroat trout come up to take a hopper; there's not other fish that will move as slow and deliberately for a fly.

It's almost like in slow motion. Bless their heart, they're a great fish. I've always loved them. When I was a kid, they were not the most sought after fish. Everyone looked at it like this unsophisticated fish. And now we've come full circle. It's a native fish, when you catch a cutthroat, you're holding this thing that originated here thousands and thousands of years ago. These doggone things have some lineage. Then a nice evening, that would be a perfect day.

Photo credits: Ben Cannon

See The Archives for past articles.
---
Copyright © 2006 Pinedale Roundup
All rights reserved. Reproduction by any means must have permission of the Publisher.
Pinedale Roundup, PO Box 100, Pinedale, WY 82941 Phone 307-367-2123
editor@pinedaleroundup.com