From the pages of
Pinedale Roundup
Volume 103, Number 14 - December 7, 2006
brought to you online by Pinedale Online
---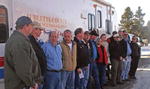 Members of Search & Rescue, the Sheriff's Department, local energy companies and others gathered outside the command center.

County gets new mobile command center
"Smart Board" helps track search missions, fire and hazmat conditions
by Annie O'Brien

On December 5, about 17 people stood in a trailer outside the Sublette County Sheriff's Department office. The trailer was spacious enough to accommodate them all comfortably.

According to Deputy Bob Hanson, the Sheriff's Department acquired a new mobile command post from Emergency Management Equipment, a company based out of Salt Lake City. In addition to a four bed sleeping area, kitchen area, the new command post features a mapping program that helps officers track search and rescue routes, as well as wildfire patterns and hazmat conditions.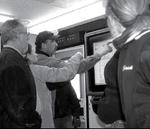 Delsa Allen points to the command center's Smart Board.

The program allows officers to display an entire map of an emergency or search area. Searchers are sent out with GPS devices on which they record their routes. They bring their GPS systems into the mobile command center. The routes are then displayed on a "Smart Board," or video screen. This system helps organize the search and rescue process, preventing people from tracing the same search routes, Hanson claimed.

The mapping system can also be used to chart wild fires and wind directions. Knowing wind patterns can help emergency workers battle fires and hazmat situations. When officers know which way a plume of toxic smoke will blow, they can better control the accident and protect surrounding communities.

The mobile command center also possesses internet access and two cell phones serviced by a large satellite dish. Network access should be very reliable. Hanson said, "If we can see the sky, we can talk." Hanson said the facility would fulfill a real need in the county's emergency response system. He estimated that the county's search and rescue division was deployed about 37 times over the past year.

While looking for Ken Koski, a backpacker who died in the Wind River Range in September, rescuers worked out of a converted ambulance.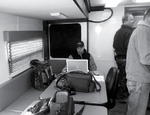 Travis Davison works on the command center's mapping system.

The facility can also be used as am emergency operation center. "We can basically run the Sheriff's Office out of this thing," Hanson beamed.

The entire facility cost $240,000. It was financed by the County Commission, and companies Shell, Patterson UTA, Questar, Exxon Mobile, Black Horse Construction, Tepco, EnCana and BP America. The private companies provided a totally of $36,500.

Photo credits: Annie O'Brien, Annie O'Brien, Annie O'Brien

See The Archives for past articles.
---
Copyright © 2006 Pinedale Roundup
All rights reserved. Reproduction by any means must have permission of the Publisher.
Pinedale Roundup, PO Box 100, Pinedale, WY 82941 Phone 307-367-2123
editor@pinedaleroundup.com