From the pages of
Pinedale Roundup
Volume 103, Number 13 - November 30, 2006
brought to you online by Pinedale Online
---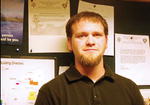 Casey Boulter moved from Utah to enjoy the snow and cold.

Drug tests and sled dogs
Probation Officer Casey Boulter on work, winter and family
by Annie O'Brien

Casey Boulter, the probation officer for the Sublette County Sheriff's Department, was born (in 1976) and raised in Salem, Utah. He started working for the Utah Department of Corrections in Salt Lake City because he was a young father and needed to provide for his family with a good job. While in Utah, he worked at the State Penitentiary in the Adult Probation and Parole Division. He moved to the Sublette in August of 2003 with his wife Neika, and started working in the county jail. He worked in the jail for two years, and became the county's probation officer about a year and a half ago. Casey, Neika and their three daughters - Haley, six; McKinley, four; and Ashley, nine months – care for a ranch between Pinedale and Big Piney. Casey is a fourth generation Boulter in Sublette County. His great grandfather homesteaded near Big Sandy, and his grandfather and father were born and raised here. He and his family moved to Sublette County because he always wanted to move to a colder, snowier climate, which was more suitable for sled dog racing.

How did you become interested in working as a probation officer?

I worked in Utah's Department of Corrections. It just kind of fell into place. I started as a regular correctional officer; then I applied for a shift leader position. The last year I was there, I worked as a parole officer in a halfway house.

What is a typical day on the job like?

There aren't very many typical days in this job. It depends on whether or not everyone is behaving themselves. My position here is two-fold. I supervise all the adults on supervised probation from the circuit court. I also supervise all the adults in alcohol and drug court. Some of my days are spent in meetings for drug court, other times I spend in court, and the rest of my time is spent meeting with adults on supervised probation. They have to contact me once or twice per week. I also do all the urine drug testing for the county. This afternoon will be filled with testing urine samples. The Sheriff's Office purchased a urine drug analyzer that I've been trained on and certified to test with.

What is the biggest problem you see as a probation officer?

Just like the county's growing, the number of people that we seen in court is increasing. More people are placed on supervised probation. We do have more drugs, but it's not just the drugs. Everyone's focused on the meth, which is a very big problem, but alcohol itself is also a very big problem.

How big a problem is alcohol abuse in this county?

Very big. If you compare alcohol and drugs, there are more alcohol related incidents than there are drug incidents. I don't get my hands on them until they go through the court, but I think most domestic batteries have alcohol involved. I don't have a percentage [for crimes committed involving alcohol use], but I think it's pretty high.

What is the most difficult part of your job?

One of the hardest things about working as a probation officer here is that we have a large county. People are spread out throughout the county, which makes it difficult to perform home checks as often as I want or may be needed.

Sublette County?

Winter is why I moved here. I've always loved wintertime and snow. I run sled dogs; I have 21 dogs at home. I've never been to Alaska, but I've always been fascinated with that place. I loved learning about the Iditarod, and watching movies like White Fang. When I had the chance to get some dogs, I did. I got a malamute when I was 21 and my first six dog team in 2002. All the dogs are Alaskan Huskies, ranging in age from four months to nine years old. All of them are from Swingley's line. He won the Iditarod four times and took second place last year. My main leaders are Sitka and Lizzie. My main dog is Stump; he's the father of all but one [ of the dogs] on my current team. I was focusing on racing the Iditarod soon, but with three girls and a full time job, I've decided to wait a while and just race smaller races until life slows down enough to run the Iditarod.

Are the dogs pets or work dogs?

They're part of the family. They are work dogs; when it's 50 degrees below zero, they still work and they stay outside. But I also kind of see them like my kids. I have to take care of them, feed them. They depend on me. We joke that they're our extended family.

Does your wife run the sled dogs?

Neika loves going and watching races and participating that way, which is a big help, but she doesn't run them. She was pregnant last year so she couldn't race.

If you could live one place in the world besides here, where would you live?

I've been trying for years to get my wife to move to Alaska. This was our compromise. But, now that we're here, we're very happy. We would love to stay here for the rest of our lives.

What is your favorite kind of music?

I don't know how you'd label it. Pearl Jam, I guess. I don't so much listen to a type of music as that particular band. It's always playing in my car.

My favorite album right now is their newest album. I served in the Army Reserves and a lot of the songs on their new album address topics very important right now, like the war in Iraq and war in general. To me this album has a lot of heart and depth to the words.

What are you most proud of?

Family. I think we have a happy family.

Photo credits: Annie O'Brien

See The Archives for past articles.
---
Copyright © 2006 Pinedale Roundup
All rights reserved. Reproduction by any means must have permission of the Publisher.
Pinedale Roundup, PO Box 100, Pinedale, WY 82941 Phone 307-367-2123
editor@pinedaleroundup.com