From the pages of
Pinedale Roundup
Volume 103, Number 12 - November 23, 2006
brought to you online by Pinedale Online
---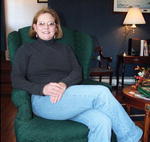 Ann Noble, who enjoys skiing, ice skating, snowmobile, hiking and boating, relaxes the Chambers House B&B.

Looking forward and looking back

by Ben Cannon

Ann Chambers Noble may have been born and raised in Salt Lake City, but the mother of four has familial ties to the community that go back over a century. The local historian, B&B owner, ranch cook and feed truck driver enjoys this time of year. In an interview with the Pinedale Roundup, she talks about family, work, and why she is glad she settled into a Wyoming ranching life.

How far back does your family do here in the area?

My grandfather came to Rock Springs in 1903. My father was a doctor who left the area for a bigger hospital in Salt Lake City. I was born and raised there but we were close enough that we came here all the time. We still have the place on Fremont Lake we used to go to. My husband Dave is an old timer. The Nobles have had the ranch we live on since 1896. Our girls are the fifth generation to live on the cattle ranch.

Tell me about your daughters.

They are my greatest joy and the most work in my life. Thereís Meredith, the oldest at sixteen, Andrea is thirteen, Laura is nine and Zoe is six. Andrea, who goes by ďAndiĒ is the student of the week this week.

Do they help out at the ranch?

Very much so. Meredith works full time for her dad in the summer. She began driving the feed truck at age seven. And the other girls do or probably will do the same.

What was your educational background and how did you come to Pinedale?

I went to Bowdoin College in Main where I got to degrees, a B.A. in history and a B.A. in secondary education. For my Masterís, I wanted to return to the West so I came back to go to the University of Utah where I got an M.A. with an emphasis in western history.

I wanted to come to Pinedale to work on a ranch and my brother Tony got me a job putting up hay in 1986. I met Dave then and there and we were married two years later.

How was your transition adapting to life on the ranch?

It seems kind of odd (laughs). The biggest surprise of my marriage and moving here is that I havenít missed the city. I deeply love Wyoming and living here has been very fulfilling. There is no better place to raise children: both on a ranch and in Pinedale. Pinedale is a very kid-friendly town.

You wrote a book, an extensive history of Pinedale for the 2004 centennial. Are you involved in anything now?

Iím working on three historical projects. My lifestyle is flexible enough that I can always work on a history project. I felt really good about the Pinedale book. Itís a complete history of the area Ėexcept the chapter on the Wagon Wheel Info committee.

I hope to do a book length expansion on that chapter. Iím also doing a historical assessent of the Lander Trail with the Sublete County Historical Preservation Board. Finally, my third project is on a slow simmer. I would love to do a book on Wyoming and World War I. My grandfather, Dr. Oliver Chambers, left a young family in Rock Springs to work an officersí hospital in Paris. I have all of his letters he wrote home. Not much has been written about Wyoming and WWI.

I also serve as historian for the Heart Mountain Wyoming Foundation. That was the World War II Japanese internment camp near Cody. And Iím on the Wyoming Community College Commission, which keeps me on the road. The community college system is amazing in this state. There are outreach programs everywhere. That is a very fulfilling thing to work for.

What is your ideal day in Sublette County?

My ideal day would be to be home on the ranch on a pretty day, spending time with my family. I love having time to read a good book. This is probably my favorite time of year because you still get days with nice weather and the workload has slowed down on the ranch so you can relax. Thanksgiving is my favorite holiday. Itís just simple: itís about family and food.

What are you reading?

Todd Skinnerís Beyond the Summit. I was inspired to read it after his memorial service. I think everybody can get something out of that book, even if you donít climb mountains.

Photo credits: Ben Cannon

See The Archives for past articles.
---
Copyright © 2006 Pinedale Roundup
All rights reserved. Reproduction by any means must have permission of the Publisher.
Pinedale Roundup, PO Box 100, Pinedale, WY 82941 Phone 307-367-2123
editor@pinedaleroundup.com