From the pages of
Pinedale Roundup
Volume 103, Number 11 - November 16, 2006
brought to you online by Pinedale Online
---
Obituaries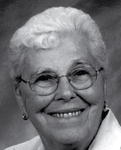 Marjorie Ann Antonsen
Marjorie Ann Antonsen
Marjorie Ann Antonsen, 83, of Billings, formerly of Bozeman, passed away November 10, 2006 on the Marine Corps 231st Birthday to go see her favorite Marine "Phillip". She was born April 8, 1923 in Bonhamtown, New Jersey, the daughter to Frances "Frank" and Helena "Lee" (Miller) Richter. She was raised Bonhamtown and graduated from Snyder High School in 1941. She received nurses' training before enlisting in the Marine Corps.
Marge served in the United States Marine Corps from May 1943 to August of 1944. While in the Marines she met Phillip Sidney Antonsen and they were united in marriage on March 22, 1944 in Camp Elliott, in San Diego County, California.
Shortly after they were married she went to live with her husband's family and lived on the Antonsen Family Ranch.
Marge worked at the hospital and as a private duty nurse for Malcom Story's mother and Freddy Levitt for 32 years; she also helped at family ranch. She also worked for the Life of Montana, Marge was the first female Insurance Salesperson to sell one million dollars of insurance for Life of Montana before she retired at the age of 65.
Marge enjoyed fishing and hunting with her family and friends. She was a life member of Beta Sigma Phi, Forresters, Marine Corps League Gallatin Valley Detachment, and American Legion Post # 14.
Survivors include three daughters and son-in-laws, Ruth Lee and Ed Giebel of Pinedale, WY, Margaret Ann "Mike" and Andy Wick of Billings MT, Carol and Hubert Simanton of Whitewater, MT ; son and daughter-in-law, Theodore "Thee" and Joan Antonsen of New Orleans, LA; 13 grandchildren; 25 great grandchildren; brother and sister-in-law Frank J. and Kathryn Richter of Guntersville, AL. She also left several nieces and nephews.
Marge was preceded in death by her husband, Phillip, daughter, Elizabeth "Betzy" Miller and son Patrick T. "Tom" Antonsen.
A vigil service was held at 7:00 pm, Monday at Dahl Funeral Chapel.
A Funeral Mass was held 10:00 am, Tuesday, November 14 at Holy Rosary Catholic Church. Interment followed with Military Rites at Sunset Hills Cemetery.
Memorials may be made to Big Sky Hospice 1019 Neptune Street, Billings, MT, 59105
Marge will be remembered for her wonderful smile and never meeting a stranger.
---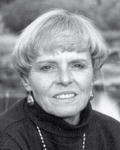 Joan Schroeder
Joan Schroeder
Joan Schroeder passed away on November 12, 2006 in Pinedale, WY.
A memorial service will be held at Our Savior's Lutheran Church, Pinedale, WY on November 27 at 11:00 AM.
Joan was born on May 28, 1943 in Oelwein, Iowa to Dell Dwayne Hines and Mabel Eva Teepe Hines.
Joan enjoyed a happy and adventurous childhood growing up on farms with loving parents, grandparents, and a large extended family.
Joan graduated from Osage Community High School in 1961. Following graduation, she moved to Denver where she worked for National Western Life Insurance. Joan later moved to Minneapolis where she was employed by Dial Finance. She was transferred by that company to Omaha, NE.
In Omaha she met Dennis Schroeder, who was there on his first cattle buying job with Wilson Packing Company.
They were married on May 23, 1970.
Shortly after they were married the couple moved to Dodge City, KS where Dennis was buying cattle for Monfort of Colorado and Joan began an extended college education, which she enjoyed immensely. She drove 180 miles round trip each day to classes at Fort Hays State University. Joan received her Bachelor of Science Degree in Elementary Education in 1976. In 1980, she went on to earn a Master's degree in Special Reading and Elementary School Administration.
She graduated with honors on both occasions. Joan went on to teach Special Reading and Gifted classes for 14 years in Dighton, KS. During this period she also taught graduate level reading courses at Fort Hays State University. She was on the Reading Advisory Board for Emporia State University in Emporia, KS and worked with Kansas University in developing reading competency tests for the State of Kansas.
During this time, Joan also became interested in the cattle business and successfully operated her own cattle feeding company for many years.
Joan was a voracious reader of all kinds of books, often reading three or four books per week.
Another interest of Joan's was cooking. She was a field editor for Taste of Home Magazine for many years.
Joan enjoyed staying in contact with the many friends that she acquired throughout her life. She always had time for her friends and will be remembered for her loyalty and kindness. In her last months she was overwhelmed by the support she had.
She was contented spending time at the ranch enjoying the abundant wildlife and entertaining family and friends. She loved animals of all kinds. A special companion for many years was her German shepherd, Kaiser.
Joan belonged to Our Savior's Lutheran Church of Pinedale. She belonged to the International Reading Association, of which she served as president of the regional chapter.
Joan was preceded in death by her father, Dell Dwayne Hines and her grandparents.
Joan is survived by her husband, Dennis of Pinedale, her mother and father, Mabel and Roger Carmody of Gravette, Arkansas; a sister, Janet Hilsman of Bella Vista, Arkansas; and a brother, David Carmody of West Union, Iowa. She is also survived by ten nieces and nephews and many great nieces and nephews.
Memorial contributions can be made to Sublette County Hospice Care c/o The Sublette Center, P.O. Box 788 Pinedale, WY 82941.
---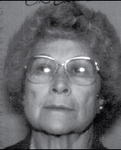 Flora Helen Miley
Flora Helen Miley
Flora Helen (Dunham) Miley, 84, was born on October 25, 1922 to Henry C. "Doc" and Harriet M. (Dent) Dunham in Hillmont, WY on the Dunham place just outside of Big Piney. She attended school in Big Piney with the exception of a couple of years of high school in California. Flora is survived by her sons Romans C. (Adrianna) Piernick and Robin C. (Ola) Miley both of Big Piney. Granddaughters Lisa R. (Tom) Piernick Ames of Pavilion, WY; Tiffany Ann Miley (Steven) Parks of Riverton, UT. Grandsons Staff Sgt. Roman C. (Jacqualine) Piernick Jr. of Germany and Ft. Bragg, NC and VanRyan Hill of Big Piney, WY. Great-Grandchildren Chancellor Dennis Ames, Shelby Helen Ames, Jaqlyn Parks, John-Paul Parks, and various other relatives around the country.
Flora was preceded in death by her parents, siblings; Iris Dunham, Otho Dunham, Cleveland Dunham, and Robert (Bob) Dunham. Her husband Truman E. Miley and sons Dennis K. Piernick, Paul
C. Miley, and Bret C. Miley. Flora was married to Roman Piernick for several years and then divorced. Flora was married to Truman on February 1, 1941 in Colorado Springs, CO. She owned the first telephone company Big Piney ever had. Flora later sold the phone company so that she and Truman could buy their first Douglas B18 airplane and start Big Piney Aviation in 1950. Flora was active in the community and an extremely business savy woman. She was the mayor of Big Piney for one term from June 1987 to June 1989. Flora was a delightful person to be with. She fought for the things she knew were right. Flora had lived through much tragedy in her life and became known as "IRON LADY". She will be deeply missed by all that were lucky enough to know her.
Funeral Services were held Tues. Nov. 14 at 11:00 a.m. at the Congregational Church in Big Piney. Dick Kalber conducted the services. Interment followed in the Plainview Cemetery.
See The Archives for past articles.
---
Copyright © 2006 Pinedale Roundup
All rights reserved. Reproduction by any means must have permission of the Publisher.
Pinedale Roundup, PO Box 100, Pinedale, WY 82941 Phone 307-367-2123
editor@pinedaleroundup.com