From the pages of
Pinedale Roundup
Volume 103, Number 11 - November 16, 2006
brought to you online by Pinedale Online
---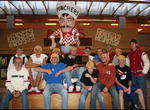 Most of the Puncher football team bleached their hair blonde. Pictured here are only a fraction of the players: (not in order) Ben howard, Josh eiden, rodney feiock, Joey eiden, Jackson Priddis, Zak redden, Seth linn, nick Mackie, grry Phillips, Jay Van Wagoner, Brady Parks, John colton, nathan Barron and Max Vidni.

Punchers win 3-A Football Championship
Close game, team traditions and family make for a special victory
by Ben Cannon

It should come as no news to anyone in Sublette County that last Saturday the Big Piney Puncher football team beat undefeated Tongue River Eagles in the 3-AWyoming state football championship game. The game was not decided until the end of the fourth quarter, with the Punchers staving off a powerful Tongue River offense for a final score of 21-18.

"It was a great football game," Puncher coach Joel Eskelsen wrote in his final post-game wrap-up of the year. "It was a puncher defense that had bent but never broken, to ensure the victory," he said, explaining that Big Piney held the Eagles to about half of their season average for yardage, not to mention the roughly 45 points they put on the board in their first two playoff games.

Senior runningback Parker Greenwood had a rushing touchdown in each quarter of the first half. Senior quarterback Brett Moffat was able to open things up a bit with the "outlaw option" in which he used both Greenwood and senior runningback Seth Linn as a defense-confounding double-threat.

Coach Eskelsen also praised his offensive front.

"Zak Redden, Greg Eiden, Taylor Moceika, Brady Parks, Trevor Wilson, and Josh Eiden worked efficiently all day," he said.

A fourth quarter fumble recovery in the end zone by senior linebacker Brady Parks, gave the Punchers the final push they needed to put victory just out of reach for the Eagles, who scored again, but could not convert any extra points for the day.

This was not the first go-round with championship games for most of the upperclassmen, and certainly not for the Big Piney football program itself. The Punchers have won five championships in the last nine years. Many of this year's upperclassmen played (or at least dressed out) in 2004's championship win.

Some of the guys on the team have older brothers who played on the 2001 championship team that beat Mountain View. That year, a controversial Detroit rapper with bright yellow hair named Eminem tore up the music charts. That was probably where the tradition of finals-bound teams dying the hair on their head bleached-blonde came from. This year, nearly all of the team kept with the custom.

Not that the Punchers needed more incentive to beat Tongue River, but Linn and teammates explained that the Eagles uniforms reminded them of home – or at least a rivalry from back home.

"They were green and white, so we just imagined that we were playing Pinedale," Linn laughed, explaining that Tongue River's colors spurred Big Piney to get even more aggressive.

Though they had to ride nearly eight and a half hours the day before, the team stayed focused. They appreciated the support of fans, many of whom traveled the long way to cheer the team on.

Oh, and on the note of tradition, two players –seniors Brett Moffat and Parker Greenwood- have fathers who were on the last team to beat Tongue River. Chris Moffat and Jim Greenwood were on the 1977 class B championship team that shut out the Eagles 20-0.

"It was very emotional for me to see my last son go out there at the same positions and wearing the same number as I did," Moffat said.

Photo credits: Ben Cannon

See The Archives for past articles.
---
Copyright © 2006 Pinedale Roundup
All rights reserved. Reproduction by any means must have permission of the Publisher.
Pinedale Roundup, PO Box 100, Pinedale, WY 82941 Phone 307-367-2123
editor@pinedaleroundup.com