From the pages of
Sublette Examiner
Volume 9, Number 2 - April 2, 2009
brought to you online by Pinedale Online
---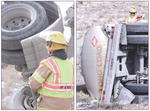 Left: Jake Mackey of the Big Piney/Marbleton Volunteer Fire Department stands beside the overturned trailer. Right: Firefighters inspect the condensate leak. The truck's top hatch remained closed, but a small amount of the liquid seeped to the ground.

Tanker tip

by Derek Farr

On Tuesday Sublette County emergency personnel responded to an overturned tanker trailer two miles east of Sand Draw on State Highway 351. The upturned trailer spilled a small amount of condensate on the roadside. Condensate is a petroleum liquid similar to diesel fuel. Authorities said the double-tanker-trailer truck lost control of its second trailer – the pup trailer-which slid off the road and overturned. The rest of the rig remained upright. There were no injuries. Emergency Services' Robert Hansen said the driver was lucky: "Usually when we have one like this both the tractor and the trailer tip over."

Photo credits: Derek Farr

See The Archives for past articles.
---
Copyright © 2002-2009 Sublette Examiner
All rights reserved. Reproduction by any means must have permission of the Publisher.
Sublette Examiner, PO Box 1539, Pinedale, WY 82941 Phone 307-367-3203
examiner@wyoming.com