From the pages of
Sublette Examiner
Volume 9, Number 10 - May 26, 2009
brought to you online by Pinedale Online
---
Obituaries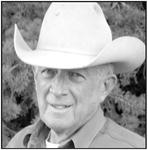 Gordon Robert Johnston
Gordon Robert Johnston
Gordon Robert Johnston was born May 20, 1931, in Fort Dodge, Iowa, to Colbert Vaughn and Ethyl Gail (Thomas) Johnston. Gordon was the middle child and was preceded in death by his parents, his elder sister Alice and his younger brother Don. Gordon was raised on the family farm in Iowa and after graduation from Oskaloosa High School he continued his education at Utah State Agricultural College (now Utah State University) at Logan. He first came to Sublette County with Bob Dew in the early 1950s. He worked that first summer as a ranch hand at the Richardson place on Horse Creek. He also was a cowboy for Rex Wardell on the Green River Wagon.
In 1952 during the Korean War, Gordon left college to serve in the Marine Corps. In June of 1953 he married Marjorie Bloom of Pinedale at the Chapel of the Transfiguration in Moose, Wyoming. He served two years active duty and was discharged in 1954 as a sergeant, never making it to Korea. After his enlistment, Gordon returned to school at Logan where he majored in Animal Husbandry and minored in Agricultural Economics. During his college years, he and Marge had two children, a son Wesley and daughter Gail.
After earning his degree, Gordon went back to the Marines, this time as an officer.
Following officer training at Quantico, he reported to the 1st Marine Division and served as a forward observer and aerial observer with the 11th Marines. In 1959 he was assigned to the USS Mathews as combat cargo officer. In January 1961, he returned to the 1st Marine Division and joined the 1st Reconnaissance Battalion where he served as platoon leader, executive officer and commanding officer of Company "B." In June 1963 he reported to Marine Barracks, Kodiak, Alaska, where he served three years as guard officer and executive officer. The three years on Kodiak Island afforded Gordon and his family hunting, fishing and camping opportunities that would only be a dream to many outdoorsmen.
In August 1966 Gordon rejoined the 1st Recon Battalion in Vietnam as the operations officer and later as battalion executive officer and officer in charge of the reconnaissance detachment at Chu Lai. During this tour, Gordon was awarded the Bronze Star with Combat "V" for valor.
Returning to the United States in September 1967, he assumed the duties of inspector-instructor, 21st Rifle Company, at Fort Douglas, Utah. During this period, Gordon's additional assigned duty was notification officer for a four-state area. It was his sad duty to notify next of kin that their Marine had been killed, wounded or was missing in action. Gordon would tell you that was the hardest job he was ever given. This also marked the end of Gordon's first marriage. Gordon remarried while at Fort Douglas to his second wife, Bernadine. Gordon was instrumental in raising Bernadine's sons Lon and Jon and her daughter Theresa.
In 1970 Gordon was transferred to Camp Pendleton, Calif., where he served as commanding officer, H&S Company, 2nd Infantry Training Regiment and later as operations officer, Infantry Training School. In 1973 he went to Okinawa where he was commanding officer, 3rd Reconnaissance Battalion and the camp commander of Ona Point, Okinawa. Gordon liked to point out that he was King of Ona Point.
Returning again to the United States and Camp Pendleton, Gordon was assigned duties as the operations officer, 4th Marine Division. While there, Gordon's second marriage ended. Lt. Col. Johnston served the remainder of his 22 years at that post, retiring from the Marine Corps in May 1975.
Gordon spent the first year of his retirement at Northwest Community College in Powell, "catching up" in his agricultural studies. In May 1976 he bought his house in Daniel…
"I bought it and a plot in the Daniel Cemetery because I figured I wasn't going very far," he stated to Rob Shaul in the Pinedale Roundup, Aug. 17, 2000.
Over the years since returning to Sublette County, Gordon relied primarily on his retirement pay from the Marine Corps. This was supplemented with jobs in outfitting, ranching, writing an outdoor column in the Roundup and working for the county as a commissioner for a total of 12 years.
Gordon was a cowboy for Miller Land and Livestock when Cheryl Stone and her son Boone Snidecor moved into his life. Gordon married Cheryl in September 1980, just a week before his first grandchild was born.
For years, Gordon volunteered as a hunter safety instructor. Gordon touched the lives of countless kids over the years in that capacity. Some of 'em aren't kids anymore.
Gordon loved the hunting, fishing, camping, horseback riding and just being outdoors in this state he made home, especially here in Sublette County. He would saddle up a favorite horse and ride the Ryegrass, either alone or with family, friends or just the dogs. He loved to hunt the desert for antelope and the mountains for the rest of the big game. Beaver Ridge and Buck Creek, up in the Horse Creek area, held many memories from many hunting seasons spent helping teach grandkids to hunt. In 1986 Gordon launched an unsuccessful bid to defeat Big Piney rancher Dan Budd for the county's state representative seat. After the election, Gordon thanked those who voted for him but was especially appreciative of those who voted for Dan, because now he had time to go fishing.
Gordon passed away May 15 at his home in Daniel. He is survived by his wife Cheryl, son Wes and Ida Johnston of Pinedale, daughter Gail and Roy Ronveaux of Riverside, Calif., stepson Boone and Jeni Snidecor of Daniel, seven grandchildren and three great-grandchildren.
A graveside funeral service was held Wednesday morning, May 20, at 10 a.m. at the Daniel Cemetery. Father Wes Shields conducted the service. Military Honors were conducted by the Pinedale VFW Post 4801 and U.S. Marine Corps.
See The Archives for past articles.
---
Copyright © 2002-2009 Sublette Examiner
All rights reserved. Reproduction by any means must have permission of the Publisher.
Sublette Examiner, PO Box 1539, Pinedale, WY 82941 Phone 307-367-3203
examiner@wyoming.com