From the pages of
Sublette Examiner
Volume 9, Number 1 - March 26, 2009
brought to you online by Pinedale Online
---
Obituaries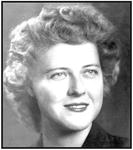 Rachel Anderson Scherbel
Rachel Anderson Scherbel
Rachel Anderson Scherbel, 89, passed away Monday, March 23, 2009, at her home in Big Piney. She had been valiantly struggling with congestive heart failure and other ancillary problems for several years.
Rachel was born in Tooele City, Utah, on March 14, 1920, at the home of her grandparents Benjamin and Barbara Bowen. Her father, Norman Stillwell Anderson, had died from the flu epidemic the month before Rachel was born.
She went to Tooele Central Elementary School, where her mother, Martha Bowen Anderson, taught. She went to Tooele Jr. High and also to Tooele High School where she was involved in band, dance, orchestra, concert band, typing and shorthand. Rachel liked going to Lagoon and Saltair, camping at Yellowstone Park, roller-skating on the sidewalks, tennis, swimming, sleigh riding, skiing and reading.
Education was very important in her family and it was her motherís desire that her children should be educated so that they could accomplish whatever they wanted to in this life.
Rachel received her Bachelorís Degree from Utah State and her Masterís Degree in Nutrition from Iowa State University. She taught at Cornell University, University of Vermont and also at University of Utah. At the time Rachel received her Masterís Degree, her brother received his M.D. and her mother received her Bachelorís Degree.
Rachel married Paul Neslen Scherbel on the 26th of June 1946 in the Salt Lake Temple. They moved to Big Piney, Wyoming, where they have resided for 63 years.
She was an active member of the Church of Jesus Christ of Latter-day Saints where she served the youth of the church in many different callings. She taught early morning seminary for 18 years. Rachel had a special gift for teaching and giving unconditional love to everyone. She emphasized good qualities and de-emphasized bad ones. As far as she could see there was no limit to what anyone could achieve if they had a strong desire and were willing to put forth the effort necessary to accomplish the righteous desires of their heart.
Rachel is survived by her husband, Paul Neslen Scherbel; four children, Paul A. (Geri) of Afton, Annette (Bob) Priddis of Big Piney, Scott (Elsa) of Big Piney, and Marlowe (Connie) of Afton. She has 32 grandchildren and 42 great-grandchildren.
She is enjoying a spiritual reunion with her father whom she had never met, her loving mother, her brother Dr. Norman Stillwell Anderson and sister Emma who died at age 13 of rheumatic fever.
Her life will be celebrated at funeral services to be held Thursday, March 26, at 1 p.m. at the Big Piney L.D.S. Church in Big Piney. Preceding the funeral will be a viewing and a chance to meet with her family from 11:30 a.m. to 12:30 p.m.
In lieu of flowers, the family has requested that donations be made to: Friends of Scouting, c/o Keyth Palmer, P.O. Box 705, Big Piney, WY 83113.
See The Archives for past articles.
---
Copyright © 2002-2009 Sublette Examiner
All rights reserved. Reproduction by any means must have permission of the Publisher.
Sublette Examiner, PO Box 1539, Pinedale, WY 82941 Phone 307-367-3203
examiner@wyoming.com