From the pages of
Sublette Examiner
Volume 9, Number 1 - March 26, 2009
brought to you online by Pinedale Online
---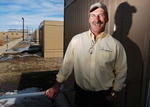 Jonah Workforce Facility Manager Bob Griffith (a.k.a. "The Mayor") stands outside a mobile dormitory. Six such structures, each with 48 single-occupancy rooms, house almost half of EnCana's Jonah workforce.

Home (far) away from home

by Derek Farr

It's a long way from anywhere, and at first it isn't the most welcoming place. A security guard in a neon green jacket stopped us at the security shack. Behind him a chain-link fence separates Sublette County's empty sage steppe from a ramshackle-looking conglomerate of trailers.

The guards led EnCana's Randy Teeuwen and myself into the shack where we were required to read and sign a 16-page document about the facility's rules.

• No illegal drugs and no alcohol are allowed within the property.

• Random searches of persons and/or their vehicles may be instituted without prior notice.

• Prescription medication is allowed only in original labeled containers.

• Individuals who appear to be "under the influence" of drugs or alcohol will be prohibited from entering the facility.

• Intimidation, harassment, racial or gender based slurs, sexual harassment – is expressly forbidden.

Teeuwen was photographed for an identification badge and my driver's license was recorded.

A white refrigerator sat against the shack's wall. It was labeled for urinalysis storage.

After Teeuwen was issued his badge, we were approved to enter.

We walked through the gate toward the camp. The soil is brown, the single-story trailers are brown, and the hillsides are brown. It looked like a scene from the "Road Warrior."

We stepped onto composite mats that are the facility's version of a sidewalk. The plastic paths separate pedestrians from the bogs of sticky brown mud formed by melting snowdrifts.

We turned a corner to see a group of men standing among a collection of trailers.

One of the men was EnCana Operations Lead Jeff Johnson who is the brain behind the facility. The collection of drab brown buildings is his brainchild.

He invited me into a trailer that serves as a mess hall.

The mess hall is actually seven trailers attached side by side. It's titled "The Paradise Café." Inside, there are two roughnecks eating lunch.

"It's targeted for people who work long shifts of 12 hours or more," Johnson explained. "Safety here is a huge driving factor for us."

Location, location, location

The Jonah Workforce Facility (JWF) is a product of innovation and necessity. While there is nothing new about Sublette County energy operators housing their subcontractors' employees, one element to the JWF is unique: its location.

Replacing the Big Piney Workforce Facility, the 296-person capacity JWF puts proximity to an extreme. Instead of workers driving 50 minutes to reach the worksite from Big Piney, the JWF sits in the 36-square-mile gas field. That leaves no more than a 15-minute drive for nearly half of the Jonah's work force.

"With 250 people here, we estimate that eliminates 5 million miles of traffic a year," Johnson said.

Work on a gas field does not stop. Crews operate 24-hours a day, seven days a week. The vast majority of the Jonah's workers are EnCana subcontractors and many of those subcontractors work 12-hour shifts without days off, sometimes for four weeks straight.

Under ideal circumstances that would be exhausting, but Jonah workers don't work in ideal conditions. They work in the bitter cold, the wind, the snow and the driving rain.

Because of the long days and brutal conditions, Johnson decided Jonah workers needed to be closer to home – actually he decided home needed to be closer to them.

"We're giving these guys three to four hours back to their day," Johnson explained, saying some workers were driving from as far away as Rock Springs.

Getting those workers closer to a hot shower, a hot meal and a warm bed was Johnson's vision and as a welcome byproduct the reduced traffic decreased the company's air emissions in an area that is on the watch list for winter ozone pollution.

The Mayor

The Paradise Café is far more than a chow line. Its dining room is immaculately clean and festooned with coolers of "spike items" which are sandwiches, snacks and treats that a worker packs for his/her shift. Those free spike items include everything from turkey sandwiches to salmon with rice pilaf.

Twenty-four hours a day, workers can find sustenance from those coolers.

But the heart of the operation is found at the café, which is essentially a payment-free restaurant managed by an executive chef.

Perhaps nobody appreciates the multi-course menu more than Facility Manager Bob Griffith (a.k.a. "The Mayor").

In 1989, Griffith found his calling in an industry few even know exists. The remote site service industry delivers the comforts of home to remote workers all over the globe. Griffith's company, Arctic Catering, has locations in Colorado, Wyoming and Alaska.

Twenty years ago Griffith, trained as a chef, took a job cooking at a remote site in Prudhoe Bay on Alaska's North Slope oil fields.

"I got hooked on the lifestyle," the John Day, Ore., resident explained, saying he gets six months off a year. "It's the time off that I'm hooked on."

Griffith heads a team of 20. The cook staff makes sure the workers are well fed. The house keeping staff changes linens daily and the medically trained security staff makes sure everybody is following the rules.

Service workers come from across the country to work the four-weeks-on, two-weeks-off shifts. While on site, they work 12-hour days with no days off. Food and lodging are provided and there is nowhere to spend money. Griffith said each week workers earn 44 hours of overtime, adding, "We pay top dollar."

Morale

After a hearty lunch (including a salad from one of the café's two salad bars) Griffith led Teeuwen and me to another building: the recreation center. The center has a commissary that provides workers – free of charge – sundry items such as toothbrushes, razors and shaving cream.

Two large rooms have lavish couches and recliners facing large flat-screen televisions with more than 40 channels.

Perhaps the most important items in the room are phones that workers can use, no charge, to call home.

Griffith calls them "morale phones."

The recreation center's back room is filled with top-of-the-line recreation equipment, although because the workers' jobs are so physical, the equipment rarely gets used.

Across the composite sidewalk from the recreation center sit six dormitories. Each dorm is an assemblage of eight trailers that contain 48 single-occupancy rooms.

The rooms are quite small. They are outfitted with a desk, a single bed, a closet and a flat-screen television. Each room has Cat 5 and wireless Internet.

Each dormitory has six private showers, six private toilets and four private and one public washroom, which are all unisex even though between 10 and 15 percent of the facility's occupants are female. Griffith said because the dorms are rarely filled to capacity, the lavatories are never full and seeking privacy is not a problem.

The unit is heated with forced air although a baseboard heater is provided in each room for extra warmth. A sophisticated fire system watches over the structure.

"It's about retention," Johnson said. "Once they're here, they enjoy a high quality of life."

A mirage

The facility is virtually self-contained. Other than shipments of food, the facility could run indefinitely without need for the outside world. A water well and purification system provides the facility with up to 30,000 gallons of water a day while the effluence is treated by an on-site wastewater facility. The treated water is shipped off to the Jonah to be used for operations.

Eight massive generators fueled by the Jonah's natural gas power the entire compound.

In September crews dropped the first trailer and in late February the facility hosted its first occupants. But it is only temporary.

Griffith said the trailers could be gone in 24 hours.

When there is no longer need for the workers, the facility will disappear. Even the concrete slabs that support the generators will go. In the future, wandering antelope hunters may never know that a 300-person, $8-million facility occupied the site.

The JWF wakes

As the sun dipped into the western sky and my tour wound down, the night shift workers began to awaken. Bleary eyed, they walked as if on autopilot toward the Paradise Café for breakfast and coffee. One was still in his sweat pants and tennis shoes.

Jason Lester, a 25-year-old Opsco Energy Industries worker from Billings, Mont., collected a bag of food for his 6 p.m. to 6 a.m. shift.

A JWF resident for five weeks, he appreciated the facility's convenience and accommodation.

Prior to the JWF, Lester drove to and from Pinedale every day. And he shopped for his own food.

"It gives you an extra couple hours to yourself," he said. "It's big plus."

He didn't mind the JWF's rules and he didn't miss having an occasional drink.

"I'm here to make money and not spend it," he said. "It keeps me out of trouble."

Teeuwen and Johnson said they anticipate a JWF open house for the public later in the year.

Photo credits: Derek Farr

See The Archives for past articles.
---
Copyright © 2002-2009 Sublette Examiner
All rights reserved. Reproduction by any means must have permission of the Publisher.
Sublette Examiner, PO Box 1539, Pinedale, WY 82941 Phone 307-367-3203
examiner@wyoming.com