From the pages of
Sublette Examiner
Volume 8, Number 6 - May 1, 2008
brought to you online by Pinedale Online
---
Obituaries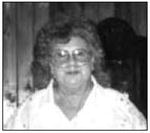 Yvonne Morene Kellogg
Yvonne Morene Kellogg
Yvonne (Granny) was born April 26, 1927, to Gladys and A.W. Vincent in Ammoret, Mo. She had one sister, Peggy.
After the birth of her daughter Marla Maree and her son Don Johnson, she left Missouri.
After several places in Wyoming, the Big Piney-LaBarge area caught her heart. She enjoyed camping and LaBarge Creek, refinishing antiques, bottle hunting, reading LaBarge history and family gatherings.
She was blessed with six children, Marla, Don, Dean, Kristi, Gary and Pete; 19 grandchildren; 11 great-grandchildren and six great-great-grandchildren.
She married Hal Kellogg on July 8, 1995. They enjoyed community barbecues, pig roasts, etc. Hal and Granny were soul mates and did everything together.
During the last few years, her illness kept her from doing the things she really loved, but no matter how she felt she always had a smile, hug andkiss for everyone.
She was preceded in passing by her parents and sister, three children and three grandchildren.
She will be greatly missed by her family and friends including the Kellogg, Maree, Corgill, Chapoose and Heathman families.
---
Kenneth Lee Fernandez
Kenneth Lee Fernandez, 50, passed away Saturday evening, April 26 in an automobile accident in Marbleton, Wyo. Kenneth was born Jan. 2, 1958, in Worland, Wyo., to Rudy and Ruth (Layva) Fernandez. He attended school in Worland and graduated from Washakie County High School. As a young man he was a talented athlete who enjoyed baseball, track, football and basketball and he won several awards and ribbons. He was a member of the Assembly of God Church. He moved to the Denver area and worked as a carpenter for many years until he made his way back to Wyoming to live and work in Sublette County.
He is survived by his mother, Ruth Haselhuhn of Marbleton; father Rudy Fernandez of Worland; brother Wayne Neal Fernandez of Cheyenne, Wyo.; two nephews and four great-nephews.
He is preceded in death by his two brothers, Jimmy John Fernandez and Calvin Richard Fernandez.
A memorial service will be held at a later date in Worland. He will be laid to rest in Worland in a family plot with his brothers. Arrangements are under the direction of Covill Funeral Home.
See The Archives for past articles.
---
Copyright © 2002-2008 Sublette Examiner
All rights reserved. Reproduction by any means must have permission of the Publisher.
Sublette Examiner, PO Box 1539, Pinedale, WY 82941 Phone 307-367-3203
examiner@wyoming.com