From the pages of
Sublette Examiner
Volume 8, Number 52 - March 19, 2009
brought to you online by Pinedale Online
---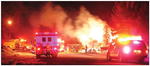 Emergency teams worked tirelessly in the early morning to put out the fire at Steve Allen's home.

Pinedale man dies in house fire
Early morning emergency
by Tiffany Turner and Derek Farr

Firefighters were dispatched just before 1 a.m. March 12 to a house fire on the corner on Maybell Avenue and Charles Street in Pinedale.

"We had a total of 28 Sublette County Firefighters (on scene)," Sublette County Fire Warden TJ Hunt said Friday. "There where no injuries to any firefighters and fire operations were executed to our polices."

The charcoaled remains of the home, located across the street from Pinedale's newly renovated skateboard park, remain behind police tape and the cause of the fire is still under investigation.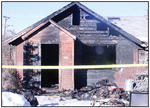 The home, hollowed by the fire, remains behind police tape as the investigation as to the cause of the fire is still underway.

"Myself, Chief Alvin Mitchell and Shad Cooper one of the State Fire Marshall Investigators from Green River began an origin and cause investigation on Thursday (March 12), we are still conducting interviews at this time," Hunt said. "The structure suffered extreme damage and there was a civilian fatality. Our condolences go out to the family."

According to a Sublette County Sheriff's Department (SCSD) release, homeowner Steve Allen was pronounced dead at nearly 2 a.m. after being removed from the kitchen floor of his residence. Emergency personnel were unable to get to Allen immediately due to the high volume of smoke and fire, but lifesaving measures began as soon as he was reached and the EMS took him directly to the Pinedale Medical Clinic.

The SCSD release said preliminary autopsy reports reveal Allen died of smoke inhalation, with a toxicology report pending.

The investigation into the cause of the fire was still open as of Wednesday morning at press time.

"Until the sheriff's department and our investigation close, we won't be able to release any more information," Mitchell said.

Photo credits: Bob Rule, Tiffany Turner

See The Archives for past articles.
---
Copyright © 2002-2009 Sublette Examiner
All rights reserved. Reproduction by any means must have permission of the Publisher.
Sublette Examiner, PO Box 1539, Pinedale, WY 82941 Phone 307-367-3203
examiner@wyoming.com