From the pages of
Sublette Examiner
Volume 8, Number 51 - March 12, 2009
brought to you online by Pinedale Online
---
Obituaries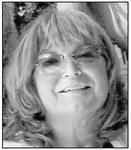 LOIS ANN RICHEY
LOIS ANN RICHEY
Lois Ann Richey, 59, passed away suddenly at her home in Big Piney Tuesday morning March 3, 2009 from complications of lung disease.
Lois was born October 20, 1949 in Laramie, Wyoming to Nick and Florence (Lamb) Tranus. She lived in Fox Park, Wyoming until the third grade when she and her family moved to Laramie. She graduated from University Prep School in Laramie in 1968. She went to college at the University of Wyoming and earned her bachelor's degree in Elementary Education. She taught school in Frannie and Bill, Wyoming before moving to Big Piney in 1980. She married Lester Richey August 6, 1983 in Laramie. While fulfilling her career as a teacher in Big Piney she taught 3rd grade from 1980 to 1984, 4th grade from 1984 to 1991, 1st grade from 1991 to 2009 and taught the Early Intervention Program from 2007 to 2009. Lois had a great passion for teaching and love for her students. She was President of the Big Piney Elementary Association and a member of the Wyoming Education Association and National Education Association. She was in the process of writing a book showcasing her positive outlook on life. She enjoyed gardening, reading and decorating projects.
She is preceded in death by her parents Nick and Florence Tranas.
She is survived by her husband Lester of Big Piney, daughter Shannon (Jeremy) Clay of Stephenville, TX; son Mike Richey and his daughters Theresa, Megan and Brianna of Gothenburg, NE ; son Chris Richey of Everett, WA; brother Richard (Ruth) Tranas of Bartlett, TN and their daughters Corry, Nichole and Robin; brother Donald (Shirley) Tranus of Greybull, WY and their children Robert, Jennifer, Susan and Sharon; sister Carol (Fred) Henry and their children Laurel and Taylor of Broomfield, CO; and her aunt and uncle Loeona and Noel Oistad of Seal Beach, CA.
She will be deeply missed by her family and many friends who dearly loved her.
Funeral services were held Saturday March 7th at 11:00 a.m. at the Big Piney Fine Arts Center. Father Dick Kalber conducted the services. Interment followed in the Plainview Cemetery. Memorial contributions can be made in Lois's memory to the Big Piney Elementary Association P.O. Box 769, Big Piney, WY 83113.
---
RONALD H. SNOW
Ronald H. Snow passed away unexpectedly Sunday, February 22, 2009 at the age of 68, after suffering a stroke in January.
Ron grew up in Wyoming and graduated from Pinedale High School in 1959. After high school, he served in the Army where he was stationed in Germany and Vietnam.
He met his wife, Connie, of more than 41 years at Fort. Ord, California.
They have two daughters, Tami Beverson and Robyn Lattig; five grandchildren, Brooke, Justin, Michael, Shawn and Jessica; as well as numerous nieces, nephews and cousins.
In addition, he is survived by his mother, Hannah of Jackson Hole, Wyoming; brothers, Roy of Big Piney, Wyoming; Karl of Greeley, Colorado; Dennis of Glendive, Montana; and aunt Darlene Penton of Pinedale, Wyoming.
Ron was preceded in death by his father George and brother Ray.
Ron was a Master Mason and Shriner. He was very active in the Order of the Eastern Star, becoming a Past Patron of Fallbrook Chapter and Poinsettia Chapter, Oceanside.
He was currently serving again as Associate Patron of the Fallbrook Chapter.
Previously, he served as an adult leader for both the International Order of Rainbow for Girls and the International Order of Job's Daughters.
He also enjoyed coaching junior bowling when his girls were young.
Ron was still working civil service at Camp Pendleton, until the time of his stroke.
He valued the friendships he made with the numerous young marines he met and mentored during his more than 30 years of service.
A "celebration of life" will be held Sunday, March 15, 2009 at 2 p.m. at the Oceanside Masonic Center – 511 Eucalyptus Street, Oceanside.
In lieu of flowers, the family requests that donations be made to the American Cancer Society's Oceanside Relay for Life or the California Eastern Star Foundation Scholarship Fund.
Although he will be missed, he will never be forgotten – those who loved him can be comforted that he is no longer suffering.
---
GAYLE NIELSEN
A funeral service for Gayle Nielsen of Pinedale will be held Friday March 13th at 11:00 a.m. at the L.D.S. Church in Pinedale. A graveside service will be held Saturday March 14th at 11:00 a.m. at the Logan City Cemetery in Logan, Utah. A full obituary will be in next week's paper.
See The Archives for past articles.
---
Copyright © 2002-2009 Sublette Examiner
All rights reserved. Reproduction by any means must have permission of the Publisher.
Sublette Examiner, PO Box 1539, Pinedale, WY 82941 Phone 307-367-3203
examiner@wyoming.com