From the pages of
Sublette Examiner
Volume 8, Number 50 - March 5, 2009
brought to you online by Pinedale Online
---
Obituaries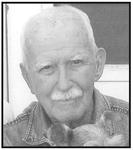 GEORGE M. WEBER
GEORGE M. WEBER
George M. Weber Jr., 89, of Pinedale passed away at the Living Center on Jackson on February 19, 2009. He was born on March 30, 1919 to George M. Weber and Elizabeth McFadden Weber. A small graveside service was held on February 23 in Pinedale, and a Celebration Memorial Service will be held during the summer of 2009.
His family wrote the following eulogy:
George Weber was born and raised in Livingston, Montana. He was known as Bud to his friends and family. He always enjoyed being outdoors, and usually had a faithful dog at his side. His special friend Pal, a big German shepherd, accompanied him on many adventures during his teen years. He worked lots of odd jobs, and was never too good to do what he needed to make a buck. When he was ten or 11, he delivered groceries to a rooming house in Livingston. He was impressed with all the nice ladies who lived there and it was several years later that he learned it was the local brothel.
He told a story of ice skating on the Madison River and on one occasion he and a friend enjoyed skating on a really windy day, not realizing several hours later that the wind had blown them 10-miles from home – they were lucky to catch a ride back to town.
For several summers he worked in Yellowstone Park, driving a tour bus. When not working, he loved his adventures fishing and watching the wildlife.
He was especially intrigued watching the construction of the big lodges made of logs and always wanted to build his own log cabin one day.
After High School, he moved to Washington DC to attend college at George Washington University. He completed several years before he was drafted into the Army as World War II was heating up. A medical deferment excused him, but he became employed by the US State Department as a Diplomatic Courier. His job was to hand deliver confidential documents all over the world during the War…it was a dangerous job at times, but also provided incredible adventures. Much time was spent in Paris; he once told of a café that he and a friend frequented, one morning when they went there for breakfast, it had been bombed and nothing was left but a chair, which he recognized.
He also told of a Christmas spent in an old hotel in Moscow with a fireplace, but there was no heat and no wood to burn. He and his buddy decided to be warm for Christmas, so they burned a few chairs and threw the cushions out the window.
He spent quite a bit of time in Paris with the flight nurses, which is where he met Rosie Farley, who he married in Evergreen, Colorado, after the War ended. They had five kids: Pete, Patt, Peggy, Annie and Tom. Whenever he was home and not on a job that kept him on the road, he could be found doing things with his family…fishing the Big Hole River in Montana, surfing in Santa Cruz, California, backpacking the Winds in Wyoming, skiing in Tahoe or having a BBQ in the backyard.
After 25 years as a Sales Manager for the Gillette Safety Razor Company, he and Rosie retired to Pinedale. He bought 10-acres that had potential, but looked like a junkyard.
He thrived on hard work and spent his last 30 plus years turning his 10-acres into a beautiful well groomed park. He built fences, bridges and finally his log home.
During his years in Pinedale, he made lots of friends and enjoyed life in a small town.
He loved skiing at White Pine in that deep power. At the age of 70, his friend Sally Nichols introduced him to golf and he became addicted. He felt life was good and lived it hard til' the end. He will be greatly missed by his family and friends.
See The Archives for past articles.
---
Copyright © 2002-2009 Sublette Examiner
All rights reserved. Reproduction by any means must have permission of the Publisher.
Sublette Examiner, PO Box 1539, Pinedale, WY 82941 Phone 307-367-3203
examiner@wyoming.com