From the pages of
Sublette Examiner
Volume 8, Number 50 - March 5, 2009
brought to you online by Pinedale Online
---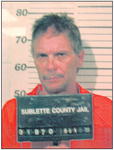 Former Daniel resident Troy Dean Willoughby, shown in this September 2005 booking photo, was arrested near Helena, Mont., Sunday and charged with first-degree murder for the 1984 shooting death of Lisa Ehlers, of Jackson, in a Bondurant pullout. This is the first arrest ever in the quarter-century-old cold case reopened last October by Sublette County detectives under the direction of Sheriff Bardy Bardin.

Cold Case: Arrest made

by Joy Ufford with Janet Montgomery

After almost 25 years of dead-end investigations into the unsolved 1984 murder of Elizabeth "Lisa" Ehlers, 25, of Jackson, the Sublette County Sheriff's Office hastily arranged a press conference Sunday to announce the arrest of former Daniel resident Troy Dean Willoughby.

A tip last week via the suspect's incarcerated son pushed the investigation closer to the arrest and murder charge.

New interviews with old witnesses (others died in the interim) led a fired-up team of investigators to people apparently finally willing to discuss Willoughby's alleged shooting of the young woman, killed early on June 21, 1984, on her way to Florida to meet her husband Peter.

Willoughby, 45, lately of Wickes, Mont., is being held in Lewis and Clark County Jail Detention Center in Helena, Mont., on the charge of first-degree murder of Ehlers.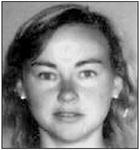 Elizabeth 'Lisa' Miles Ehler, 25, was found shot to death shortly after 6 a.m. on June 21, 1984, after she left Jackson to drive to Florida to meet her husband Peter.

He was 21 at the time of her death. This year Ehlers would have turned 51.

Willoughby was already in custody on an unrelated charge with assistance from Montana authorities and extradition proceedings are expected shortly, officials said.

In the meantime, Sublette County investigators met with Teton County deputies about aspects of the case on Wednesday.

Cold casework

The murder charge follows an intense investigation undertaken by Sublette County detectives after the sheriff's department underwent reorganization last October, according to Capt. Brian Ketterhagen. Bardin asked Ketterhagen to reopen the investigation.

This time, Willoughby's ex-wife Rosalie Hosking and former friend Tim Basye finally opened up about what they saw and heard almost 25 years ago.

"I think there was some shock value to it (the investigation being reopened)," Ketterhagen said. "But they knew it was something that was never going to go away."

Hoskings, reinterviewed on Nov. 20, 2008, said the three went to a party in Jackson on June 20, 1984, and on their way back to Daniel the next morning, "… Willoughby murdered Ehlers," according to the affidavit.

"Hosking further … explained that Willoughby and Ehlers argued at the side of the road and that she heard a gunshot," he wrote.

On Dec. 6, Basye also told Sublette detectives the three went a party and left to return to Daniel "in the early morning hours," according to court documents.

"…Willoughby parked next to Elizabeth Ehlers' parked vehicle at a roadside turnout," Ketterhagen wrote in an affidavit.

"Basye stated that he witnessed Willoughby having a verbal altercation with Ehlers at the side of the roadway where her body was located. He indicated that Willoughby went to the victim's automobile and dragged her out of her vehicle.

"… After Willoughby dragged her from the parked vehicle, Willoughby returned to his vehicle and retrieved a handgun from under the seat, then Willoughby walked back to Elizabeth Ehlers, pointed a handgun at her and that Willoughby fired the handgun shooting Elizabeth Ehlers 'two or three times.' Basye stated that after returning to the vehicle, Willoughby stated, 'that'll teach that bitch to rip me off.'"

Ketterhagen told investigators on Feb. 27 he had been to the party and saw Ehlers in Hoback Canyon, according to the affidavit.

"Willoughby further admitted that he was present at the homicide scene but did not admit firing the handgun," it said.

The final piece of information compelling Willoughby's arrest came on Feb. 24.

Court documents state his son Malcolm Scott Willoughby told a Natrona County Detention Center deputy he had spoken to his father around Dec. 26, 2008, and that "Troy Willoughby admitted to Malcolm … via telephone … that he (Troy Willoughby) killed someone in a canyon in Wyoming in 1984 and that he … needed to return to Wyoming to tie up loose ends."

Hoskings and Basye probably were afraid of Willoughby, staying silent for almost 25 years about a young woman's death, according to Ketterhagen.

"I think they were people who were frightened and scared of Mr. Willoughby and now they realized in their conscience the truth needed to be told."

Asked if the "loose ends" Willoughby referred to might be Hoskings and Basye, Ketterhagen said, "I'd like to think he wants to come clean about it."

The son knew the case was reopened from his mother, according to Ketterhagen.

Ketterhagen declined to comment on the connection between Ehlers and Willoughby except to say, "I don't believe they were best friends but there was some sort of acquaintance."

He also demurred when asked if Ehlers' murder was connected to two unsolved Teton County murders from that era. "An investigation into that is ongoing."

As to whether Ehlers was at the same party in Jackson, he replied, "I don't want to give out too much about exact details."

Suspect's background

Ketterhagen also declined to comment on Willoughby's criminal record.

"We just have to be careful if there is something that there's a chance might not be allowed in court and we've already told it to the newspaper, then it could jeopardize our case," Prosecuting Attorney Lucky McMahon told reporters Sunday.

Court files and transcripts, however, are public documents. They show a troubled man who moved to Daniel as a child, was mainly cared for by his elderly grandparents and had frequent brushes with the law. In 1989 (five years after Ehlers' death) he told Judge Elizabeth Kail he was an alcoholic and that he used "cocaine, marijuana."

Willoughby's court record stretches back years earlier with appearances before Justice of the Peace Bill Cramer and Judge John Crow. Court records also show he undertook treatment at Wyoming State Hospital in 1987 and when he was 16, in South Dakota.

He told Kail he intended to move to the Helena to undertake more treatment if a plea agreement was accepted for him to plead guilty to two reduced charges of reckless endangerment, records show. His attorney sought probation after Willoughby's successful completion of the outpatient program, according to transcripts.

Kail told him she would accept the plea agreement only to ensure Willoughby was under the court's watch and that he must complete the Montana program or he would be arrested. He never appeared at the Montana center and a bench warrant was issued in September 1991. He was arrested in Sublette County on Sept. 2, 2005. The case was dismissed without prejudice due to the length of time lapsed, records show.

Court records also show convictions for aggravated assault, non-aggravated assault, public intoxication and driving while license is suspended and driving under the influence.

Willoughby is currently listed as a "violent" offender in the Montana Department of Justice's registry due to convictions on two 1996 assault charges: aggravated assault and partner/family member assault. Montana law requires registered violent or sexual offenders to update their information for 10 years after convictions.

His information was updated on Feb. 25 and records show he also used the names "Dale Stewart," and "Clinton Willoughby" (his brother). He had lived in Wickes with a "common-law girlfriend" since last August.

Unraveling the unsolved

In 1984 and for years to come, media accounts would report Ehlers had left Jackson quite early June 21, 1984, after stopping at The Bunnery. Her vehicle, a VW Jetta with a windsurfer tied on top, reportedly passed a truck as they entered Hoback Canyon. A short time later, the truck driver emerged from the canyon just north of Bondurant and saw Ehlers' car, with her body lying beside it, parked at a pullout by the Black Powder Trading Post along the Hoback River.

Ketterhagen was careful with details about the investigation, leads and witness statements.

"The big thing here is we don't want this case to be tried in the court of public opinion rather than in the courtroom," he explained this week.

Teton County deputies were the first contacted when her body was discovered by passers-by "just minutes later," Ketterhagen said Tuesday.

She had been shot in the palm of her hand, chest and head from the front and was lying about four feet from her car. Ketterhagen declined to say whether there were any other injuries that might have incapacitated Ehlers.

But with Ehlers' death taking place a half-dozen miles inside Sublette County, the case was turned over to then-Sheriff Bud Slater, according to the SCSO.

"Being it was so long ago, I think resources were very limited back then," Ketterhagen said of that administration's inability to identify a suspect and make an arrest.

Those early SCSO files, as well as Division of Criminal Investigation (DCI) files created when former Sublette Sheriff Hank Ruland asked DCI to step in, yielded no arrests either.

However, the files were the foundation of the new investigation, he said.

Ketterhagen said the new team, including County Investigator Randy Hansen and SCSO Detectives Sarah Brew, Lance Gelhausen and Shane Templar, each took parts of the old report and brainstormed.

"We decided certain witnesses needed to be reinterviewed," he said.

Sunday, Sheriff Bardy Bardin stated, "After thousands of man-hours and extensive reinterviews of witnesses across four states, a suspect was developed."

Photo credits: Sublette County Sheriff's Office, WWW.NEWWWEST.NET

See The Archives for past articles.
---
Copyright © 2002-2009 Sublette Examiner
All rights reserved. Reproduction by any means must have permission of the Publisher.
Sublette Examiner, PO Box 1539, Pinedale, WY 82941 Phone 307-367-3203
examiner@wyoming.com