From the pages of
Sublette Examiner
Volume 8, Number 5 - April 24, 2008
brought to you online by Pinedale Online
---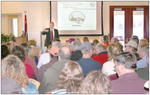 DEQ Director John Corra opens the meeting with introductions for the audience. Corra introduced a number of people throughout the evening, including Wyoming State Health Officer Dr. Brent Sherard and Wyoming DEQ Air Quality Division Administrator David A. Finley.

Large Sublette Turnout Greets DEQ
Air, water quality concerns discussed
by Trey Wilkinson

A standing-room-only crowd of over 200 people filled Rendezvous Pointe Monday evening to hear Wyoming Department of Environmental Quality (DEQ ) and other state agency presentations about Sublette County air and water quality depletion caused directly from drilling natural gas in the area.

Among those speaking were Wyoming State Health Officer Dr. Brent Sherard, Wyoming DEQ Air Quality Division (AQD) Administrator David A. Finley and DEQ Director John Corra.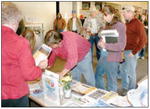 Over 200 concerned citizens fill Rendezvous Pointe Monday evening to listen to members of the Department of Environmental Quality speak on air and water quality issues in Sublette County. Those who attend the meeting wait in lines to sign in.

An air-quality session followed by audience questions and comments accounted for much of the public meeting as Sublette County citizens shared their growing concerns and questions after the recent DEQ high-ozone alerts.

Corra outlined the DEQ's intent for Monday night's meeting.

"This is the third or fourth time we've come to Sublette County in the past few years," he said. "This is the largest attendance we've seen, which indicates to us the importance of these issues."

"We may not be able to give you all the answers," he added. "We may give you answers you don't want to hear, but we're going to be honest about what we know and what we don't know."

The ozone problems are one of the "don't knows" Corra referred to, as the DEQ along with the U.S. Environmental Protection Agency (EPA) and other agencies are running tests and trying to "model" the recent rise in ozone in Sublette County.

"Ozone is a difficult problem to model," Corra said. "It's typically known as a summer time problem."

Sublette County citizen Dave Smith asked if the Pinedale's ozone level is "normal."

"Rural ozone is not understood by the EPA well enough," Cora said. "We're trying to figure out what 'normal' is."

In response to ozone alerts (issued in February andMarch due to federal ozone standards exceeding 75 parts per billion, above the EPA's permitted levels), the DEQ met with the gas industry to find short- and long-term solutions.

Corra said the industry responded with a list of 20 to 30 actions for "right now," including preventing vehicles' idling, installing new communication systems, postponing maintenance activities that reduce vapors, increasing leak detection surveillance and using best management practices, among others.

Corra also discussed DEQ actions to address both the air and water quality concerns, including the three wells in the past with contaminants exceeding permitted groundwater status.

"We now have flaring permits, monitors and we're looking at permitting drill rigs," he said. "We are also currently undergoing a $6-million air quality study to find the right way to manage this resource."

The DEQ has met with the Sublette County Commission in March after hearing a request to conduct a Health Impacts Analysis. While that is not an option, Corra said, a decision wasmade to conduct an Air Toxics Study.

Corra introduced Sherard who explained his job as the state health officer. "My responsibility is to look out for the health of the people of Wyoming," he said. "My job is to look at ozone, lung disease and other things. We're here tonight to look for answers. We want to be part of the solutions. We're here to listen to the community."

DEQ AQD Administrator Finley then took center stage.

He spent about an hour presenting slides, graphs and data to the audience regarding the county's air quality, including historic information from when drilling began in earnest.

"We started noticing high ozone in January of 2005 at two monitors," he said. "After that, we added a third monitor." According to Finley, similar results were collected in January 2006.

"We didn't see the same thing in 2007 but we still had all kinds of speculation," he said. "Some people thought it wasn't possible to create ozone in the winter. This caused us to initiate an ozone study. And we all know what happened this year."

"We're seeing higher ozone in the rural west than what was expected," Finley added.

Finley then discussed the three current monitors located in the Jonah Field, Boulder and South Daniel, saying AQD has recently added more monitors.

"There is also the Castnet site near the ski resort and we added another monitor at the Pinedale Airport as well as portable monitors in the (Upper Green River) Basin," he said.

An aerial sampling was collected as well, he said.

"We don't have a pervasive ozone blanket across the entire Upper Green," Finley said that sample's data showed. "They form and drift. They aren't uniform throughout the Basin."

Finley said future DEQ efforts include continuing to operate monitors, adding a monitor in downtown Pinedale, moving the Jonah monitor and working with the University of Wyoming and others to develop an ozone model that works.

Pinedale Mayor Steve Smith asked when the Pinedale monitoring station will be up and running and if baseline data is being collected.

"It'll take two to three months to put the monitor in place," Finley said. "And yes, we're collecting baseline data."

One audience member questioned completely shutting down the rigs if the best technology is not readily available now.

"We see the need to regulate drill engines," Corra responded. "Your point is the direction we need to head in. We'll take a hard look at drill engines; you can count on it."

Another question arose about the apparent acceptance by the BLM to allow year-round drilling of up to 4,400 new gas wells in the Pinedale Anticline. The citizen asked how the DEQ could allow more wells if ozone levels already exceed EPA's permitted standard.

"The DEQ can't stop (the) drilling," Corra said. "The BLM is the permitting authority for drilling holes. However, we can use our authority to monitor to make sure they're doing it to the best of their ability."

"We're seeing this (exceeding ozone standards) right now, but we won't allow that," Corra said in reference to future wells.

He emphasized the DEQ has no authority to decide when and if drilling takes place unless Sublette County becomes a "non-attainment" county where chronic high ozone levels are not alleviated.

"We are pressing the BLM and EPA very hard to build a record of decision," he said, referring to the ongoing analyses for the unfinished Pinedale Anticline draft environmental impact statement.

DEQ staff was asked how its authority changes if Sublette County becomes 'non-attainment.'

"We would end up coming up with a series of rules," Finley said. "This only happens if the air is not healthy. We don't want it to get there. We did a poor job in February and March. We're working to not have that happen again."

"There's no way we can say we've walked a mile in your shoes," Corra said referring to the people of Sublette County. "In 'non-attainment' everything is open for possibilities. We're going to try like hell not to get there."

A former BLM employee stepped up to the microphone for a comment. "If you break it you fix it. Our air is broken; we know who broke it. Help them fix it," he told the DEQ.

One audience member compared the situation in Sublette County to the Titanic.

"I get the feeling we're passengers on the Titanic," he said. "The boat has a hole in it. We're not saying don't drill. We're saying, solve the problem. What can we do to work with, you to get to Washington to have them help us?"

"Continue to make your voice known," Corra said.

"The Titanic isn't easy to turn around – I understand it'll take time," the citizen said. "But go back to Cheyenne and tell the governor this timeline is not acceptable."

Citizen Sandra Goodwin offered the audience a different perspective. "If we're going to help the situation we need to vote to get the right people in office to help John Corra," she said. "John is working very hard. The people in state government are proindustry; the people in Washington are pro-industry. We need to vote the right people into office."

Representatives for Ultra Resources, Questar and Shell (the three operators seeking increased year-round drilling) said they have been very active with the DEQ and don't want to see any more ozone alerts.

Corra is hopeful the DEQ can return to Pinedale in the next several months to present more data and make themselves available for public questions, comments and suggestions.

"We're working hard, but we're not there yet," Corra said. "We will have this resource being developed in a way that you won't notice. Do we have all the answers for the problems tonight? No. Are we working on them? Yes."

"You live in a beautiful place here in Sublette County," he added. "What God put beneath the earth is just as beautiful."

Photo credits: Trey Wilkinson, Trey Wilkinson

See The Archives for past articles.
---
Copyright © 2002-2008 Sublette Examiner
All rights reserved. Reproduction by any means must have permission of the Publisher.
Sublette Examiner, PO Box 1539, Pinedale, WY 82941 Phone 307-367-3203
examiner@wyoming.com