From the pages of
Sublette Examiner
Volume 8, Number 48 - February 19, 2009
brought to you online by Pinedale Online
---
Obituaries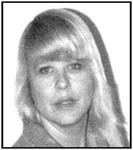 Jean Shields
Jean Shields
Jean Shields, 56, of La Barge, Wyoming passed away Thursday February 12, 2009 at L.D.S. Hospital in Salt Lake City, Utah after a valiant battle against cancer. Her family was at her side. Jean was born March 31, 1952 in Provo, Utah. She graduated from Tooele High School in 1970. She married the love of her life Dean Shields June 12, 1970 and to this union were born three children; Anthony, Richard and Amanda.
Jean loved her family dearly. She most enjoyed spending time with her family and spoiling her grandchildren. She became involved in Cancer Fighters for Cancer Treatment Centers of America (while battling cancer herself) and was an active advocate in helping others with this deadly disease.
She is survived by her husband Dean; three children Anthony (Tammy) Shields, Richard (Kelly) Shields and Amanda (David) Butcher; her mother Betty Jones of Tooele, UT; brother Charlie (Teresa) Jones; sister Cherie Bigelow and her companion Steve Blue; grandchildren Michael, Matthew and Craig Shields and Shonteal and James Butcher.
She is preceded in death by her father Jack Jones; her grandparents; her aunt Rae; brother Larry and sister-in-law Janice.
Funeral services will be held Thursday February 19th at 12:00 noon at the L.D.S.Church in La Barge. Interment will follow in the Viola Cemetery.
Memorial contributions can be made to Cancer Treatment Centers of America, 2610 Sheridan Rd. 2nd Floor, Zion, Illinois, 60099. In Memory of Jean Shields.
---
Max Orgill
Pinedale resident Max Orgill passed away Monday Morning February 16. A graveside funeral service will be held Friday February 20th at 11:00 a.m. at the Pinedale Cemetery. Obituary will follow in the next edition.
---
Lance Koppenhafer

"It's not what you take with you when you leave this world behind,
It's what you leave behind you when you go."
We feel you there beside us every hour of every day.


We miss you so much.

Lana, Warren and Kyla
Ralph and Charlotte
Ralph Jr. and Talon

See The Archives for past articles.
---
Copyright © 2002-2009 Sublette Examiner
All rights reserved. Reproduction by any means must have permission of the Publisher.
Sublette Examiner, PO Box 1539, Pinedale, WY 82941 Phone 307-367-3203
examiner@wyoming.com