From the pages of
Sublette Examiner
Volume 8, Number 47 - February 12, 2009
brought to you online by Pinedale Online
---
Obituaries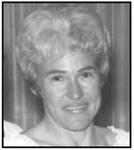 Barbara Bagley
Barbara Bagley
Sept. 10, 1929 to 2009
Barbara Bagley, a summer resident of Pinedale since 1972, was born Barbara Maxine Gibson in Midway, Utah on September 10, 1929 to Bill and Florence Gibson.
She graduated from the University of Utah where she met her future husband, Melvin J. Bagley. She worked as an elementary school teacher in Los Angeles while Melvin attended Optometry school. After his graduation, Melvin and Barbara settled in Henderson, Nevada in 1955 where Melvin was Henderson's first Optometrist. Barbara continued to work as a teacher in Las Vegas until her twin daughters were born, followed closely behind by two more daughters. She was a wonderful and loving mother and homemaker and was PTA president while the girls were in school. She was an exceptional golfer and fisher woman. She was the ultimate good sport, accompanying her husband on all his hunting and fishing trips, and helping him build their Henderson home and his office in the 1960's and their summer home in Pinedale in 1972.
Barbara is survived by her husband of 57 years, Dr. Melvin J. Bagley, her four daughters: Nancy McGuire (Pat) of Pinedale, Mari Bochanis (Chris Cookson) of Henderson, Nevada, Hawley Doyle (Rob) of Pinedale, and Bobbi Hendricks (Dr. Jerry) of Henderson. She is also survived by 11 grandchildren: Andrew and Hannah McGuire, Athena, Theo and Aris Bochanis, Parris Crooks, Calli Adamson, Jessica, Jaylin and Gabriel Hendricks, and Jeri Melinkovich (Clayton), and one great-grandchild, Roxanne Melinkovich. She is survived by her brother Dale Gibson (Deon) of Salt Lake City, Utah, sister Clarice Webb (George) of Heber City, Utah, and sister-in-laws Jeanne Low (Ron) of Coaldale, Alberta, Canada, and A. Marie Bagley of Salt Lake City, Utah. She was preceded in death by her parents, sister Luana Murdock, brother and sister-in-laws Gerald and June Bagley and granddaughter Hayley Hendricks.
Services were held in Henderson, Nevada on February 9, 2009.
---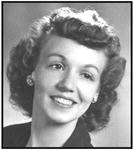 Laura J. Hicks
Laura J. Hicks
Jan. 31, 2009
Laura J. Hicks, 83, passed away January 31, 2009 in Pinedale after a short illness. Laura was born in Council Bluffs, Iowa and spent many of her young adult years in Kansas and Missouri.
She moved to Pinedale, WY in the 70's to be closer to her son, "Rusty" Gooch. In addition to Pinedale, she lived in Pavillion, WY and Mesquite, NV. Many of you will remember the fun had by all at the MT (Empty) Cattle Company's White Shirt and Black Tie Brandings in Pavillion, WY, thrown by Laura and her now deceased husband, Dallas "Chip" Hicks. In addition to being a homemaker, she worked as secretary to a Dept. Chair at the Univ. of Missouri, manager of the Triangle R Lodge in Pinedale, and rancher, raising longhorn cattle and sheep.
Laura leaves behind her son Rusty Gooch and grandchildren Lindsey and Wesley Gooch of Pinedale and daughter Patricia Spach and her husband George of Clovis, CA and their eleven children and her 16 great-grandchildren. At Laura's request, there will be no services.
---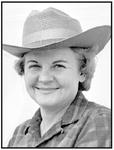 Alene P. Isaacs
Alene P. Isaacs
Jan. 3, 1916 - Jan. 23, 2009
Alene Parsons Isaacs passed away Jan. 23, 2009, in Naples, Fla., at the age of 93.
Bill, the love of her life, preceded her in May 2008. She is survived by her daughter Marion (Mame) Smith of Big Piney; grandson Kelly Wardell of Bellevue, Idaho; Bill's cousin (whom Bill and Alene raised from age 11) Mark (Lea) Harris of Denver, Colo.; Bill's brother Gene ( Jeannie) Isaacs of Las Vegas, Nev.; and nieces, nephews and cousins.
Upon graduating from business school in Salt Lake City, Utah, Alene worked for IBM in Wichita, Kan., running their mainframe computers. She was an early pioneer in that field. She met Bill in Salt Lake City when he was on a wool-buying trip for his grandfather from St. Louis, Mo.
Bill and Alene married Aug. 29, 1938, and began a loving, lifetime partnership filled with adventure to last 70 years.
In August 1944, Bill and Alene bought the Circle S Ranch north of Cora. They faced many challenges being raised in the city and going to ranch life without modern conveniences.
Her first horseback ride at the age of 27 was in snow in the winter 20 miles to Cora. Alene faced life's challenges with courage, determination and always an optimist, traits that got her and Bill through a lot of tough times.
She was a great influence and mom to her daughter, grandsons, Mark and many young people who worked on the ranch and become family. Alene was the engine behind the scenes, keeping everything running smoothly and the peacemaker.
One of Alene's great joys was making the Circle S a ranch of beauty. She, with the help of many on the ranch, transplanted all the pine trees and cottonwoods that grace the ranch today. She spent many hours digging in the dirt, planting beautiful flowerbeds in front of the lodge, main house and cabins.
Alene tackled anything from cooking (when the cook quit), milking cows (when the chore boy quit), shutting down the light plant when the fly wheel was about to go through the wall, to driving old jeeps over impossible roads to take guests fishing on local streams. She loved to fly fish and caught some very impressive fish; she shot a big bull elk across a canyon with one shot and she loved Bill and the Circle S.
After selling the ranch in 1964 to Mari and Elmer George, Bill and Alene traveled from Mexico to Canada, Alaska and the 48 states, ending up settling in Everglades City, Fla. There they began a new chapter, boating, fishing and cruising the Gulf of Mexico, going to the Florida Keys and trips to the Bahamas. She was Bill's First Mate on the five boats they owned over the years, ending with Kelly Bo V named after their grandsons.
Alene always had a big smile and twinkle in her eye and a "can do" attitude.
Her family extends their thanks for the outpouring of love and support by all the people whose lives were touched by Alene.
Anyone wishing may send memorial contributions to Museum of the Mountain Man, PO Box 909 Pinedale, WY 82941 or A Woman's Work, PO Box 435 Big Piney, WY 83113. A celebration of Alene's life will be held at the Circle S Ranch this coming summer.
See The Archives for past articles.
---
Copyright © 2002-2009 Sublette Examiner
All rights reserved. Reproduction by any means must have permission of the Publisher.
Sublette Examiner, PO Box 1539, Pinedale, WY 82941 Phone 307-367-3203
examiner@wyoming.com