From the pages of
Sublette Examiner
Volume 8, Number 47 - February 12, 2009
brought to you online by Pinedale Online
---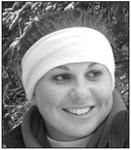 Sara Percy

Pinedale native battles earth and elements in race at the end of the world

by Trey Wilkinson

Sublette County and the surrounding area offer some great outdoor activities that require, strength, agility and stamina, whether you're biking, skiing, backpacking or rock climbing. While many of us find these activities plenty adventurous or even dangerous, one Pinedale native was looking for something more.

Thirty-one-year-old Sara Percy has taken on one of the great sports challenges in the entire world. Percy has joined team Calleva (repr senting America) at the Wenger Patagonia Expedition Race in Chile, South America – a race that involves the disciplines of orienteering, trekking, kayaking, biking and rock climbing.

The Wenger Patagonia Expedition Race is a grueling 375-mile, 10-day expedition race through Patagonia at "the end of the earth" in extreme southern Chile. This action filled race brings teams from around the world to compete in some of the world's most rugged terrain.

Approximately 36 athletes from nations including the United States, Spain, France, Brazil, Great Britain, Argentina and Chile compete against each other – and Mother Nature – in mixed teams of four.

The challenge will take teams across some of the most remote lands of the earth, starting south-east of the Southern Continental Ice Field until they reach the end of the South American continent, where it breaks up in a maze of islands and fjords, eventually reaching the Cross of the Seas at the end of the world.

The participants receive plans and maps with vaguely marked route descriptions just moments before the race begins. Race rules do not mandate when team's can rest, so that decision is left in the hands of each team.

Sara's parents, Lenore and Jim Percy, who still call Pinedale home, commented on Sarah's enthusiasm for sports as a child.

"During childhood Sara and Suzanna's (Sara's sister) childhood the four of us hiked, camped, biked and skied," Lenore said. "In middle school and high school they were both involved in swimming, basketball and track."

In 1994, Sara competed in and won the butterfly event representing the Sublette County swim team at State.

According to her parents, Sara is a very competitive person.

"She was shy as a young girl, but sports brought her out," her mother said.

Brought her out so much that Sara is now willing to take on one of the most grueling races found anywhere on this planet.

But she's up for the challenge and this isn't her first "rodeo." Sara, who now resides on Long Island, N.Y., has participated in a number of adventure races on the east coast as well as a 10-day race in Big Sky, Mont., called Primal Quest 2008.

According to her mother, Sara was selected for team Calleva by the team's captain, who had heard of her through other races. And what's more, Sara is the only female on the team – but don't think for a minute that bothers her.

However, this "rodeo" is a bit different than others Sara has participated in.

"We worry about her racing," Lenore

said. "But we know she is strong, responsible and 'mountain smart,' partly because she attended Skinner Wilderness School as a student and then a counselor."

The 10-day adventure, which began Tuesday, set Sara out on an adventure she'll never forget. While Sara was unavailable for comment, her parents weren't shy about hiding their feelings.

"We're extremely proud of her," they said.

It can't be easy knowing their daughter is traveling across some of the most rugged terrain known to man, but Lenore said she expects to hear from her daughter on Feb. 21 and is looking forward to it.

When Lenore and Jim speak with their daughter following the race they said they first plan to tell their daughter, "Good job and we are proud of you." "But she will be doing the talking, we are sure," they said.

To follow Sara and team Calleva during the 10-day race log onto to the Web site: http://www.patagonianexpeditionrace.com/tracking/.

See The Archives for past articles.
---
Copyright © 2002-2009 Sublette Examiner
All rights reserved. Reproduction by any means must have permission of the Publisher.
Sublette Examiner, PO Box 1539, Pinedale, WY 82941 Phone 307-367-3203
examiner@wyoming.com