From the pages of
Sublette Examiner
Volume 8, Number 43 - January 15, 2009
brought to you online by Pinedale Online
---
Obituaries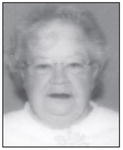 Floreen Licking Lund
Floreen Licking Lund
Floreen Licking Lund passed away Thursday Jan. 1 2009 at the University Hospital in Salt Lake City, Utah.
She is survived by three brothers; Paul, Doug and Jerry; two sisters, Pat and Donna; five sons, Bob and Kathy Licking of Oregon City, Oregon; Fred and Shirley Licking of Daniel, Wy; George Licking of Pinedale, Wy; Paul Licking of Rock Springs, Wy; Steve Licking of Daniel, Wy; eleven grandchildren and sixteen grandchildren.
She is preceded in death by her parents, husband Robert Licking and husband Ernie Lund. Memorial service pending.
See The Archives for past articles.
---
Copyright © 2002-2009 Sublette Examiner
All rights reserved. Reproduction by any means must have permission of the Publisher.
Sublette Examiner, PO Box 1539, Pinedale, WY 82941 Phone 307-367-3203
examiner@wyoming.com