From the pages of
Sublette Examiner
Volume 8, Number 42 - January 8, 2009
brought to you online by Pinedale Online
---
Obituaries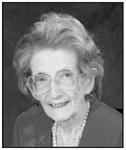 Beulah Mildred Richmond Springstead
Beulah Mildred Richmond Springstead
Beulah Mildred (Richmond) Springstead was born Nov. 20, 1922. She was the firstborn child of Rolla Everett and Alma May (Powell) Richmond and was a great joy to them. She was delighted when her siblings started arriving: Elden, Melvin, Harvey, Carroll and Raymond.
The Richmond family was busy and lively and very close to each other. What a blessing family is! Beulah often remembered spending parts of starry nights outside looking at the skies with her grandmother and talking together. She learned to cook on a wood-burning cook stove.
While still quite young, she came to recognize her need of asking Jesus Christ to be her personal Saviour and placed her trust in Him for salvation. Her mother's walk with the Lord was especially a testimony to her.
Beulah attended school at Maupin Elementary and Maupin High School.
Upon completing her high school education, she wanted to attend a Christian school where she could further her studies in the Bible. She attended Multnomah School of the Bible in the early 1940s. While there, a mutual friend introduced her to William A. Springstead.
Bill was soon drafted into the army during World War II, so they didn't get to know each other very well until after the war was over. During the war years, Beulah invited children to Bible camps to help mothers who were working and fathers who were away on active duty. She also worked assembling radios, helped with care-giving for an elderly woman, worked at a home for developmentally disabled children and worked at a leprosy mission.
When Bill came back to school, they began to get acquainted and grew to love each other. They were married May 28, 1948, in Maupin. God blessed Bill and Beulah with five children: Ramel, Clifton, Deirdre, Loren and Rilla.
Bill and Beulah felt called of the Lord to serve Him in local churches and so Beulah began the role of a pastor's wife. They ministered in Delena, Ore., Myrtle Creek, Ore., Empire, Ore., Corvallis, Ore., Pinedale and Hamilton, Mont. In 1985, Bill retired and they moved out to Maupin to care for Beulah's mother who was suff ering with Alzheimer's. They cared for her there for several years. In 1988 Bill was diagnosed with ALS (Lou Gehrig's disease). Beulah cared for both of them for a while. When Bill's needs became greater, Alma moved to Seattle to her other daughter's home and Beulah continued to lovingly care for him until his home-going in February 1990.
Beulah greatly enjoyed working at different Bible camps. From the first summer when she and Bill got to know each other better, Beulah was often in the kitchen preparing meals for hungry campers and staff. Through the years, she also cooked at several other camps including Red Cliff Bible Camp in Pinedale and Big Sky Bible Camp, in Whitefish, Mont. She also helped in later years with Release Time classes through Child Evangelism. Her story telling abilities were excellent.
Beulah had many interests: gardening, sewing, quilt making and needlework, bird watching and identification, reading, writing poetry as well as study materials for youth (some of which were published), DVBS and Christmas programs, teaching Sunday School classes, playing the piano, exploring family history, letter writing, camping and picking huckleberries with family, and photography – but her greatest loves were her family and the Lord. She had a servant's heart and it clearly showed in the many things she quietly did for her family and others.
Christmas Eve morning (Dec 24, 2008), Beulah left a tired earthly body and quietly slipped away to be with her Creator and Saviour who has prepared a wonderful place for her in heaven.
Beulah was preceded in death by her parents Rolla Everett and Alma May (Powell) Richmond, her brother Rolla Melvin Richmond, sister-in-law Betty Jean (Crocker) Richmond, and her husband, William A. Springstead.
She is survived by her aunt Evelyn Crabtree; uncle Arthur Powell; her siblings Elden E. Richmond, Harvey W. (and Joann) Richmond, (Jerry and) Carroll E. Haining, and Raymond F. (and Fran) Richmond; sister-in-law Joan (Nichols) Richmond; numerous nieces and nephews; her children (Mike and) Ramel K. Wilson, Clifton M. (and SunHee) Springstead, (Dick and) Deirdre A. MacGill, Loren D. (and Susan) Springstead, and Rilla E. Springstead; 15 grandchildren and 20 great grandchildren, with another on the way.
Memorial Services were held at Sellwood Baptist Church, 1104 SE Spokane St., Portland, OR 97202 on Saturday, Jan. 3, at 1 p.m.
Internment followed at Kelly Cemetery near Maupin, Ore. Cards may be sent to Springstead Family c/o Deirdre MacGill PO Box 391, Pinedale, WY 82941. If desired, memorial gifts can be sent to Red Cliff Bible Camp PO Box 846, Pinedale, WY 82941, designated "Springstead Memorial."
---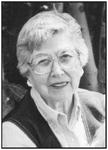 Norma June Healey Peel
Norma June Healey Peel
Norma June Healey Peel passed away in her home in Cheyenne, on Saturday, Dec. 27, 2008, at the age of 92 years, 5 months and 21 days.
She was born July 7, 1916, at the Wilhelm Family Ranch near Daniel, to Patrick Henry Healey and Marie Ethel Wilhelm Healey. Her grandparents were Richard Healey and Hanora Pickford Healey of Cheyenne and John Frank Wilhelm (born Johann Wilhelm Frank) and Louisa Laura Zingsheim Wilhelm of Daniel.
Norma June Healey's early years of education were at the old Daniel schoolhouse, her middle school years in Pinedale and her high school years in Rock Springs. After graduation in 1933, she attended the University of Wyoming where she met her future husband.
Norma June Healey was married to Garland Robert Peel at the Cathedral of Saint Mary in Cheyenne, on Sept. 14, 1940, and they made Cheyenne their home for more than 65 years.
Mrs. Peel was a devoted wife, homemaker and the mother of 13 children, grandmother to 30, great-grandmother to 16, great-great-grandmother to one and aunt to 30 nieces and nephews. She was a member of Saint Mary's Cathedral, St. Mary's Altar and Rosary Society and the Legion of Mary and the Sigma Phi Gamma sorority.
Mrs. Peel was preceded in death by her husband Garland Robert Peel in 2000; her brother Ret. Col. Patrick Henry Healey, Jr. of Riverton, and her sisters, Helen Louise Gaensslen of Green River, Ruth Marie Lucas of Rock Springs, Winifred Eunice Perkins of Minneapolis, Minn., and Elizabeth Jane Marsch of San Diego, Calif., and survived by her sisters-in-law Elizabeth Mayer Healey of Riverton, and Bernadine Peel Janeaux of Casper.
She is survived by her sons Garland Robert Peel, Jr. of Cheyenne, Daniel Edgar Peel of Fort Collins, Colo., James Joseph Peel of Arvada, Colo., Michael Francis Peel of Cheyenne, Christopher John Peel of Cheyenne and David Brian Peel of Laramie; daughters Joan Mary Mayden of Cheyenne, Emmy Louise Dunn of Montecito, Calif., Kathryn Anne Schelby of Atwater, Calif., Barbara Jean Powell of Laramie, Alice Margaret Hill of Cheyenne, Cecilia Irene Clark of Bailey, Colo., and Marianne Lenore Deschamps of Austin, Tex.
Pallbearers will be her sons Robert, Daniel, James, Michael, Christopher and Brian.
Honorary pallbearers are her nieces and nephews on the Healey side of her family: Mary Gaensslen Harsha, Nona Kay Gaensslen Hemphill, Patrick Scott Gaensslen, Ruth Perkins Shuman, Eva Perkins Kaa, Patricia Healey Heath, John Patrick Healey, RoseMarie Healey Kelly, James Vernon Healey, Irene Marsch Lawson, Nicholas Marsch III, Mary Marsch Short, John Michael Marsch, Patrick Marsch, James Stephen Marsch, Jean Marsch Hartwig, Mark Marsch, Daniel Marsch and Richard Marsch.
The vigil was held at 6 p.m., Friday, Jan. 2, 2009, Wiederspahn-Radomsky Chapel, 1900 East 19th St. Liturgy: 10 a.m., Saturday, Jan 3, 2009, Cathedral of Saint Mary, 2107 Capitol Ave. Interment followed at Mount Olivet Cemetery on East Pershing Boulevard following Liturgy Services.
Arrangements were made by Wiederspahn-Radomsky Chapel of the Chimes, Cheyenne, WY, (800) 941-9475.
---

Joan E. Millard
Joan E. Millard
Joan E. Millard, 58, passed away Wednesday morning December 31, 2008 at her home in Daniel, WY after a courageous battle with cancer.
She was born July 13, 1950 in Ontario, Oregon to Jerry and Shirley Chavers. She married Glenn Millard on February 10, 1981 in Pinedale, Wyoming. She has ranched with her husband the past 23 years in Sublette County and enjoyed every minute. She was a wonderful quilter and enjoyed fishing and reading and being outdoors. She was a member of the Our Lady of Peace Catholic Church Parish.
She is survived by her husband Glenn; son Joseph Haas of Ft. Meyer, FL; daughter Stacia Anderson of Cheyenne, WY; mother Shirley Chavers of Meridian, ID; brothers Ronald and Randall McLay of Ontario, OR; grandchildren Alexander and Nicole Anderson and numerous aunts, uncles and cousins.
She is preceded in death by her father Jerry Chavers and both sets of grandparents.
A funeral mass was held Saturday morning January 3rd at 10:00 a.m. at the Our Lady of Peace Catholic Church in Pinedale. Father Lucas K. Simango conducted the services. Memorial contributions can be made in Joan's honor to Kickn' Cancer in Sublette County, P.O. Box 383, Daniel, WY 83115.
---
Frances T. (Pat) Jackson
Frances T. (Pat) Jackson, 85, died Dec. 29, 2008.
She was born July 19, 1923, in Colorado Springs, CO to Samuel A. Trotter and Jenny Berta Trotter.
Pat married F.W. (Bob) Jackson on August 20th, 1947.
She was a loving wife, mother, and grandmother and lived in Pinedale for more than 50 years.
Pat graduated from Colorado Springs College with honors and also served on the Sublette County School District #1 school board for a full term. Pat was also very involved with the Museum of the Mountain Man for a number of years.
She is survived by her sons and daughters-in-law, Tom and Kathy Jackson, Donald and Valerie Jackson, and Peter and Anne Jackson; 9 grandchildren, 4 nieces, and 1 nephew.
Mrs. Jackson was preceded in death by her husband, F.W. (Bob) Jackson, her brother John Trotter, and her 2 sisters, Dorothy Trotter and Berta Sherwood.
A memorial will be held January 29th at the St. Andrews in the Pines Episcopal Church at 4:00 P.M.
---
Floreen Licking Lund
Floreen Licking Lund passed away Thursday Jan. 1 2009 at the University Hospital in Salt Lake City, Utah.
She is survived by three brothers; Paul, Doug and Jerry; two sisters, Pat and Donna; five sons, Bob and Kathy Licking of Oregon City, Oregon; Fred and Shirley Licking of Daniel, Wy; George Licking of Pinedale, Wy; Paul Licking of Rock Springs, Wy; Steve Licking of Daniel, Wy; eleven grandchildren and sixteen grandchildren.
She is preceded in death by her parents, husband Robert Licking and husband Ernie Lund. Memorial service pending.
See The Archives for past articles.
---
Copyright © 2002-2009 Sublette Examiner
All rights reserved. Reproduction by any means must have permission of the Publisher.
Sublette Examiner, PO Box 1539, Pinedale, WY 82941 Phone 307-367-3203
examiner@wyoming.com