From the pages of
Sublette Examiner
Volume 8, Number 4 - April 17, 2008
brought to you online by Pinedale Online
---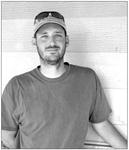 State climatologist Steve Gray predicts Sublette County will fare better with snowmelt this summer than last.

Weather, Snow Pack Could Ease Sublette's Drought
State climatologist reports 'almost average' snowpack
by Joy Ufford

Asking Wyoming state climatologist Steve Gray to give a near-future forecast of the upcoming snow melt and drought situation makes him a little nervous. Gray is adopting the "lake's half-full" perspective after reading through numerous reports from the Hoback and Upper Green river basins, though "I'm about three or four weeks away from being able to crack a smile about the drought situation," he said. "I don't want to raise false hopes – there are several weeks left of the snow season ...We could lose or gain a significant amount (of snowpack) during that time period."

On the good side, last month's temperatures were "much cooler and closer to normal," he said, which has kept snowpack from melting rapidly as happened a year ago.

"It was definitely cooler in March '08 than March '07," Gray said. "March '07 was a bit of a scorcher, if that could actually apply to spring in Wyoming. We haven't lost a lot of snowpack to a warm spring.

"That's the better-than-it-has-been news." The Upper Green River Basin is the "bleakest spot" on the state maps at 92 percent of average snowpack, he added. However, looking at this year's snowpack compared to last winter's, the Upper Green is at about 140 to 150 percent of last year at this time.

"So we're definitely doing better than 2007."

Gray's caveat is that local precipitation and snow-water equivalent are below average, just approaching what has been computed as an "average" year.

That in itself can be taken as good news, though, he explained.

"These are definitely positive signs compared to this string of years when we've been in drought," Gray said.

"At this point in the game I can almost see that as a positive sign... After all these years of drought I'll take any bright spot I can."

Gray's sunny attitude is due in part to the very latest spring temperatures forecast by the national Climate Prediction Center.

"They're currently calling for equal chances for (cooler or warmer) temperatures over the next month or so," he reported. (The National Weather Service outlook for May through June states there are "equal chances of above, below or normal.")

Gray interprets this as meaning a good chance temperatures won't be too high and melt the snow too quickly.

"Up there in your part of the world the forecast for runoff for the entire snowmelt season is putting things close to about 85- to 90-percent of the historic average," he said. "We always like to see number above average but after what we've seen the last few years, we'll take it."

Gray, who has traveled to Pinedale twice in the last couple months, said he is "particularly happy" to see we still have snow on lower hills and mountain sides.

"That's not something we've seen the last couple of years," he said. "It's stuck around on... the 7,000 to 8,000- foot areas."

He expects Upper Green reservoirs and waterways to fill up well as the snow melts off; this basin isn't as far behind as the North Platte, for example.

Also, he said, "It looks like the percent of average snow pack (percent of the average snow-water equivalent) for the Hoback (river basin) is at 96 percent. Not bad."

"The (North Platte) reservoirs are in bad shape," Gray commented. "The Green never got too low last year – they're starting off on a better foot." All in all, it "certainly looks" to Gray that Sublette County will be faring better this year than last year, he said.

"If the target is just making an 'average' year, we're approaching that."

Photo credits: File Photo

See The Archives for past articles.
---
Copyright © 2002-2008 Sublette Examiner
All rights reserved. Reproduction by any means must have permission of the Publisher.
Sublette Examiner, PO Box 1539, Pinedale, WY 82941 Phone 307-367-3203
examiner@wyoming.com