From the pages of
Sublette Examiner
Volume 8, Number 4 - April 17, 2008
brought to you online by Pinedale Online
---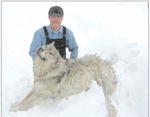 Sportsman Tony Saunders of Bondurant tracked this wolf, estimated at 4 years old, for about 35 miles before shooting it in the new predator management area.

Wyoming Wolf - 'Once In A Lifetime'
Bondurant hunter shares his personal experience with wolves
by Joy Ufford

Tony Saunders is part rancher, part farmer. He's also an outfitter, cowboy, snowmobiler – and an avid hunter.

When Wyoming Game and Fish opened its predator wolf management area March 28, the Bondurant man said he considered the chance to hunt a wolf legally a "once in a lifetime" opportunity for several reasons.

First of all, several years ago one of the family's horses was confirmed as a wolf kill and a second one,"they were not quite sure," but its death was considered likely caused by a wolf.

Second, wolves plague the upper Gros Ventres year-round where his hunting camp is located, killing elk throughout the winter and leaving fewer nice adults for paying clients to come and hunt – affecting his livelihood. This coming fall season is closing a week early because of a shortage of bull elk ,he explained.

Third, wolves travel through the Hoback grazing allotment where Saunders and other local ranchers turn their cattle out for summer feed.

Last but not least, he loves to snowmobile, and he loves to hunt.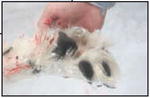 Saunders holds up the male wolf's paw to show how large the pads are that help wolves travel quickly.

"I was snowmachining for fun this winter and I didn't see any tracks," he said this week. "Or maybe I wasn't really looking for them."

Once the new predator area came into being, though, Saunders thought about the places he'd seen and heard about wolves in Hoback Basin with the idea of hunting one. He set out one day in bad weather and whiteouts, spotting several sets of old tracks but nothing fresh. "They're going to hole up and not move in bad weather," he noted.

The second day was "pretty nice." Saunders and two friends set out on their snowmachines behind his house and hit fresh tracks of a single wolf a half-mile from his home. They tracked the wolf toward the Hoback Rim for hours – about 35 miles' worth over ridges, through trees, down draws and over more ridges. "I just got on the tracks and stayed on him," Saunders recalled, not knowing how much of a lead the wolf had over him.

After sensing the animal was heading toward a patch of woods where he'd seen tracks before, he called the property owner and asked permission to continue his hunt, which she granted.

"He went clear up South Fisherman Creek, right through the middle of Hoback Ranches," Saunders said. "I just tried to pick th edirection he was going."

After more ups and downs and working his way around Hoback Ranches to the Rim without spotting another track, Saunders was feeling a little let down. "I never could find his tracks so I kind of gave up on him," Saunders said. "So we stopped and ate our lunch and visited."

He refigured his tactics, deciding to make another loop. "I went about 400 yards and hit a wolf track," he said. "It had come along behind us while we were eating."

The last 100 yards, the wolf and Saunders were both caught out in the wide open and Saunders took his trophy, which is how he views his own wolf kill. He strapped the wolf, estimated at about 4 years old, onto his snowmachine and headed back home. He plans to makea rug after having the hide tanned.

"They are a tremendously big dog," he said. "Bigger than any dog I've ever seen."

Saunders emphasized he'sn ot trying to upset people against wolf hunting but wants them to understand how and why wolves can negatively affect wildlife and livelihoods. "I'm not trying to stir the pot," he said. "I have nothing to hide. I really think they need to be managed. When they start taking people's livelihood it makes it tough."

"What gets me the worst is in the Gros Ventres because that's where my hunting camp is but we can't hunt them there – it's the 'wrong side of the highway,'" he said. "As far as ranchers and outfitters go, they do affect our livelihoods."

With three elk feedgrounds, major deer and antelope migration routes and plenty of moose dining on willow, it's no surprise the upper Gros Ventres (part of the trophy-game area) holds two large packs that Saunders has heard are killing elk and moose left and right.

"In one or two days, between (a rancher's place) to Alkali Creek, there will be eight to 10 elk they just hamstrung and killed," Saunders said. "They didn't eat any of them. And they're just hell on moose. They're going to be tough on anything they come across."

Wolves should be managed like trophy game animals "because they are trophy game," he said.

"We all want to see them, not just to kill them," he said. "They are really neat to see. I just have a problem when I see them in the Gros Ventres."

Saunders and friends took another hunting trip through the predator area of Hoback Basin shortly after, following another set of tracks they'd seen when returning home with his kill and thinking it might be a different wolf. "So I got on it," he said. "We went across North Fisherman and Icrossed some of my old tracks."

This wolf also went over ridges and up toward Hoback Rim and Saunders tried to cut him off near the timber.

"We did run into him and he did get away from us," Saunders said. "He was huge. Huge, and black. He was six feet away when I went by trying to head him off. I followed him for three hours in the timber. I finally gave up."

Tracking such a large strong animal is part of the lure of hunting. Saunders said traveling through the rough timber on the second hunt was also exciting.

Sportsmen hunting wolves right now are in part looking for wolves, and in another part just enjoying the hunt, he said.

"I really enjoy hunting and I'm an outfitter, partners in a hunting camp," Saunders said. "There's a thrill and anxiety following that track, thinking it might be right over the next knob or around the next corner and I'm going to see him."

He said he can't blame people for "not knowing" the negative side of dealing with wolves. "They just don't know," he said. "It seems like there's alot of flak coming from people that don't have to live with them."

If lawsuits shut down hunting wolves in Wyoming's predator area after April 28 (when Earthjustice has indicated it will file suit against the final delisting and 10(j) rules), Saunders said his young son might never have the same chance to hunt a wolf as he's had this spring.

"There's a difference between people who kill and people who hunt," he said. "It's once in a lifetime. Anything you get one shot at doing, I think is pretty exciting."

Photo credits: Saunders Family, Saunders Family

See The Archives for past articles.
---
Copyright © 2002-2008 Sublette Examiner
All rights reserved. Reproduction by any means must have permission of the Publisher.
Sublette Examiner, PO Box 1539, Pinedale, WY 82941 Phone 307-367-3203
examiner@wyoming.com