From the pages of
Sublette Examiner
Volume 8, Number 39 - December 18, 2008
brought to you online by Pinedale Online
---
Obituaries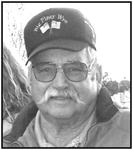 RICHARD E. HOLGATE
RICHARD E. HOLGATE
Richard E. Holgate of Big Piney, Wyoming passed away December 10, 2008 at the Eastern Idaho Regional Medical Center, Idaho Falls, Idaho at the age of 78 years.
He was born November 29, 1930 in Terrebonne, Oregon at the home of Norman Ray Holgate and Lucille Margaret Wilson Holgate. He was the fifth of seven children. He married Darlene C. Chadwick in Big Piney on June 29, 1956. They had three children; Robert, Danny and Georgie.
Richard served in the United States Air Force on a refueling aircraft during the Korean
War. He was a member of the Veterans of Foreign Wars and the Masonic Lodge. He was active in the Shriners and Commandry. Dick was a fishing enthusiast and enjoyed traveling during the winter months to the desert southwest. In his earlier days, he raced snowmobiles. He referred to his loved ones and close friends as "fella." It was a loving habit which was returned by his family. While living near Yuma, Arizona he learned the craft of creating hanging baskets from the dried roots of the desert evening primrose.
He is survived by two sons, Robert and Danny, daughter-in-law Julie, grandsons Jared and Bryan and close companion, Donna.
He is preceded in death by his son Georgie Lee, his wife Darlene, brothers Fred, Walt and Bobby, and his sister Patricia.
Funeral Services were held Saturday, December 13th at 11 a.m. at the Community Congregational Church in Big Piney. Father Dick Kalber conducted the services. Interment followed in the Plainview Cemetery.
Graveside Military Honors concluded the services and were conducted by the American Legion Dee Fox Post #78 of Big Piney and U.S. Air Force Reserve.
See The Archives for past articles.
---
Copyright © 2002-2008 Sublette Examiner
All rights reserved. Reproduction by any means must have permission of the Publisher.
Sublette Examiner, PO Box 1539, Pinedale, WY 82941 Phone 307-367-3203
examiner@wyoming.com