From the pages of
Sublette Examiner
Volume 8, Number 35 - November 20, 2008
brought to you online by Pinedale Online
---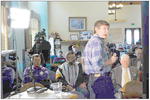 Economist Ernie Niemi of ECONorthwest gives a presentation during the Stroock Forum on Wyoming Lands and People.

Sublette County dams: fantasy or reality?

by Derek Farr

It isn't very common to find spare water in the west. But Sublette County has it, and that was a major topic during the Stroock Forum on Wyoming Lands and People last weekend.

The two-day, 10-hour forum was held at Rendezvous Point. Water was its primary subject.

"We need to be the leading authority of our water use and our entitlement," said Mike Purcell, director of the Wyoming Water Development Commission. "We have heard for years that we have water to develop, but you could paint a scenario that the state passes on its entitlement."

Out of water

The Colorado River system may be the most over-allocated river system in the world. Somebody possesses a piece of paper proclaiming

ownership of the river's every drop. Unfortunately, there are more proclamations of ownership than there are gallons of water.

Colorado River Compact

In 1948 the Colorado River Compact (CRC) was drafted to mitigate conflicts over Colorado River water. In order to quantify the system's water inventory, the CRC estimated the river's output at a level considerably higher than its long-term average.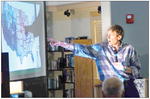 Economist Ernie Niemi of ECONorthwest shows a map of desirable places to live during the Stroock Forum on Wyoming Lands and People last weekend at Rendezvous Point.

That left high-priced water lawyers fighting over water that doesn't exist.

The CRC also divided the basin into upper basin states (Wyoming, Colorado, New Mexico and Utah) and lower basin states (California, Nevada and Arizona).

Upper basin states are required to provide lower basin states with 75 million acre feet on a 10-year average (maf) – an acre foot (af) is equivalent to 325,851 gallons.

Under the CRC, each state in the upper basin is allocated rights to a certain amount of water.

Much of that water has already been developed (dammed). In fact the only major stem of the Colorado River that has not been dammed is the Yampa River in northwest Colorado.

The Green River has two developments.

One is Flaming Gorge Reservoir (3.75 maf) in southwest Wyoming and northeast Utah, and Fontenelle Reservoir (0.34 maf) south of La Barge.

But for 110 miles, from its birthplace high in the Wind River Mountains to Fontenelle Reservoir, the Upper Green River is conspicuously undeveloped.

That fact probably won't change anytime soon.

Unlike the dam-building days of the 1930s-1960s, the federal government is weary of building large-scale water projects.

"Storage for storage's sake is not a solution," Purcell said.

Instead, potential water projects must demonstrate a need.

And finding a need in Sublette County isn't easy. Because the county's primary crops are native grasses and hay, it has a small population and lacks permanent industry, so it is challenging to find a need for water development.

But it is not impossible, and the state has one huge advantage.

If a need is found, Wyoming has plenty of money.

Purcell openly solicited groups to sponsor a water project. He said the commission was open to any suggestions and eager to work with any group seeking development.

His enthusiasm to build a water project in Sublette County comes from the knowledge that the lower basin states are thirsty for more, and by his best estimates Wyoming has 120,000 af to develop.

It's only an estimate.

One of Wyoming's biggest problems is that it doesn't know exactly how much water it has. Without that knowledge, Purcell warned the lower basin states may decide to produce their own subjective inventories.

In an attempt to draft the state its own inventory, Wyoming State Engineer Pat Tyrrell said monitoring is a top priority. He said a clearer quantitative value is on its way as more gauges are being placed on more water sources.

Tyrrell felt the state may have up to 300,000 af of water to be developed, but his approach for saving Wyoming's water was a bit diff erent.

He said the price of desalinization has dropped significantly.

"Sooner or later the lower basin has to go to the ocean," he said. "That is really the future source of lower basin water."

When that happens Tyrrell says, Green River water will be less sought after.

But before Wyoming waits for the lower basin states to "go to the ocean," it clearly has the option to build water projects in the Upper Green River Valley (UGRV).

Purcell did not advocate large-scale projects on the main stem of the Upper Green, opting for smaller projects on Green River tributaries instead. But a need, a project and a sponsor are still required to get any water development off the ground.

Much to consider

Economist Ernie Niemi of ECONorthwest in Eugene, Ore., warned that water development was wrought with negative effects.

Suggesting that inflow (water in the river) has its own value, Niemi said that any project should augment jobs and the economy as well as "gushy" issues such as the area's livability and quality of life.

"If you are looking for single-purpose (projects), I think you'll be unsuccessful," he said, adding that the value of water is more than jobs and profits.

Saying that the diversity of value can be explained by price of a riverfront house in Pinedale, which is three times more expensive than a comparable landlocked house, Niemi explained that people put value on water for more than jobs and profits.

Smaller is better

It was fitting that Larry Hicks of the Little Snake River Conservation District (LSRCD) was one of the last speakers.

He said permits are just hurdles and the state is fl ush with money.

To prove his point, he showed pictures of recent LSRCD projects that created wetlands for birds, cover for deer, ponds for fi sh, forage for cattle and water storage for communities.

He said that creating multi-use water projects that provide jobs, develop water, and supply intrinsic values to a community is not out of reach.

The days of huge main-stem super projects have evolved into something else, according to Hicks. Developing water in the 21st century requires a different, smaller and more holistic way of thinking.

Photo credits: Derek Farr, Derek Farr

See The Archives for past articles.
---
Copyright © 2002-2008 Sublette Examiner
All rights reserved. Reproduction by any means must have permission of the Publisher.
Sublette Examiner, PO Box 1539, Pinedale, WY 82941 Phone 307-367-3203
examiner@wyoming.com