From the pages of
Sublette Examiner
Volume 8, Number 33 - November 6, 2008
brought to you online by Pinedale Online
---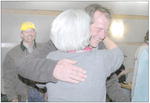 Election elation - Jim Roscoe receives a hug from a constituent at the Sublette County Courthouse in Pinedale after learning that the three counties voting in the House District 22 election put him ahead of his opponent, Charles Stough, by four votes. The unofficial counts had Stough with 2,887 while the tally for Roscoe was 2,891 votes.

Four votes separate House candidates

by Derek Farr

Nobody thought it was going to be like this.

After 5,778 votes were cast in Sublette, Lincoln and Teton counties, the House District 22 (HD #22) race boiled down to just four votes.

Jim Roscoe (D-Wilson) received 2,891 votes and Charles Stough (R-Pinedale) 2,887.

The razor-sharp victory came after initial poll results indicated a significant Stough lead.

But the majority of the preliminary results came from Sublette County precincts in Cora, Boulder, Daniel, Marbleton/Big Piney and Bondurant.

As soon as Teton County reported its precinct totals, the race changed. Teton voted decidedly for its hometown candidate – 1,307 to 542 – and suddenly Roscoe was in the lead.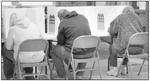 The atrium of the Wrangler Gym stayed full most of Tuesday with Pinedale citizens filing in to cast their votes for the national candidates and also in the close local races for school board and Wyoming government seats. Booths stayed full Tuesday as Pinedale voters showed up to the polls in record numbers.

Lincoln County reported a slight Roscoe lead of 368 to 323.

When the final ballots were tabulated from Sublette County around 10 p.m., the results took everybody by surprise.

Stough won the county 2,022 to 1,216 but Roscoe earned just enough votes to inch out a four-vote victory.

That's a .0693 percent margin.

Roscoe's victory celebration was tempered by the fact that the close margin automatically triggers a recount.

In Lincoln County, a close school board race prompted a recount in the Alpine District that encompasses HD#22.

"The Alpine House District race will be within that recount," Lincoln County Clerk Jeanne Wagner. "From there we'll go with what the Secretary of State's office tells us to do."

In Teton County, a recount was taking place by 10:30 a.m. Wednesday.

E.J. Vestal of the Sublette County Clerk's office said, "We do have the unofficial results; however we do anticipate a recount."

She did not indicate when that recount would take place.

Sublette County has a complicating factor as well. The county has 92 "undervotes" – ballots that did not register a vote for HD #22.

Ballots will be recounted in all three counties using the same type of ballot-counting machine. No hand recounts have been ordered.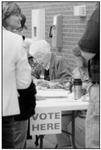 The sign-in tables were busy as voters made their way to the booths. Voter turn-out in Sublette County hit record highs this year.

With the race being so close, both Roscoe and Stough were being cautiously optimistic.

"I'm just working on the assumption that it's not over until it's over," Stough said Wednesday morning while he was picking up yard signs. "From what I've seen, I expect the numbers to change at least somewhat."

But he wasn't sure if a change in the numbers would be a change in fortune.

"As close as this race is, that could be a good thing or a bad thing," he said. "There's no telling."

Stough spent election night monitoring election results at his house.

By contrast, Roscoe camped at the Sublette County Courthouse to wait for results.

On Wednesday, he was occupying some of his thoughts with his pre-election life.

"First I have to see, if I have a construction company left," he joked.

The two men ran conspicuously positive campaigns and both maintained that graciousness after the initial election results.

"I'm completely humbled and honored to have something so close," Roscoe said adding his family and friends are trying to "claim those four votes."

The two men spoke on election night where each congratulated the other for a spectacular race.

Commissioners

The County Commission race wasn't nearly as close. Incumbent John Linn (R) beat three-time candidate Courtney Skinner (D) 2,543 to 1,540.

Skinner's best showing came in Bondurant Precinct 5-1 where he claimed 126 votes to Linn's 86. Skinner also had a strong showing in Pinedale 1-1 beating Linn by one vote – 458 to 457.

Linn's electoral strength came from south county where he swept Big Piney 2-1: 479-124, Marbleton 2-2: 287-78 and Marbleton North 2-4: 68-26.

"I appreciate Courtney's passion for Sublette County," Linn said. "I appreciate his campaigning on the issues that he feels important and I wish him luck."

Skinner said his quest to affect the commission doesn't stop at an election-day defeat.

"I still have a strong interest in the county, and I'd like to see the direction change a bit," he said. "We can all have a more open and responsible government I think."

Skinner applauded Linn's victory and added, "I hope in the future we can address some of the issues on my campaign."

Ballot issues

Perhaps the most unanticipated results from Tuesday's election, both special-tax issues were defeated.

The 3-percent lodging tax renewal, once widely predicted to be more of a formality than a contended issue, lost by a margin of 126 votes: 2,181 to 2,055.

Its defeat came after a media blitz by the Sublette County Tourism Board on newspaper and on the radio supporting the tax.

The lodging tax's loss might have indicated a wider voter sentiment.

The well-published and much-discussed 1-percent special purpose excise tax lost by a wide margin.

The sales tax, which would have raised funds for a recreation center in Big Piney/Marbleton and a civic center in Pinedale, went down 2,772 to 1,498.

In an email, Angie Smith of the Big Piney Marbleton Recreation Joint Powers Board recognized the board's hard work and the county's feeling about taxes.

"I am very disappointed!!" she wrote. "I know that the volunteers on these two projects worked very diligently on researching the need and budget for both these facilities. With the votes tallied I believe the residents of Sublette County have voiced their opinions'."

Smith indicated the board has no "Plan B" for the recreation center.

Statewide elections

In a race that had been polled to be a nail-biter, Wilson businessman Gary Trauner, 49, (D) lost his race against ex-state treasurer Cynthia Lummis, 54, (R) for Wyoming's lone seat in the U.S. House of Representatives.

Lummis, one of three nominees for U.S. Senator after the death of Sen. Craig Thomas (R), beat her opponent: 131,209 to 106,733.

For Trauner, it was his second loss for the seat in as many elections. In 2006 he lost the race to Rep. Barbara Cubin by 1,012 votes.

In Sublette County, Lummis beat Trauner: 2,583 to 1,456.

It was a clean sweep for the Republicans in both U.S. Senate seats.

Sen. John Barrasso and Sen. Mike Enzi both defeated their Democratic opponents by a three-to-one margin.

Enzi will serve a third term in the Senate, while Barrasso fended off his first electoral challenge for the seat after being appointed to the position by Gov. Dave Freudenthal in 2007.

Barrasso is required to run again in 2013 while Enzi will serve a regular 6-year term.

Nationally the presidential race went to Sen. Barack Obama (D-Ill) while in Wyoming, Sen. John McCain (R-Airs.) won by a two-to-one margin.

In Sublette County, voters opted for McCain: 3,316 to 936. Libertarian candidate Bob Barr received 28 votes, received 15 and Independent candidate Ralph Nader received 33 votes.

Uncontested seats

In South County, unopposed incumbents maintained two seats. Retired Lincoln County Commissioner Kathy Davidson (R) will serve a third term in House District #20 and retired electrical contractor Sen. Stan Cooper (R) will serve a second term for Senate District #14.

In North County, Afton publisher Dan Dockstader (R) ran uncontested in the 16th Sentate District vacated by Pat Aullman (R).

Cemetery District Trustees for Upper Green River -
Connie S Binning- 1,550 votes (15.99 percent)
Betty Lou McLoughlin- 1,643 votes (16.95 percent)
Ron Wilson- 1,746 votes (18.01 percent)
Write-in- 24 votes (.25 percent)

District Trustees for Big Piney-
Shirley Bray- 863 votes (25.17 percent)
Lois Punteney- 724 votes (21.11 percent)
Ace Smith- 757 votes (22.08 percent)
Write-in- 8 (.23 percent)

Trustee District for Big Piney
Jeannie Lockwood- 898 votes (78.57 percent)
Write-in- 3 votes (.26 percent)

Natural Resource District Supervisor-
At Large
Dan O Stroud – 3,298 votes (75.38 percent)
Write-in- 55 votes (1.26 percent)

National Resource District Supervisors – Rural
Brad Bousman- 3,200 votes (36.57 percent)
Write-in- 344 votes (3.93 percent)

National Resource District Supervisor – Urban
Tim Lingle- 1,087 votes (24.85 percent)
Darrell Walker- 2,235 votes (51.09 percent)
Write-in -19 votes (.43 percent)

Judge of 9th Judicial District
Nancy Guthrie- Yes- 3,209 No – 599 votes

Circuit Court Judge
Timothy C. Day- Yes- 2,991 No- 619 votes

Circuit Court Judge
Curt A. Haws- Yes- 2,891 No – 586 votes

Justice of the Supreme Court
William U. Hill- Yes -2,970 No – 671 votes

Constitutional Amendment A
For- 3,257 votes
Against- 720 votes

Constitutional Amendment B
For – 1,954 votes
Against- 1,803 votes

Photo credits: Janet Montgomery, Tiffany Turner, Tiffany Turner

See The Archives for past articles.
---
Copyright © 2002-2008 Sublette Examiner
All rights reserved. Reproduction by any means must have permission of the Publisher.
Sublette Examiner, PO Box 1539, Pinedale, WY 82941 Phone 307-367-3203
examiner@wyoming.com