From the pages of
Sublette Examiner
Volume 8, Number 30 - October 16, 2008
brought to you online by Pinedale Online
---
Obituaries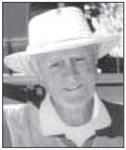 Charles Walker Cross
Charles Walker Cross
Charles Walker Cross, 90, of West Yellowstone, Mont., passed away Oct. 10, 2008, at Eastern Idaho Regional Medical Center of causes incident to age. His death was two days short of his 91st birthday.
Walker was born Oct. 12, 1917, in Ogden, Utah, to Elias George Cross and Florence Hoxer Cross. He attended Mount Fort School, Ogden High School, Weber State Academy and the University of Utah.
On Oct. 4, 1974, he married Bonnie Jean Tressl in Soda Springs, Idaho. They made their home in West Yellowstone, Mont., where he owned and operated multiple motels. For a time, he served as the Regional Governor of Best Western. He was a member of The Church of Jesus Christ of Latter-day Saints.
Walker enjoyed fly fishing, golfing, trap shooting and bowling, and was a classic car enthusiast. He also loved spending time with his family, friends and black Labrador retrievers.
Survivors include his wife: Bonnie Jean Cross, West Yellowstone, Mont.; daughter Suzanne Cross (Bill) Folland, Kenilworth, Ill.; daughter Dee-Ann Cross (John) Batson, Bountiful, Utah; daughter Pamela Cross Stallings (Mitch), Ennis, Mont.; daughter Cindy (Paul) Schaumberg, Missoula, Mont.; son Kelly Jay (Lael) Anderson, West Yellowstone, Mont.; brother Dr. D. H. (Ellie) Cross, Calif.; brother Dr. E. G. (Joan) Cross, Kalispell, Mont.; sister Joan Wixom, Colorado Springs, Colo.; 10 grandchildren, seven great-grandchildren and one great-great-grandchild.
He was preceded in death by his parents, sister Anne Olson and his first wife, Mary Russell Cross.
A Celebration of Walker Cross' life will be made Saturday, Oct. 18, 2008, at the West Yellowstone LDS Chapel, 245 N. Faithful Street, West Yellowstone, Mont. Services are under the direction of Wood Funeral Home, Idaho Falls, Idaho. Condolences may be sent to the family online at www.woodfuneralhome.com.
In lieu of flowers, and according to Walker's wishes, memorial donations may be sent to the following organizations: Heart of the Valley Animal Shelter, P.O. Box 11390, Bozeman, MT 59719; Best Friends Animal Society, 5001 Angel Canyon Road, Kanab, UT 84741; Grizzly & Wolf Discovery Center, P.O. Box 996, West Yellowstone, MT 59758.
---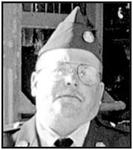 Roc Carter
Roc Carter
Roc Carter, 48, of Rock Springs, WY died Tuesday October 7th 2008. Roc was born on August 12, 1960 in Scottsbluff NB to Rod and Katherine Carter. Growing up Roc played many sports and excelled at baseball earning a college scholarship; unfortunately he damaged his ankles in football and never got to play college baseball. After graduating from High School in Gering NB, Roc joined the Army National Guard. He served for twenty years in Nebraska, Colorado and Wyoming. Roc retired from the 1041st Bridge Boat Engineer Unit in 2000.
Roc moved to Rock Springs in 1985 to pursue a job in the oil industry, he worked for many companies. At the time of his death, he was employed with Aurora Power in Alaska. He had many friends in the oil field and enjoyed spending time with his coworkers.
In 1993, he met Anita Layland and the two were married in 1994. They had two children, Rodney Luke in 1994, and Victoria Christine in 1997. Roc and Anita later divorced.
Roc had a passion for Nebraska football, serving in the National Guard, spending time with his friends and of course his children.
Roc is survived by his son and daughter, Rodney and Victoria of Pinedale WY, dad Rod Carter of Cheyenne WY, mother Katherine Carter of Gering NB, one sister Jeannette Carter of Denver CO. His grandmother Leota Kennedy of Gering NB, grandfather Ray Carter of Helena ARK, two aunts, Jodie and Gloria of Denver, and many nieces and nephews.
He was preceded in death by a grandfather and grandmother. Cremation and rosary have taken place. A private graveside service will take place at a later date.
See The Archives for past articles.
---
Copyright © 2002-2008 Sublette Examiner
All rights reserved. Reproduction by any means must have permission of the Publisher.
Sublette Examiner, PO Box 1539, Pinedale, WY 82941 Phone 307-367-3203
examiner@wyoming.com