From the pages of
Sublette Examiner
Volume 8, Number 30 - October 16, 2008
brought to you online by Pinedale Online
---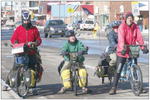 The Vogel family, with mom Nancy Sathre-Vogel (left to right), son Davy and his twin brother Daryl head out of Pinedale Monday after being delayed several days by the early winter storm. The Vogels are in the middle of their journey (on bikes) from Alaska to Argentina.

Family makes pedaling pit stop in Pinedale

by Tiffany Turner

Four people, three bikes and two trailers made their way into Sublette County last week – right in the middle of our first winter storm – on their trek from Alaska to Argentina.

The Vogel family, consisting of mother Nancy Sathre-Vogel, dad John Vogel and 10-year-old twin boys Davy and Daryl, are in the midst of their second North American trip (the first led them 9,300 miles across the U.S. and Mexico) on bicycles.

Although they stayed a little longer than expected due to the storm, the family hit the road Monday heading for Rock Springs with the plan to cruise toward Vernal and down that way. They bundled up against the weather and hoped to find a kind soul with a warm house, or they would be pitching their tent in the snow (something Nancy said they have no issue with).

Why are they doing it? "Because we can... Because the world is our oyster... Because we're bloomin' idiots... Take your pick," said Nancy. "No, seriously – we wanted time together as a family – life was passing by way too quickly and we felt like we wanted to get out of the rat race and take time together as a family before it was too late."

Once this journey is completed, the two boys will be the youngest people ever to cycle the Pan-American Highway. Also, the family is using the trip to teach others about the world (both Nancy and John have more than 20 years' experience as teachers) as well as their own children, as they are home-schooled during these trips.

"We are volunteering for 'Reach the World,' an educational nonprofit, to bring the world to our kids in inner city New York City," Nancy said. "We are also using our Web site to reach other classrooms and home-schooling families."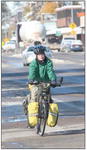 Davy rides solo through Pinedale on the Vogels' way out of town.

Nancy says the best part so far is the people they run into along the way.

"Hands down the people have been the best part of our journey," she said. "So many people have reached out to us in so many ways – to provide a place for us to stay, or a meal or a shower or a trampoline for the kids to play on. ... It's truly incredible how many people see us and reach out in any way they can."

Learning of the generosity of people hasn't been the only lesson learned, although Nancy says it's amazing to see how great people are despite what one sees on the evening news. The kids are also learning a lot of life lessons.

"The kids have learned the value of simply putting one foot in front of the other," Nancy said. "We've also learned that there are more good days than bad – that's what it's all about. Some days it's freezing cold, or it's pouring rain, or we're climbing hills steeper than the stairs to Granny's attic, but you plug along through those days and tomorrow the sun will shine again."

The family urges anyone thinking about such a trip to go for it, following the old adage that "It's better to try and fail than to never try at all."

To keep up with the family's journey to Argentina, they keep a daily blog and Web site full of information at www.familyonbikes.org.

Photo credits: Tiffany Turner, Tiffany Turner

See The Archives for past articles.
---
Copyright © 2002-2008 Sublette Examiner
All rights reserved. Reproduction by any means must have permission of the Publisher.
Sublette Examiner, PO Box 1539, Pinedale, WY 82941 Phone 307-367-3203
examiner@wyoming.com