From the pages of
Sublette Examiner
Volume 8, Number 29 - October 9, 2008
brought to you online by Pinedale Online
---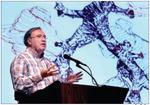 Dr. Fred Miller describes the harmful effects of ozone on mammalian respiratory systems during the public forum Tuesday at the Pinedale High School Auditorium.

Ozone forum provides details
Oh my... ozone
by Derek Farr

In an extremely civil evening that was heavy on detail, four ozone experts lectured to nearly 150 local residents at the Pinedale High School Auditorium Tuesday.

The three-plus-hour forum, organized by the county commissioners and the Sublette County Community Partnership, covered the full spectrum of ozone science and pollution mitigation. And it did so in extreme detail.

After the four lecturers concluded their presentations, Wyoming Department of Environmental Quality (DEQ) Director John Corra joined them for a question-and-answer session.

Near the session's end, Corra was asked if the Bureau of Land Management (BLM) communicates with the DEQ regarding new oil and gas leases in Sublette County. "There is no vehicle ... no history of the BLM communicating to the state government," he said. "They simply do leasing by using some other protocol."

It was the culmination of a long night of unhindered hard science and uncensored policy-making. Dr. Derek Montague started the evening by explaining the precursors of ozone. Ozone, expressed chemically as O3, occurs when Nitrogen Oxides (NOx) and Volatile Organic Compounds (VOC) are combined with high doses of sunlight (almost always during the summer months) in the atmosphere. Both NOx and VOC are products of burning fossil fuels. Known as a secondary pollutant because it is not emitted from a source but forms in the atmosphere, ozone is created when NOx synthesizes with sunlight in stagnant air to break apart the two oxygen atoms in oxygen molecules (O2). When that occurs, singular oxygen atoms search for other oxygen atoms to bond. Eventually they end up bonding with two-atom oxygen molecules to form O3: ozone. Ozone is poisonous.

Dr. Fred Miller described its effects on the human respiratory system. It creates inflammation and discomfort for a healthy adult and can be much more dangerous for children, the elderly and people with compromised respiratory systems. At certain levels, vigorous outdoor activity should be reduced or eliminated.

"At 100 parts per billion (ppb) or higher, exercising outdoors just isn't something a smart person would do," Miller said. That is significant because during one of last winter's ozone alerts, the DEQ monitoring station in Boulder recorded 122 ppb, well beyond health standards.

To explain how those standards are set, the past chair of the Clean Air Scientific Advisory Committee (CASAC) Dr. Rogene Henderson addressed the crowd. She explained the CASCA's latest process of scientific review, advisement and ultimate political defeat. This year, the CASCA advised the Environmental Protection Agency (EPA) to create an ozone standard between 60 and 70 ppb but after the process of interagency review – Henderson called it "(Bush) Administration review" – the 2008 standard was set at 75 ppb. Henderson said the difference between the CASCA's recommendations and the EPA threshold is significant because human health is still noticeably affected at 75 ppb. She quoted an EPA advisor to say, "Willful ignorance triumphed over sound science." The quote received applause.

The next speaker was Peter Hess, retired San Francisco deputy air pollution officer. He spoke about the mechanisms of air pollution regulation and mitigation. Essentially, the process centers on the word "attainment." If an area records significant enough air pollution levels, it is called a "non-attainment area." The process of becoming non-attainment takes on average three years but Sublette County has one distinction that creates even more challenges.

"I think this is the only area that has a winter-time ozone problem," Hess said. "That (fact) is making it difficult for a decision for non-attainment."

Wyoming DEQ Director John Corra listens to a question Tuesday during the ozone forum in Pinedale.

When non-attainment happens, state agencies (in Wyoming it is the DEQ) must complete a lengthy and expensive process of developing an attainment plan. In essence the plan takes an inventory of all pollutants (industrial, residential, commercial and natural), meteorological conditions, terrain features, and other variables and puts together a comprehensive roadmap to reaching attainment (air quality that falls below the EPA pollution standards). That plan – which Hess stressed is very, very labor intensive – is submitted to the EPA for review. If it is accepted, the plan is implemented and its contents, including pollution-control schemes, become federal law.

"How close are we to reaching attainment," a crowd member asked Corra during the question-and-answer session. "We are headed in that direction," Corra answered. "Sublette County is a likely area."

He said the DEQ is starting to require equivalent offsets for new sources of pollution in the gas fields among other mitigation techniques.

"We are asking the industry to take their best shot at voluntary measures," he said.

Corra explained his agency is trying to curb VOC emissions, citing a phenomenon described by Montague where the reduction either VOC or NOx can have a significant effect on the formation of ozone. He added that wintertime ozone is so unique, the DEQ is still trying to figure out what is causing ozone to form, saying, "When we get to the final rule, we'll have all the modeling... to do it right."

Late in the evening, Corra was asked if the DEQ is going to improve its mechanism for notifying the public about ozone alerts. He agreed that more should be done, saying, "We need to do a better job next year."

Photo credits: Derek Farr, Derek Farr

See The Archives for past articles.
---
Copyright © 2002-2008 Sublette Examiner
All rights reserved. Reproduction by any means must have permission of the Publisher.
Sublette Examiner, PO Box 1539, Pinedale, WY 82941 Phone 307-367-3203
examiner@wyoming.com