From the pages of
Sublette Examiner
Volume 8, Number 24 - September 4, 2008
brought to you online by Pinedale Online
---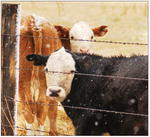 Cara Farr Courtesy Photo

Baffled Bovines



Two calves brave out the first snow of the season in a pasture near Merna Monday. For much of the nation, Labor Day is the ceremonial last day of summer but in Sublette County, Mother Nature took this Labor Day seriously.

See The Archives for past articles.
---
Copyright © 2002-2008 Sublette Examiner
All rights reserved. Reproduction by any means must have permission of the Publisher.
Sublette Examiner, PO Box 1539, Pinedale, WY 82941 Phone 307-367-3203
examiner@wyoming.com