From the pages of
Sublette Examiner
Volume 8, Number 23 - August 28, 2008
brought to you online by Pinedale Online
---
Obituaries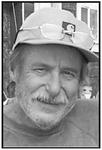 WILLIAM VAN METER
WILLIAM VAN METER
William "Ralph "Bill" Van Meter, a.k.a. "Mad" Max Griswold, 55, passed away August 13, 2008, at his home in Pinedale, Wyoming of natural causes. He was born November 2, 1952, in San Francisco, California, to Carl and Joy Van Meter.
William grew up in both Utah and California. His father died in the Korean War shortly after William was born. His mother remarried Wayne Redden, and they made their home in Kaysville, Utah. He graduated from Davis High School in Kaysville, and after he attended Dixie State College in St. George, Utah, where he learned his trade as an aviation mechanic. He loved to fly and work on airplanes and he was very skilled as a mechanic.
He married Julie Farquer in 1978 and together they had two children, a daughter Lindsay, and son, William Duncan. They made their home in Erda, Utah and later Evanston, Wyoming. During that time William was employed by Utah Power and Light as a fleet mechanic & nbsp; William and Julie divorced in 1990.
William moved to Pinedale, Wyoming around 1993 and worked in various trades in and around Pinedale until health issues forced him to retire. He loved the community and the people of Pinedale. This is where he wanted to be when his time on earth was through.
He is survived by his daughter Lindsay Van Meter and her husband Robert Graham of Albuquerque, New Mexico, son William of Huntersville, North Carolina, granddaughter Isabella, sister Peggy Gack of Auburn, California, half-sister Jaylin Hefty in Oregon, step-mother Eleanor Redden, step-sister Nancy Lawrence and step-brother Dell Espinoza in Utah. He was preceded in death by his parents, step-father Wayne Redden, half-brother George Redden, and stepsister Margaret Espinoza. A memorial funeral service will be held in Pinedale, Wyoming at the Covill Funeral Home on Saturday, August 30, 2008 at 1 pm.
---
ANNA LEE WOFFINDEN
Big Piney resident Anna Lee Woffinden, 78, passed away Monday, August 25, at the Star Valley Medical Center in Afton, Wyoming. A funeral service will be held Sunday, August 31, at 3:00 p.m. at the L.D.S. Church in Big Piney with a viewing one hour prior to the service. A full obituary will be in next week's paper.
See The Archives for past articles.
---
Copyright © 2002-2008 Sublette Examiner
All rights reserved. Reproduction by any means must have permission of the Publisher.
Sublette Examiner, PO Box 1539, Pinedale, WY 82941 Phone 307-367-3203
examiner@wyoming.com