From the pages of
Sublette Examiner
Volume 8, Number 2 - April 3, 2008
brought to you online by Pinedale Online
---
Obituaries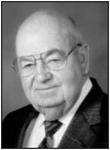 Melvin Nielsen
Melvin Nielsen
Melvin Corbridge Nielsen, 90, passed away at his home Tuesday morning, March 25, in Pinedale. He was born Feb. 11, 1918, in Logan, Utah, to Caroline C. and Niels Peter Nielsen Jr.He graduated from Logan High School in 1935 and married his sweetheart Mary Gayle Mills on Sept. 20, 1940, in the Logan L.D.S. Temple. To this union a daughter Sandra was born.
Mel served his country from 1941-1945 in the Army Air Corps during World War II. He was a Master Sergeant who flew as an air courier and did photo reconnaissance missions over England, France, Germany and Belgium. He earned numerous ribbons and the Air Medal and Battle Stars. He and his wife settled down in Burley, Idaho, where he worked as a manager at the Safeway Grocery Store and was a member of the Lions Club and Chamber of Commerce. He was an active member of the Church of Jesus Christ of Latter-Day Saints and held callings as scoutmaster, counselor in the bishopric, Sunday School president, stake missionary, high priest group leader, temple officiator for nine years, stake auditor and as a teacher.
Mel enjoyed the outdoors hunting, fishing, woodworking, gardening and baseball. He also enjoyed travel and doing crossword puzzles and working on computers, staying in touch with family and friends via e-mail.
Mel is survived by his wife Gayle of Pinedale; daughter Sandy (Tom) Blacker of Pinedale; sister Mildred Wilson of Salt Lake City, Utah; grandchildren Travis (Dana) Blacker of Rexburg, Idaho; Traci (Ernie) Maurino of Albuquerque, N.M.; Ty (Shandra) Blacker of Ucon, Idaho; Tory Blacker of Laramie; Tiffany (Jeff) Gibbons of Rexburg, Idaho; and 11 greatgrandchildren. He is preceded in death by his parents, brothers Howard and Russell Nielsen, sisters Joyce Nielsen and Maurine Miller.
Funeral services were held Friday, March 28, at 2 p.m. at the Pinedale L.D.S. Church. A graveside service was held the following day Saturday, March 29, at 2 p.m. at the Logan City Cemetery in Logan, Utah.
See The Archives for past articles.
---
Copyright © 2002-2008 Sublette Examiner
All rights reserved. Reproduction by any means must have permission of the Publisher.
Sublette Examiner, PO Box 1539, Pinedale, WY 82941 Phone 307-367-3203
examiner@wyoming.com