From the pages of
Sublette Examiner
Volume 8, Number 19 - July 31, 2008
brought to you online by Pinedale Online
---
Obituaries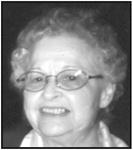 MARY HELEN FISK KUNDERT
MARY HELEN FISK KUNDERT
Mary Helen Fisk Kundert, 80, died Wednesday, July 23, 2008, in Amarillo, Texas.
Services were held at 10 a.m. on Saturday, July 26, 2008, at Lakeview United Methodist Church in Dalhart, Texas. Burial will follow in Memorial Park Cemetery, Dalhart; arrangements under the care of Horizon Funeral Home.
Officiating will be George Chambers, Pastor of Lakeview United Methodist Church and Rev. Phil Hamilton of St. Louis, Mo.
Mary Helen Hamilton was born March 17, 1928, in Dalhart to Jesse and Mabel (Laird) Hamilton. She attended school in the Stratford and Stevens area. In 1945 Mary Helen married Lloyd Fisk and they lived on a Farm-Ranch North of Stevens and then in Chamberlain before moving to Dalhart in 1965, Lloyd died in 1987.
Mary Helen Fisk married C.E. Kundert in 1987 and they lived in Wyoming. Mary moved back to Dalhart after C.E. died in 2005. She was a member of Lakeview United Methodist Church, a licensed dietician and loving mother, grandmother and great-grandmother.
Survivors include her sons: Larry Fisk and his wife, Shari, of Dalhart; Ron Fisk and his wife, Joan, of Dalhart and Steve Fisk and his wife Rhonda of Amarillo; brother Jesse Joe Hamilton and his wife, Barbara, of St. Louis and a sister – Lynette Low and her husband Don of Irvine, Calif.; grandsons Lance Fisk and his wife, Kim, of Dalhart, Kevin Fisk and his wife, Tracey, of Crawford, Texas, Gary Fisk and his wife, Tiffany, of Amarillo and Brad Fisk and his wife, Paige, of Plainview, Texas; granddaughters Whitney Fisk of Craig, Colo., and Terron Fisk Rivas and her husband, Nick, of Houston; six great grandchildren and two stepchildren, Karen Wickwire and Juanita Kundert of Wyoming.
She is preceded in death by her parents, her husbands, Lloyd Fisk and C.E. Kundert, and a stepson, Richard Kundert, and a stepson-in-law, Gene Wickwire.
See The Archives for past articles.
---
Copyright © 2002-2008 Sublette Examiner
All rights reserved. Reproduction by any means must have permission of the Publisher.
Sublette Examiner, PO Box 1539, Pinedale, WY 82941 Phone 307-367-3203
examiner@wyoming.com