From the pages of
Sublette Examiner
Volume 8, Number 19 - July 31, 2008
brought to you online by Pinedale Online
---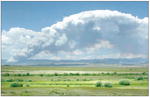 The New Fork Lake Fire is seen from US 191 north of Pinedale Tuesday.

New Fork Lake Fire Result Of Escaped Campfire

by Derek Farr

Sublette County residents were reminded that mid-summer equals fire season Tuesday when a 40-acre wildfire burned an area near New Fork Lake. The New Fork Lake Fire is located 19 miles north of Pinedale.

By Wednesday at 9 a.m. the fire had consumed 2,000 acres and was headed into the Bridger-Teton Wilderness Area. The fire's cause has been determined to be an escaped campfire. According to Forest Service (FS) Public Affairs Officer Mary Cernicek, nobody has been implicated for starting the blaze and the FS continues to investigate.

"Our strategy is to keep it burning into the wilderness and let it burn some of the beetle-killed timber," Cernicek said. "We're directing it away from private land."

About 100 people from a Type 3 FS team are working the fire and a call has been placed for helicopters.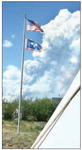 Large plumes of smoke from the New Fork Lake Fire were visible from the Museum of the Mountain Man Tuesday.

Cernicek said there are no injuries, no evacuations, no road closures and no trail closures.

The weather is expected to cooperate with the fire-fighting plan.

"The winds are going in the right direction and the fire is moving toward the wilderness which is exactly what we want it to do," Cernicek said. "We're hoping to keep it in a drainage that is littered with dead and downed wood."

She added that the fire is burning in a steep drainage.

There is no estimate on when the fire will be contained.

The fire danger is high, which means fires start easily and spread quickly.

Photo credits: Derek Farr, Derek Farr

See The Archives for past articles.
---
Copyright © 2002-2008 Sublette Examiner
All rights reserved. Reproduction by any means must have permission of the Publisher.
Sublette Examiner, PO Box 1539, Pinedale, WY 82941 Phone 307-367-3203
examiner@wyoming.com