From the pages of
Sublette Examiner
Volume 8, Number 19 - August 7, 2008
brought to you online by Pinedale Online
---
Obituaries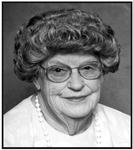 THELMA ARLENE STEELE
THELMA ARLENE STEELE
Memorial services for Thelma Arlene Jensen Steele will be held at Covill Funeral Home Saturday, Aug. 9, 2008, at 4 p.m. Thelma entered into rest at Sublette Center in Pinedale Thursday, July 31, 2008. She had resided at the center since October 2007.
Thelma was born to James and Mary Jensen in Los Angeles, Calif., on July 26, 1921. She joined six siblings: Herman (Buddy), Meta, Brandt, Leo, Carrol and Lila. James and Mary adopted Lila's daughter, Cheryl, after Lila passed away at the age of 30. Thelma grew up on her parents' ranch on the East Fork River, where Brandt's son, Doc, and his family currently live. During her early years, there were no modern conveniences like electricity or running water; the family was snowbound from January to April each winter. Her mother did laundry on a washboard, heating water on a woodstove in a copper boiler. Weekly Saturday night baths were taken in a round galvanized washtub, with everyone using the same water, starting with the smallest and moving up to the largest. In the early 1930s, James purchased a windcharger generator and batteries and the family also advanced to a gasengine washing machine and refrigerator.
Entertainment consisted of listening to the Atwater Kent radio, and attending dances at Emerson and New Fork schools and Woodman Hall in Pinedale. Woodman Hall also had some silent movies; Thelma recalled watching Gone With the Wind there. Her paper dolls were created by cutting out figures from old catalogs. The children traveled to the one-room schoolhouse on a one-horse toboggan. All eight grades, consisting of a dozen children total, were taught by one teacher. During winter months, ink in the inkwells would freeze.
Thelma married Earl Steele Nov. 30, 1941, in a double ceremony with her brother Carrol and his new bride, Letty. Thelma and Earl had three children: Sharon, born on Thelma's birthday in 1943; Gordon (Pete to most), born Sept. 29 1944; and Rhonda, born Jan. 22, 1951.
They purchased the ranch belonging to Earl's parents, John and Edith Steele, in 1945, and lived there until 1949, when they purchased Boulder Store from Harold Faler. During the time they ran the store, Earl worked other jobs, ranching for Henry and Bill Hittle, and driving truck for Pat Johnson. Thelma held the fort down at the store, often cooking meals for friends who happened to be in the store at closing time. They ran the store until early 1971, when they turned it over to Pete and semi retired. Earl and Pete contracted haying jobs, and Thelma continued to work in the store for Pete and his wife, Donna.
They spent the next seven years enjoying their grandchildren. Summer saw them taking the grandchildren, a couple of dogs and one time even a kitten, camping in their little Road Runner camper. The camping came to an end when Earl passed away March 2, 1978. Thelma continued what was probably her favorite hobby: picnicking. She would picnic with grandchildren, what she called her "little old ladies", or anyone in the family she could talk into partaking of her pastime. While at the store, since summers were too busy, she and Earl would gather up another couple, however many kids they had between them, and do winter picnics. These were usually held beside the road since there were few turn-outs back in the 1950s. She liked to take her little old ladies driving around the county, sometimes on roads she probably shouldn't have been on in her little car, but they had a lot of fun. Determined to spend 50 years working at the store, Thelma continued to work for Donna until 1999, when she finally gave it up at the age of 78. Her other hobbies included cooking, crocheting, and creating plastic canvas articles.
In September of 2007, Thelma fell and injured her back, ending her picnics and sightseeing drives. She rented an apartment at Sublette Center, but another fall on Thanksgiving Eve put her in the medical wing. Her health steadily declined prior to her passing.
Survivors include her daughters and sons-in-law: Sharon and Lary Lozier, and Rhonda and Garland Swain; her daughter-in-law and friend, Donna Steele and Ray Gentry; 10 grandchildren, some with spouses: Shelby Lozier Wiggins (Ronnie), Alice Lozier, Taylene Lozier Bell (Roger), Burke Steele (Ruth), Brian Steele, Tony Steele (Tracy), Jamie Swain (Deanne), Bill Swain (Jeanette), Ty Swain, Tiffany Swain Olson (Clay); 11 great-grandchildren: Jeremy, Jordan and Mandy Bell; TJ and Thayne Steele; Jon, Josh and Kaylee Barnett (Bill's); Garrett and Mia Swain; and Libby Olson; and an adopted sister, Cheryl Kelly.
She was preceded in death by her husband, Earl; her son, Pete; her parents; and all six of her biological siblings.
Memorial service arrangements are under the direction of Curt Covill of Covill Funeral Home.
---
Memorial Service for Kenneth J. Klein
Services will be held Aug. 9, 2008, at 11 a.m. at the Pinedale Cemetery. Lunch will be served by the Auxiliary Ladies at theVFW following the service.
See The Archives for past articles.
---
Copyright © 2002-2008 Sublette Examiner
All rights reserved. Reproduction by any means must have permission of the Publisher.
Sublette Examiner, PO Box 1539, Pinedale, WY 82941 Phone 307-367-3203
examiner@wyoming.com