From the pages of
Sublette Examiner
Volume 8, Number 18 - July 24, 2008
brought to you online by Pinedale Online
---
Obituaries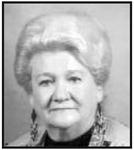 FERN M. TOTH
FERN M. TOTH
Fern M. Toth, 88, of Pinedale, died Tuesday, June 24, 2008, at the Sublette Center after a lengthy illness. She was born May 9, 1920, in Rock Springs, Wyo., the daughter of Hiram and Lena Moss. She attended schools in Rock Springs and graduated from Rock Springs High School in 1938. Fern married Albert J. Toth on Dec. 19, 1939, at the Sts. Cyril and Methodius Catholic Church in Rock Springs.
Several years later, the couple started an electrical contracting business, Curley's Electric. Mrs. Toth was the bookkeeper for 48 years helping Albert and, later, their sons, Jim and Greg at C.T.S. (Curley Toth and Sons, Inc.)
She was a member of the Rock Springs Women's Club and was honored as Clubwoman of the Year in 1967. While she was chair of the Garden Division of the Club, more than 1,000 trees were planted by members in support of the civic beautification project.
Mrs. Toth served as a charter member of the Board, Western Wyoming Community College. She served on the Public HealthNursing Board and helped with the first polio clinic in Rock Springs. She was also a PTA officer for 16 years while her children were in school. After the children were grown, Fern became a Certified Nursing Assistant and worked at Sweetwater County Memorial Hospital for many years.
Mrs. Toth was the charter president of the Rock Springs Humane Society and was very successful in raising funds for that organization. She was very active in the animal welfare cause on the local and national level. She was recognized for her lifetime of work by the Wyoming Humane Society in 1993. Fern and Albert retired and built a home in Pinedale in 1974. She loved to garden and care for her parrots and other pets as long as her health allowed.
She was preceded in death by her husband, parents, and brothers and sister, and a daughter-in-law, Ellen Toth.
Fern is survived by three children and their spouses, Marilyn and Sam Dorrence of Centennial, Wyo., Jim Toth of South Ogden, Utah, and Greg and Donni Toth of Pinedale; two foster-children, Sonny Francis of Rock Springs and Ruth Renwick of Mason, Ohio; 12 grandchildren and many great-grandchildren.
Mrs. Toth was a member of Our Lady of Peace Catholic Church in Pinedale. A funeral mass will be celebrated there at 11 a.m. on Saturday, Aug. 2. Cremation has taken place and interment will be in the Pinedale Cemetery after which a luncheon will be served at Our Lady of Peace by the Ladies of the Pinedale Council of Catholic Women. In lieu of flowers, Fern requested that donations be made to the Rock Springs Humane Society, 310 Yellowstone Rd., Rock Springs, WY 82901 or Happy Endings Animal Shelter (H.E.A.R.), PO Box 713, Pinedale, WY 82941.
See The Archives for past articles.
---
Copyright © 2002-2008 Sublette Examiner
All rights reserved. Reproduction by any means must have permission of the Publisher.
Sublette Examiner, PO Box 1539, Pinedale, WY 82941 Phone 307-367-3203
examiner@wyoming.com