From the pages of
Sublette Examiner
Volume 8, Number 16 - July 10, 2008
brought to you online by Pinedale Online
---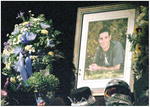 Flowers surround a portrait of Garrett Bardin at his memorial service Wednesday. About 500 friends and 90 family members gathered at the Pinedale High School Auditorium for the service.

Missing Pinedalke Man Found Near Big Sandy River

by Trey Wilkinson

The search for a missing Pinedale man that began June 24 ended July 3 when his body was found in the Wind River Mountains not far from the banks of the Big Sandy River, according to a release from the Sublette County Sheriff 's Office (SCSO).

Garrett Bardin, 24, was found by Tip Top Search and Rescue volunteers at about 10 a.m. July 3 in a remote area about 650 yards southeast of the spot where his 2006 Lincoln 4x4 pickup was recovered on June 24.

According to Sublette Deputy County Coroner KC Lehr and county investigators who recovered the body and processed the scene, the apparent cause of death was a single selfinflicted gunshot wound.

Searches for Bardin in the high mountain country around the Old Dutch Joe Guard Station, carried out by sheriff 's deputies, search and rescue members, family members and volunteers since his family reported him missing on June 24, produced negative results, the SCSO release stated. Search efforts on July 2 and 3 focused on particularly rough country that officials believed merited additional attention. It was this strategy that resulted in the discovery of Bardin's body.

During the investigation into Bardin's disappearance and his last confirmed contact on June 21, leads were developed that indicated he may have spent some time in the Rainbow camp or along its fringes in the days before his death.

"Unfortunately, we may never be able to confirm or rule that out with any degree of certainty," SCSO spokesman Randy Hanson said. Hanson said investigators believe Bardin died at least four to five days prior to his body's discovery.

The identification was facilitated through a dental examination made by a forensic odontologist. Cause of death was determined through scene investigation, scene processing and forensic examination of Bardin's body conducted after its recovery.

Sublette County Sheriff Wayne "Bardy" Bardin, Garrett's father, and Carol Richie, his mother, express their thanks for the efforts and support of the men and women of SCSO, Tip Top Search and Rescue, all the volunteers who participated in the search of their son and the people of Sublette County.

Photo credits: Derek Farr

See The Archives for past articles.
---
Copyright © 2002-2008 Sublette Examiner
All rights reserved. Reproduction by any means must have permission of the Publisher.
Sublette Examiner, PO Box 1539, Pinedale, WY 82941 Phone 307-367-3203
examiner@wyoming.com