From the pages of
Sublette Examiner
Volume 8, Number 1 - March 27, 2008
brought to you online by Pinedale Online
---
Obituaries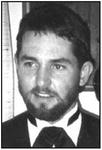 Kenneth J. Klein
Kenneth J. Klein
Kenneth J. Klein, 43, of Rock Springs, passed away on Saturday, March 22, 2008, in Rock Springs. He was born on Dec.29, 1963, in Beloit, Wis., the son of Walter and Phyllis Paden Klein.
Mr. Klein grew up in Sharon, Wis., where he attended grade school.He graduated from Big Foot High School in Walworth, Wis., in 1982.
During his school years Ken participated in many sports. He entered the United States Army in 1985 and served his country for eight and one-half years as an infantry mortarman. He served three tours of duty in Korea. Two of those were on the DMZ. He earned the Army achievement Medal on four occasions, the good conduct medal and many certificates of achievement. He was a lifetime member of the VFW Post #4801 in Pinedale, a member of Archie Hay Post #24 and a member of the Legion Riders.
Mr. Klein was employed with Macy's in Rock Springs where he had numerous friends. He was an avid outdoorsman and loved hunting and riding All Terrain Vehicles with his children.
He is survived by his mother Phyllis Staidl and husband George of Pinedale; two sisters Nancy Breener and husband Gary of Durand, Wis., and Karla Ronke and husband Garry of Sparta,Wis.; two brothers Alan Klein and wife Jackie of Clinton,Wis., and Jeff Klein and wife Brenda of Chemung, Ill.; three children with his first wife Jennifer: one daughter Jessica and two sons Joshuah and William; with his second wife Becki he has five daughters: Ariel, BreAnna, Laine, Holli and Mariah; several nieces and nephews; several great nieces and great nephews.
He was preceded in death by his father Walter Klein, one brother William Klein and an infant daughter Sara.
Funeral Services with Military Honors will be conductedat 2 p.m. Friday, March 28, 2008, at the Vase Funeral Chapel, 154 Elk Street, Rock Springs. Friends may call at the Vase Chapel on Friday until time of funeral services. Cremation will follow at the Vase White Mountain Crematory.
The family of Kenneth J. Klein respectfully suggests that donations in his memory be made to the Klein Memorial Fund in care of the North Side State Bank, P.O. Box 820, Rock Springs, Wyoming 82902.
See The Archives for past articles.
---
Copyright © 2002-2008 Sublette Examiner
All rights reserved. Reproduction by any means must have permission of the Publisher.
Sublette Examiner, PO Box 1539, Pinedale, WY 82941 Phone 307-367-3203
examiner@wyoming.com