From the pages of
Sublette Examiner
Volume 7, Number 51 - March 13, 2008
brought to you online by Pinedale Online
---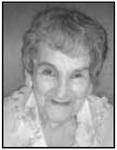 Dorothy "Babe" Alexander Fear

Obituaries



Dorothy "Babe" Alexander Fear

Dorothy "Babe" Alexander Fear, 85, passed away Sunday morning, March 9, 2008, in Coeur D'Alene, Idaho. Dorothy was born June 17, 1922, in Cora to William J. and Ora Yarger Alexander. She grew up in Cora on the Alexander homestead. She graduated from Pinedale High School and then attended the University of Wyoming for a short time. She married Guy Decker Jr., moved to San Diego, Calif., and worked at the Boeing Aircraft Factory during World War II. There she had her first child, Guy Decker III. She then moved back with her family to La Barge and had two more children, Tammie and Ren Decker. She worked in LaBarge with her husband as owner-operators of Decker Oil Company. She and Guy Jr. later divorced.

She married Clifton "Pete" Fear Jr. in Pinedale and they lived and worked on the Fear Ranches in Big Piney. She cooked, cleaned and took care of the ranch hands. She and Clifton divorced after 16 years of marriage. She continued to live and work in Big Piney as a financial broker for eight years and then started working in the field of home health care, assisting the elderly. She retired in 1997.

Babe enjoyed the outdoors camping and boating. She loved to cook and shop and had a weakness for chocolate. She loved the arts, ballet and symphony concerts and Christmas was her favorite holiday. But most of all her family was her greatest treasure.

She is survived by her children, Guy III and Sharon Decker of La Barge; Tammie and John Orr of Rock Springs; and Ren and Cathie Decker of Coeur D'Alene, Idaho; sister Ruth "Lolly" Bryant of Riverton; brother Robert "Hoot" Alexander of Cheyenne; and six grand children and nine great-grandchildren.

She is preceded in death by her parents, two sisters and three brothers. Funeral Services will be held Friday, March 14, at 1 p.m. at Covill Funeral Home in Pinedale. Friends and family may call at the funeral home one and a half hours prior to the service. Interment will follow in the Pinedale Cemetery.

See The Archives for past articles.
---
Copyright © 2002-2008 Sublette Examiner
All rights reserved. Reproduction by any means must have permission of the Publisher.
Sublette Examiner, PO Box 1539, Pinedale, WY 82941 Phone 307-367-3203
examiner@wyoming.com