From the pages of
Sublette Examiner
Volume 7, Number 49 - February 28, 2008
brought to you online by Pinedale Online
---
Obituaries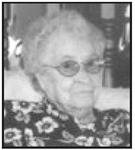 Lucille G. Aguirre
Lucille G. Aguirre
Lucille G. Aguirre, 89, of Pinedale passed away on Thursday, Feb. 21, 2008, at the Sublette Center in Pinedale. She had been a former longtime resident of Rock Springs, Farson and Lander. She was born on Oct. 3, 1918, in Rock Springs, the daughter of the late Carl and Signe Anderson.
Mrs. Aguirre attended schools in Rock Springs. She married John B. Aguirre in Evanston on Sept.29, 1941, and he preceded her in death on June 9, 1989.
Her interests included spending time with her family, crocheting, composing stories and poems, bible study with Treva and visiting with Jehovahís Witnesses when they came to the center for services. She was a member of Young At Heart Senior Citizenís Center.
Survivors include one son Robert James Aguirre and wife Mary of San Jacinta, Calif.; two daughters Betty Jean
Anderson of Jasper, Fla.; and Joan Bohm and husband Rob of Big Piney; eight grandchildren; eight great-grandchildren; two brothers Nels Anderson and wife Dee and Oscar Anderson; three sisters Betty Galassi, Pearl Aguirre and June Babich and husband Frank; and one sister-in-law Felicia Hatt.
She was preceded in death by her parents, husband, one son John LeRoy Aguirre, two brothers Tom and Bob, and one sister May.
Funeral services were conducted at 1 p.m. Monday, Feb. 25, at the Vase Funeral Chapel, 154 Elk St., Rock Springs, Wyoming. Interment was in the Mountain View Section of the Rock Springs Municipal Cemetery. Friends were invited to call at the Vase Chapel on Monday before the services.
---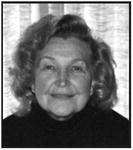 Zora Kruljac Chipp
Zora Kruljac Chipp
Zora Kruljac Chipp, 84, of 1940 Edgar S., Rock Springs, passed away on Feb. 24, 2008, at the Memorial Hospital of Sweetwater County. A longtime resident of Rock Springs and 57-year resident of Sylvan Bay in Pinedale, Mrs. Chipp died following a lengthy illness.
She was born Zora Veronica Chipp on Oct. 21, 1923, in Rock Springs, the second daughter of the late Joseph F. Kruljac and Anka Radosevich.
Mrs. Chipp and her husband Don Chipp were well known trophy fisherman. She was an avid gardener and raised greenhouse orchids.
During her school years, Zora was active in school activities and was Prom Queen in her junior year of high school. At the age of 60, she received her A.B. at the Western Wyoming Community College. She was named Outstanding Woman of her graduating class and is listed in the Whoís Who of 1981 and 1982. Mrs. Chipp was an official for the local Library Board for 12 years and was named to the State Governorís Library Board by Gov. Ed Hershler. During the World War II years, she married U.S. Army Airforce Pilot Donald W. Chipp and they became parents of two sons: Donald W. Chipp Jr. and Robert Marvin Chipp. Both sons preceded her in death. Don Jr. was killed in Viet Nam in 1970 and Robert died following a lengthy illness in 1978.
Survivors included her husband Donald; one granddaughter Lisa Hancock and husband Joe; two great-granddaughters Sheridan and Taylor Hancock, all of Rock Springs; one sister Marina Gregory and two brothers Joseph Kruljac and Edward Kruljac; and several nieces and nephews.
Mrs. Chipp requested that following cremation there be no services.
See The Archives for past articles.
---
Copyright © 2002-2008 Sublette Examiner
All rights reserved. Reproduction by any means must have permission of the Publisher.
Sublette Examiner, PO Box 1539, Pinedale, WY 82941 Phone 307-367-3203
examiner@wyoming.com