From the pages of
Sublette Examiner
Volume 7, Number 48 - February 21, 2008
brought to you online by Pinedale Online
---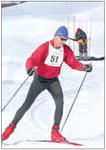 Thanks to some cooperating weather and sunny skies, seniors enjoy the Alpine events the Senior Winter Games had to offer.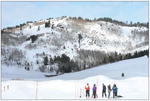 The rifle biathlon is a popular choice for participants – this crew crowds around the starting line to practice their aims before the big event.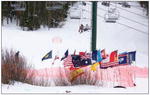 Flags from all around adorn the area surrounding the ski lift at White Pine during the Senior Winter Games.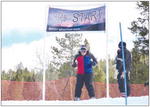 On your mark, get set – participants make their way through the starting gate set up for the competitions.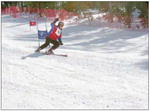 Martin Hudson slides around the recently groomed pathway system dedicated to the Senior Winter Games.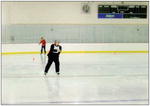 Toby Johnson speeds his way around the Sublette County Ice Arena.

Senior Winter Games A Success

by Tiffany Turner

Wyoming's First Annual Senior Winter Games (WSWG) hosted in Pinedale has officially closed for its debut.

With travelers from all over Wyoming coming to participate in events such snowshoeing, skiing and speed-skating races and a hockey tournament, White Pine Ski Area and the Sublette County Ice Arena were full of the active seniors Feb. 10-17.

The program also included largely popular evening lectures and access to the newly opened Pinedale Aquatic Center; these extra perks were free to all participants (and their family members even under the age of 50).

"This is for the mature adults who want to play and be healthy," said J.J. Huntley, an active member on the WSWG board. "Adults need to remember how to play.

...Yes there is competition, but the goal here is to participate...at whatever level."

With a great senior turnout, participate they did, as did the many volunteers that helped out with the events' timing and additional programs around town.

"The SeniorWinter Games is a delightful addition to the winter activities in Sublette County," Chamber Director Terrie Swift said. "The Sublette County Chamber of Commerce hopes to see this event become an annual event that grows with every new year."

Many of this year's competitors are already making plans to return next year (if Pinedale wins the chance to host the event again), and they are hoping to bring more folks back with them.

"I'm going to go home and tell people about it," said Casper resident Jim Johnson. "The place, the people are just great."

Photo credits: White Pine, Tiffany Turner, Tiffany Turner, White Pine, Tiffany Turner, White Pine

See The Archives for past articles.
---
Copyright © 2002-2008 Sublette Examiner
All rights reserved. Reproduction by any means must have permission of the Publisher.
Sublette Examiner, PO Box 1539, Pinedale, WY 82941 Phone 307-367-3203
examiner@wyoming.com