From the pages of
Sublette Examiner
Volume 7, Number 46 - February 7, 2008
brought to you online by Pinedale Online
---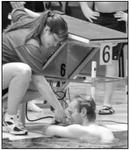 Emotions overcome Jonathan Hamilton after swimming the last leg of the exhibition relay at the Pinedale Invitational on Jan. 26 that was dedicated to his friend and teammate Adam Denton, who lost his life in a car accident last summer.

Gone But Never To Be Forgotten
Big Piney swimmer to be honored at Feb. 14 meet
by Trey Wilkinson

It probably seemed like just another summer weekend to any number of Wyoming residents, but just four miles south of Jackson an accident occurred that affected so many near and far. Early on that Saturday morning, July 21, 2007, a rollover accident claimed the life of a 17-year-old from Alpine, Adam Denton.

Denton wasn't your ordinary 17-year-old; in fact, he was an original – and from what so many have said, an original that everyone else aspired to be like.

"He wasn't afraid to be himself. He was such a good person, a caring person," Pinedale High School senior and Sublette County Boys Swim Team Manager Caitlin Baxley said. "He was the spitting image of a person that every parent wants their kid to be."

Denton and Baxley met just seven months before the two would part from this world. "I met him at the beginning of the boys swim season in December 2006," she said.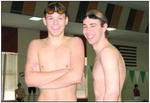 Adam Denton (left) and Jonathan Hamilton have their photo taken during the 2006-2007 season. The teammates were part of the Sublette County Boys Swim Team Relays that set new records and achieved high honors.

Baxley was a manager and Denton a swimmer for the Sublette County Boys Swim Team.

"When I first met him I thought he was a crazy kid," Baxley said.

Baxley soon learned that the crazy kid she first met was so much more.

"He was so dedicated to all he did," she said. "He was dedicated to school, swimming, friends, family ... The coaches could count on Adam for any event. He never complained. Hew ould do what was best for the team."

Denton's dedication revealed itself in the pool, as the Sublette County Boys Swim Team member swam with a determination his junior year (2006-2007 season) that escalated him up the record boards and into the record books. His talent in the water helped him capture two Big Piney relay records (200 Medley and 200 Free) and three individual records (200 Freestyle, 200 Individual Medley and 100 Backstroke)– most of which had stood since the '90s. He captured first place at Conference in two relays and in the 100 Backstroke. The evolving star was part of the State Champion 200 Freestyle Relay while he took second at State in the 200 Freestyle, third in the 100 Backstroke and third as part of the 200 Medley Relay. The potential seemed endless and things were looking up.

Then tragedy hit.

Shock shook those who heard the news of the death of the Alpine swimmer who had gained the respect and favor of those in Sublette County. The question, why, no doubt was muttered from countless mouths.

"My whole body went into shock," Denton's close friend, Big Piney High School freshman Nicole Long said. "I dropped the phone."

Long was referring the phone call she received from her mother the day of Denton's death.

"My mom called and told me to get my sisters together," Long said. "She said she had something important to tell us. I could tell she was crying."

Long met Denton as an eighth grader while helping manage the high school swim team. Her mother introduced the two. It was at the Riverton meet; my mom said I really needed to meet this guy," Long recalled. "I was kind of intimidated at first."

Long and Denton quickly became good friends (like so many of those who met Denton).

"He loved to make others laugh," Long said. "He always wanted to make others happy."

Long took the news hard but still holds fond memories of the big-hearted swimmer who left this world much too young and much too soon.

"He was the picture-perfect guy," she said. "He never judged anyone. He had a 110-percent positive attitude toward everything. Adam was the one person everyone looked up to. He never ceased to amaze me."

Long's mother, Cheryl Long, who has coached the Sublette County Swim Team for 10 years is another in a long list of those touched by Denton.

"Adam made my 2006-2007 swim season a special year, a fun year, a happy year, not only for me, but for the entire team," she said. "He touched all of our lives in more ways than even he knew. His death was a sadness that is not explainable."

Cheryl has called Denton a "natural" in the water, but said there is much more to this "natural."

"Adam taught us that life is great," she said. "That there is no time for sore, anger or resentment. He always had a smile on his face, a laugh, a positive outlook. Adam taught us about love and friendship. He always had time to be a friend – to everyone. Judgment and criticism were not in his vocabulary – only the ability to make everyone feel welcome."

His everyday persona carried over to the pool where he practiced and competed daily.

"He always supported every teammate and encouraged them to be the best," Cheryl said. "No matter how great the ability of the swimmer, he always encouraged them to improve and become a better athlete."

But his competitive side was just one of the many positive sides of Denton.

"Adam taught us all about having a sense of humor," Cheryl said. "He was amazing and fun. He loved to make us all laugh, with his off the wall comments and jokes. Yet, he had a sincere side as well, a side that was always honest and real."

Even since his passing, people continue to honor Denton, whether it would be just weeks following his death, less than two weeks ago today or down the road.

Following Denton's death in the summer of 2007, Baxley dedicated a swim on Fremont Lake located just outside of Pinedale to Denton.

"I love swimming just like Adam did," Baxley said. "He can no longer swim so I did it for him. I wanted to do something Adam would appreciate."

Less than two weeks ago (Jan. 26), the Pinedale Invitational was dedicated to Denton. In honor of Denton, a three-man 13th relay was held. Sublette County Boys Swim Coach Bob Maxam spoke about Adam prior to the relay.

"There wasn't a dry eye in the house," Cheryl said. "It was a very emotional event for all teams involved."

"It was amazing," Nicole said. "It really showed just how many people Adam touched. He really deserved it." Baxley echoed the Long mother and daughter.

"It was pretty neat to say the least," she said. "It was sad, but at the same time happy. We want him to know we're taking his name on with us."

Cheryl is also planning a tribute to Denton at the non-qualifiers meet in Big Piney set for Feb. 14 where she will speak about the "Fallin' Senior."

It's rare today for teenagers to be themselves, go against the crowd, evade peer pressure – but that didn't stop Denton. His friendly smile, willingness to help others and ability to make everyone around him happy will forever be etched in the minds and souls of many. While Denton may no longer be with his swim team, coaches, friends and family in person, a part of him has already been engraved in each and every one of them.

"I have been teaching now for 18 years and coaching for 10, and I can truly say I have never met a young adult who has taught me as many valuable lessons as Adam did," Cheryl said. "I will cherish these lessons of life and happiness and I challenge all of those who knew Adam to do the same. I am thankful every day for having this young individual touch my life and I will be thankful for my remaining years for the privilege of having Adam as part of my team and life."

The world has many wonders, many puzzles. Denton's death is another in this long list of unanswered questions. Why is the life of someone so pure and so good taken from this earth at such a young age? Denton surely had countless goals, aspirations and good left to spread in this world.

Perhaps Baxley put it best.

"What has helped me get through such a difficult time is that I keep thinking that God needed him more than we did," Baxley said. "He was needed somewhere else, so we'll try to go on making this world a better place, just like Adam would have."

Photo credits: Janet Montgomery, Cheryl Long Courtesy

See The Archives for past articles.
---
Copyright © 2002-2008 Sublette Examiner
All rights reserved. Reproduction by any means must have permission of the Publisher.
Sublette Examiner, PO Box 1539, Pinedale, WY 82941 Phone 307-367-3203
examiner@wyoming.com