From the pages of
Sublette Examiner
Volume 7, Number 45 - January 31, 2008
brought to you online by Pinedale Online
---
Obituaries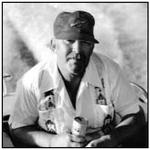 Ray Pape
Ray Pape
Pinedale resident Ray Pape, 70, passed away Tuesday morning Jan. 22, 2008, in Pinedale with his family at his side. Ray was born Feb. 5, 1937, in Fayetteville, Texas, to Henry and Ethel Pape. He served his country in the United States Army Air Corp. during the 1950s. He married Mildred Ann Molyneux on Oct. 4, 1961, in Jackson Hole. Together they raised three children.
He is survived by his wife Millie; son Ray (Tracy) Pape and their three children Lainy, R.C. and Jake of Big Piney; daughter Raina Pape of Denver, Colo.; brother Billy Joe (Annette) Pape of Pinedale; sister Edna Pickerell of Temple, Texas, and several nieces and nephews and grandnieces and nephews.
He is preceded in death by his parents, daughter Pamela Ann Pape and three brothers John, Charlie and Earl. A private family memorial service will be held in the spring. Funeral arrangements are under the direction of Covill Funeral Home.
---
John Gardner Mitchell
John Gardner Mitchell, 76, passed away in Fort Stockton, Texas, on Saturday, Jan. 27, 2008. Born on Jan 9, 1932, to Fred and Nell Mitchell in Brownsville, Texas, John belonged to the Lions Club of Fort Davis, Friends of Fort Davis-National Historical Site, American Legion and other church organizations.
John is survived by his wife Joan Mallard Parker of Fort Davis, Texas, his son John Edward Mitchell of Pinedale, his daughter Ann Nell Kumaga of Houston, Texas, and two grandchildren. He was preceded in death by his brother Fred Mitchell, Jr. and his parents Fred and Nell Mitchell.
Graveside services will be held Feb. 1 at Fort Davis Cemetery in Fort Davis by the Rev. J.B. Word.
---
Alice M. Bolinger
Alice M. Bolinger, 67, of Pinedale, died at home, Friday Jan. 25, 2008. She was born Madeline Hawley in Bethel, Conn. She had three boys by her first marriage – Jimmy, Abner and Alan, and was then widowed in 1964.
In 1965 she met and married the love of her life, Joseph Roy Bolinger in Oklahoma City on Feb. 18, 1966. They had a set of twins, Jo and JoAnn. In 1972 they moved to Pinedale. She worked at the Skyline Theatre and was fondly known as "the ticket lady." She also drove a school bus during the day. She has also worked at True Value and later at the Retirement Center.
Alice was preceded in death by one sister, Margaret (Midge) Gorham of Lancaster, Mass.; a brother Leslie (Sonny) Hawley of Denton, Texas; two sons, Joseph Roy Bolinger II (died in infancy) and Alan Steven Sims, both of Pinedale.
She is survived by her loving husband of 43 years; a sister Mary Bushie of Fayette, Maine; two sons, Jimmy Sims of Farson and Abner (Dani) Sims of Blackfoot, Idaho; and daughter JoAnn (William) Stallings of Opelousas, La. Alice also had seven grandchildren, seven step-grandchildren, seven great-grandchildren and numerous nieces and nephews.
Memorial services will be announced and held at a later date.
See The Archives for past articles.
---
Copyright © 2002-2008 Sublette Examiner
All rights reserved. Reproduction by any means must have permission of the Publisher.
Sublette Examiner, PO Box 1539, Pinedale, WY 82941 Phone 307-367-3203
examiner@wyoming.com